Advertisement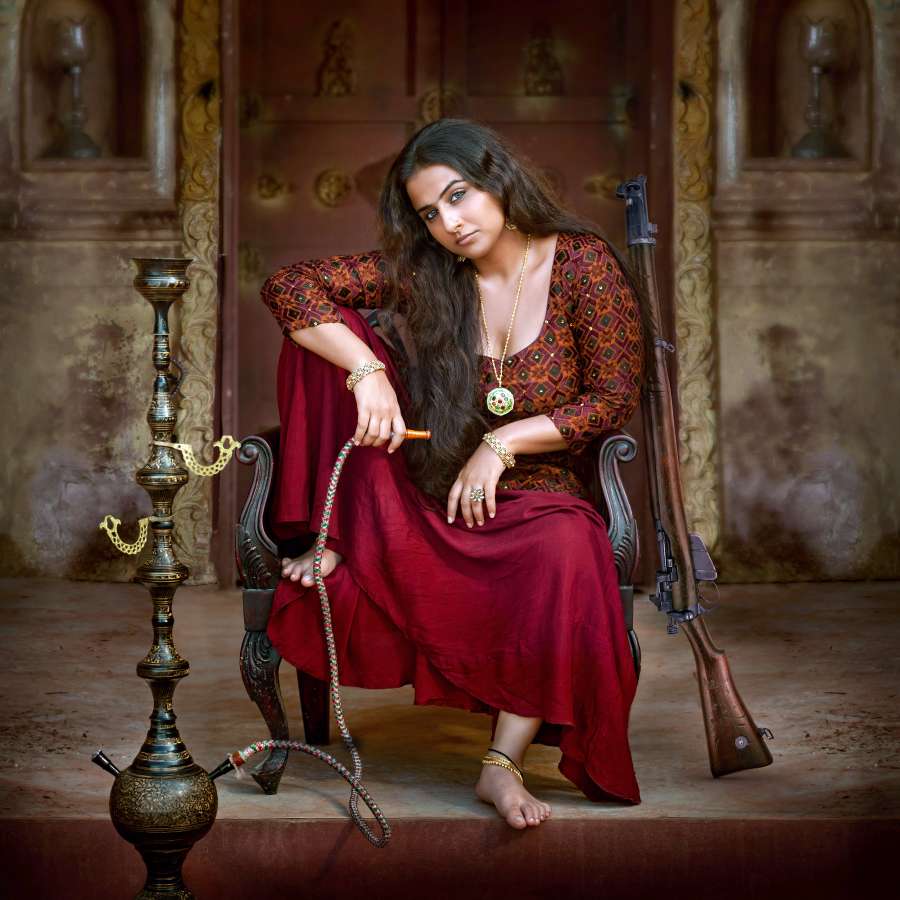 Film: "Begum Jaan"; Writer-Director: Srijit Mukherji; Cast: Vidya Balan, Naseeruddin Shah, Gauahar Khan, Mishti, Pallavi Sharda, Pritobash Tripathy and Chunky Pandey; Rating: ***1/2
This is no "Mandi". Damn, it is not even anywhere near the raw guttural emotionalism of Madhur Bhandarkar's "Chandni Bar".
But "Begum Jaan" holds together very ably to the end, thanks to writer-director Srijit Mukherji's confident hold over his characters' doomed destiny as they journey from deflowering to destruction with a raging fire in their whorish hearts.
These are women whom time or the tides of men cannot defeat. They are strong and they use their sexuality to survive. Srijit has cast sensibly for each of the sex workers in this 'period' drama (Vidya Balan drawls about menstruation with a kind of medieval glee that actress Nadira expressed in "Mud mud keh na dekh" in "Shree 420").
I am not sure if these actresses match up to their memorable peers in the Bengali version "Rajkahini".
In fact, this is as good a place as any to mention that Rituparna Sengupta's central performance in "Rajkahini" as the Madame of the endangered brothel was far more jolting than Vidya Balan.
Balan fakes it from the word go. From the hookah that she insists on snorting to her periodic outbursts of anger and laughter, it's all a 'come-watch-me-do-a-National-Award' act. Her diction, a delight in other circumstances, is here an embarrassing reminder of Vidya's urbane personality being superimposed on a character who survives by her intuitive cunningness.
In a sequence like the one where she slaps a stuporous rape victim (Mishti, Subhash Ghai's heroine in "Kaanchi") into a state of emotional eruption, Vidya is so keen to impress us with her range that she behaves like a singer who has newly learnt the ragas and wants to squeeze them all into one song.
Besides Vidya's ineffectual hooker with a hookah act, the other girls, specially playing sex workers, seem to have a lot of fun with their parts when the writer-director is not looking. Srijit Mukherji, that remarkable director from Bengali cinema, is hellbent on taking the brothel of sex workers through a historic journey into India's partition. It's like pressing textbooks into the hands of a bunch of safari adventurers.
The allegory of a brothel perched precariously on No Man's Land is hammered with ferocious dramatic devices like thunderous background music and seismic camera angles. The impact of the 'ribaldry during times of Partition' theme is completely submerged in lengthy lectures on the politics of sex and communalism.
A lot of what has gone into this brutal and stark film is meant to shock. The sexual references spotlighting women as objects of lust will repel the audience, as they are intended to. Though this is a film about gorgeous women and sex, it is not the least enticing or seductive. The mood is grim, often stubbornly so. At times, the excessive zeal to stun and repel are stomach churning.
You wait for Srijit to let his characters loosen up, lighten the load of history and sex that they carry on their shoulders. But there is no respite from the burden of being brutally bartered by power brokers.
Barring Pitobash Tripathy's gentle pimp act (he will remind you of Naseeruddin Shah in "Mandi"), the male species in "Begum Jaan" are slippery, treacherous and self-important — none more so than Chunky Pandey as a cold-blooded killer. As a man who kills without creed or conscience, Chunky plays one of the most despicable villains seen in our cinema.
If you've seen Jisshu Sengupta in the Bengali original, you would find Chunky's performance lagging and lacking. If not, you will be chilled to your bones watching this funnyman do a flipflop.
Vivek Mushran (remember him?) does an image volte face as a treacherous teacher whose facade of idealism crumbles in the face of a self-serving greed, while Naseeruddin Shah as a royalty who likes kinky cruel sex with girls old enough to be his daughters and cold enough to be his slaughter, seems very little interested in the sex that his character enjoys.
The sexual tension between Naseeruddin and Vidya was far more interesting in "Ishqiya". Here, it crumbles under the weight of carrying too much history on its shoulders. "Begum Jaan" is a film with some remarkable writing. But the political proceedings in the background are never allowed to be forgotten. It is like a constantly ringing sound that breaks into a session of sex and intrigue.
In creating a world where women rule the roost, the film misses the wood for the trees. Or sex for the sleaze.