Advertisement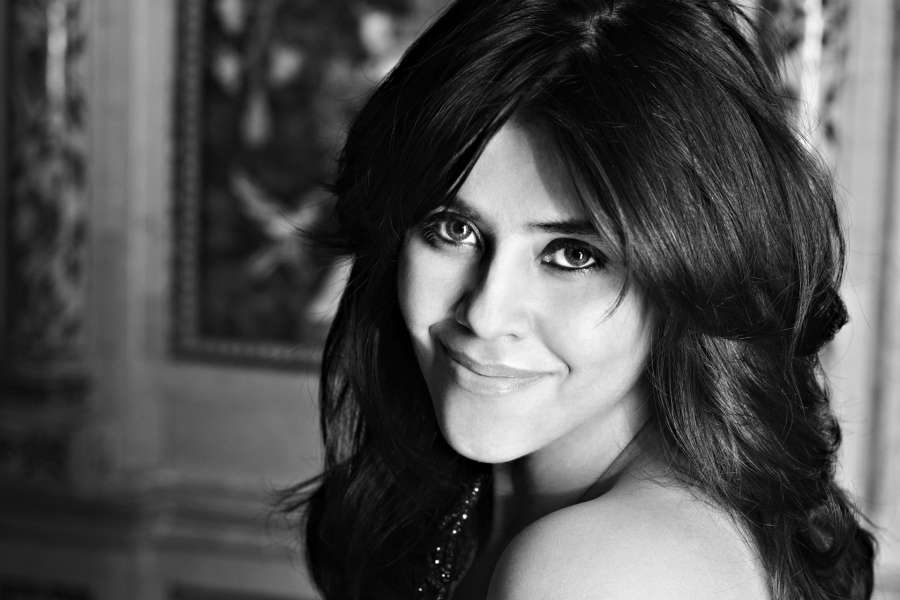 "Banana, strawberry… Do one thing, give a full fruit salad. And yes, chocolate… For dessert." This is not a woman buying groceries, but condoms in a scene from a web-series for Ekta Kapoor's newly launched digital app…..reports Asian Lite News
The TV tsarina, in a no holds barred chat about ALT Balaji, said she feels like a kid in a candystore with how the app medium lends itself to storytelling which is free from the trappings of the "acceptable" on a community viewing medium like films and a family viewing medium like television.
"I can't make stories on TV which are bold enough," said Ekta, who finds a kiss on the small screen discomforting if her father and veteran actor Jeetendra is around.
But this is not a deterrent in private viewing, which has been made a possibility with mobile apps.
"Still, as far as slang and sex is concerned, I've curtailed it to two shows (on the app). But I think, as a nation we should stop having a problem with sex. We do not realise that when we start prohibiting and create a sort of taboo against sex, we actually encourage sexual crime.
"A certain sense of prohibition leads to some kind of odd need."
Ekta, who changed the face of Indian television with shows like "Kyunki Saas Bhi Kabhi Bahu Thi" and "Kahaani Ghar Ghar Ki" at the start of the new millenium, finds the "myopic views" somewhat paradoxical — and ones that need to be set right.
"If there's a kiss or if we see a girl in a short skirt, there's a problem, and we actually condemn these things when we have to be way more relaxed about physical expression of love," she said, pointing out how a girl buying a condom or a pack of sanitary pads, or saying an everyday word like 'bra' in public, or being hush about periods, are made out to be "issues" when they are not.
"People are getting embarrassed by things they should be comfortable about. And not getting uncomfortable with things they should be uncomfortable with.
"There's eve-teasing in so many songs — but that's okay? We're not getting uncomfortable with anything non-consensual. We are uncomfortable with sex," said the Joint Managing Director and Creative Director of Balaji Telefilms.
These pent-up questions in her mind have sort of found a creative vent in the digital medium for Ekta.
"I'm actually able to do TV now a lot more easily because I'm able to do this. Thanks to this vent for creative expression, I can tell stories of importance and then come back and say something way more sanitised on TV," she said.
It was a realisation that dawned upon Ekta in 2014 when she came out with "Ajeeb Daastaan Hai Ye" — a story of a middle-aged mother, who has been cheated upon by her husband, having an emotional affair with her boss. The show was discontinued following abysmal TV ratings — much to her dismay.
"It was a show very close to my heart, and it never got watched. It was a show with which I was judging India to see if they accept this woman or not." They didn't.
"At the end of the day, when you're going to such a large audience, the thought will have to be sanitised and will have to be one size that fits all," she realised.
Now that she is juggling with a variety content on different mediums, she has an interesting way to put her perspective about it.
"I'll always do TV with full respect. It's like if I start doing house parties, it doesn't mean I stop celebrating Diwali.
"TV is Diwali — it is your family face, it's where you will dress up traditionally, you will sit with the family and enjoy the same rituals. But that doesn't mean you won't enjoy your house party where you can be yourself and enjoy intimate conversations at a coffee shop. And obviously, the discussions will be very different."