Advertisement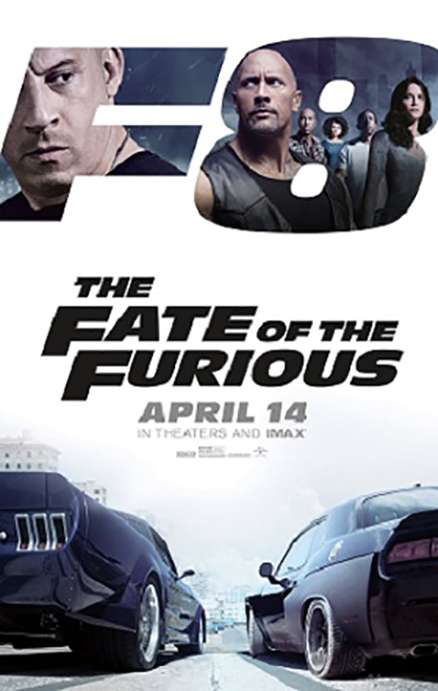 Film: "Fate of the Furious"; Director: F. Gary Gray; Cast: Vin Diesel, Dwayne Johnson, Jason Statham, Michelle Rodriguez, Tyrese Gibson, Chris Ludacris' Bridges, Kurt Russell, Charlize Theron, Hellen Mirren; Rating: ***
Also known as "Fast and Furious 8", and stylised as F8, this is the eighth instalment of the stupendously successful cars-and-guns franchise.
The film, apart from being utterly ridiculous, loud and funny, is a bloated, entertaining action-packed thriller, where every element of 'suspension and disbelief' of filmmaking is thrown into the script and for some strange reason, it all seems to work.
This film is a blend of a Bond film, "Mission Impossible" and a car-chase film. In this edition, Cipher (Charlie Theron) the supervillain, is a genius evil hacker who plans world domination. She sneaks up on Dominic Toretto (Vin Diesel) in the middle of his Cuban honeymoon with Letty (Michelle Rodriquez), and coaxes and later threatens him to work for her.
The plot gets complicated with Dom going rogue, stealing a very powerful electro-magnetic pulse generator device from his buddies, who had earlier retrieved it from the evildoers at the behest of Luke Hobbs (Dwayne Johnson) and hands it over to Cipher. On the face of it, it appears that Dom has flipped loyalties overnight.
Then there is also the family drama with Mom (Hellen Miren) blackmailing Deckard Shaw (Jason Statham) to support his brother Dom. And the undercurrent animosity between Hobbs and Deckard is another story altogether.
Joining the ensemble cast is Scott Eastwood as Kurt Russel's cop partner, Little Nobody – for more of the high-octane drama. Though he does not have his father's on screen charisma, he is charming and noteworthy.
The veteran cast members are clearly at home in their roles and they seem to be having a great time even without Paul Walker's 'Brian' in the film. With a dim-witted script and dopier dialogues, the cast does enough to not really make you miss him that much. There is enough chemistry between each of them that lights up the screen.
The action is as over-the-top as you would expect from the franchise and as each edition comes out, they try to outdo the last. The set pieces are big, bad and action-packed, staged with a flamboyance that's surgical in its precision.
The ending, featuring a Russian nuclear submarine is insane and totally in the realms of fantasy, which if you don't seek logic, pulls it off effortlessly. The film ends on a sweet note on the tenets of friendship and family.
Overall, this edition seems to have enough octane to pull through another edition.