Advertisement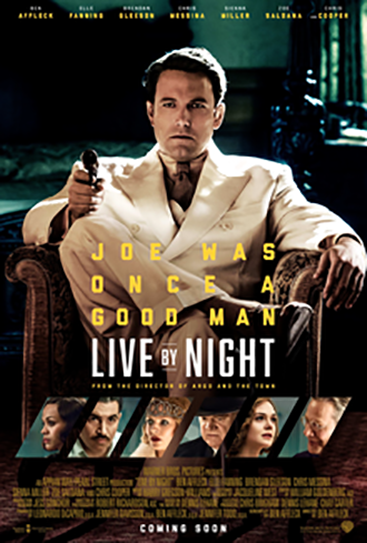 Film: "Live By Night"; Director: Ben Affleck; Cast: Ben Affleck, Elle Fanning, Brendan Gleeson, Chris Messina, Sienna Miller, Zoe Saldana, Chris Cooper, Remo Girone, Robert Glenister, Max Casella, Matthew Maher, Miguel J. Pimental, Titus Welliver and Anthony Michael Hall; Rating: ***1/2
Based on the 2012 novel of the same name by Dennis Lehane, "Live By Night" is a period crime drama that is designed like an old school gangster film.
Set in the 1920s post World War I, it is the tale of an honest policeman's son, Joe Coughlin, who returns home disillusioned as a soldier and vows to live life on his own terms – like an outlaw, never bowing to authority ever again.
He starts out as a small time crook living in Boston and works independently along with his two childhood friends and abhors being called a gangster. A decade later, he is approached by the Irish gangster Albert White (Robert Glenister) to help out in the mob war against the Italians, headed by Maso Pescatore (Remo Girone). Joe declines initially, but how he gets absorbed in organised crime and his rise thereafter, forms the crux of the tale.
The plot is a maze that reveals where heaven is after debating between good and bad, right and wrong while dealing in rum, prostitution and drug trade and the casino business. The narrative truly manoeuvres through the minefield of the crime syndicate.
And Ben Affleck does a neat job directing this complex noir chronicle, albeit in a softer tone. This is very evident from the first scene onwards with the opening voiceover and all through the grey tones of his character. As the protagonist, he does not portray a brutal gangster and probably that would disappoint the fans of this genre.
While the film is about Joe Coughlin and the narrative revolves around him, equal weightage with definitive lines is given to the supporting cast making them all as interesting and memorable as the hero.
As an actor, Ben Affleck undercuts his own supremacy and shines as an outlaw with a heart. He is aptly supported by Chris Messina as his friend Dion Bartolo, Robert Glenister as Albert White, Sienna Miller as Emma Gould – Albert's moll, Remo Girone as Maso Pescatore, Max Casella as Digger Pescatore – the idiotic son of Maso Pescatore, Zoe Saldana as Joe's wife Graciella Suarez and Elle Fanning as Loretta Figgis the repentant daughter of the Chief of Police, Irving Figgis played by Chris Cooper. They all emote effectively.
But the real scene stealer in the film is Mathew Maher, who essays the role of Irving's short-fused brother-in-law RD Pruitt. He lights up the screen with his nasal drawl and unpredictable outbursts especially during the negotiation scene.
Visually, cinematographer Robert Richardson's frames with monochromatic palette and mood lighting are picture perfect. He captures the period and the locales from the right angles and with a keen eye, making the film look sleek and evocative.
Overall, the film is a well mounted, engrossing entertainer that would appeal to connoisseurs of period drama.