Advertisement

She is an octogenarian and lives all alone in the Unesco-tagged Great Himalayan National Park in the picturesque Kullu Valley of Himachal Pradesh. The authorities say she is the only human who lives in the park that is spread over 754 sq km — one of the richest biodiversity sites in the western Himalayas….writes Vishal Gulati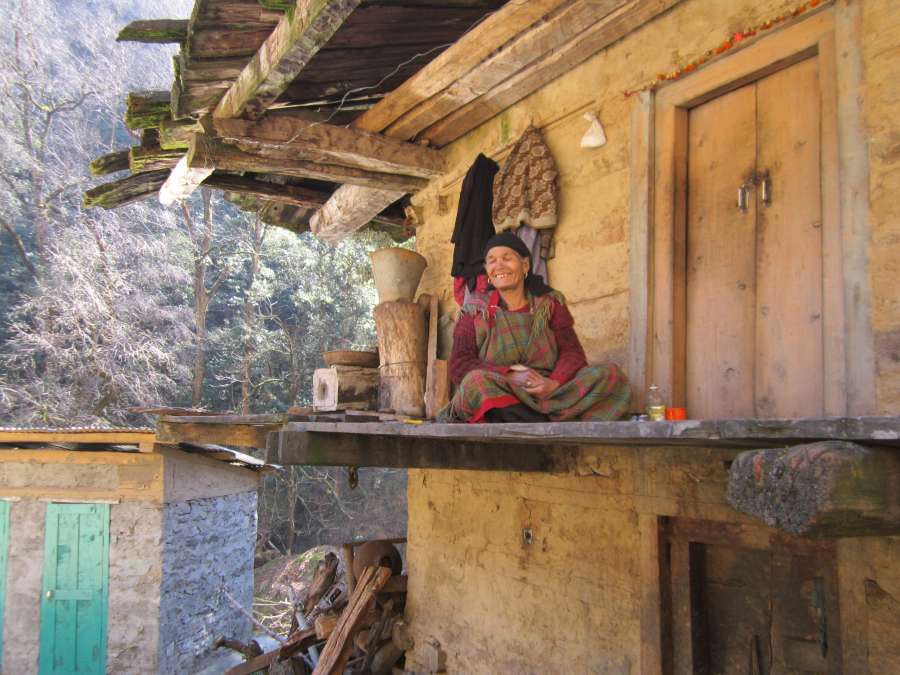 The reason she cites for not moving out of the park is her emotional bond with her small wooden house and a piece of agricultural land.
"I have spent more than three decades here; why should I now move out from this park," Chatri Devi, 83 said.
The authorities say hers is the only landholding that still exists in the park, which Unesco declared a World Heritage Site in 2014 in recognition of its outstanding significance for biodiversity conservation.
The other families moved out of the park's core area to a 250 sq km buffer zone before it was declared a national park in 1999.
Chatri Devi's traditional clay and wood hutment, sans electricity and mobile phone connectivity, is located on the southwestern side of the park, an eight-km-long uphill trek from this village along the trout-rich Tirthan river.
Hers is a classic case of "wild animal bondage".
Scared of predators, she's not! She does not cross their path; and they do not cross hers. Complete harmony!
"Leopards and black bears do come near to my house, even with their cubs, but they never attacked me as I am not their prey. Why should I be afraid of them? They go on their way (pointing towards a thick forest adjoining her house)," Chatri Devi said.
According to her, dogs and livestock normally attract the leopards to human habitations, while agricultural fields draw bears, monkeys and blue sheep.
Sitting outside her house, she said: "It's really sad that the park officials are forcing me to move out of the place where I spent almost my entire life."
"If the park authorities want to relocate me, it will be possible only after my death," she asserted.
"This house was built by my husband more than 20 years ago. This land where we used to grow wheat, barley, potato, corn and rajmah belonged to us. After his death, I stopped tilling the land," said Chatri Devi, who starts her day as early as 5 a.m. and retires by 10 p.m.
Her family, comprising three married sons and their wives and nine grandchildren, stay outside the park, a one-and-a-half hour trek from her house. Her husband Chande Ram died of lung cancer.
"One of my family members normally comes daily these days before sunset to enquire about my well-being and goes back the next morning," said the wizened Chatri Devi, who measures time without a clock and possesses an Aadhar number.
She's never bored or lonesome.
"These birds and animals are also part of my family. Every winter 'jujuranas' or western tragopans and gorals descend here. So I enjoy watching them," she said.
Last year she constructed a toilet near her house with the permission of the park authorities.
She is not suffering from any major disease. "My only problem is pain in my knee joints. The pain will only go with my death, so I stopped taking painkillers," she added.
Divisional Forest Officer Krupa Shankar told that Chatri Devi's is the only rights holder's settlement that is pending in the park. "We have offered her a piece of land outside the park but she is not willing to vacate the current possession," he said.
With magnificent glaciers, lofty mountains and gurgling streams, the Great Himalayan National Park is one of the richest biodiversity sites in the western Himalayas.
The park is home to 203 bird species and 31 mammal species, three reptiles, nine amphibians and 127 insect species, besides 425 species of plants.
The famous mammals in the park are the leopard, the Himalayan black bear, the brown and black bear, the rhesus macaque and various herbivores like the goral, a small antelope, and the Himalayan tahr, a wild goat that lives on the steepest cliffs.
One of the most elusive species in the park is the snow leopard. It can be spotted in the higher reaches, adjoining the Pin Valley National Park.