Advertisement

Choosing the right partner to build your home….writes Preeti Harit & Pralayesh Guha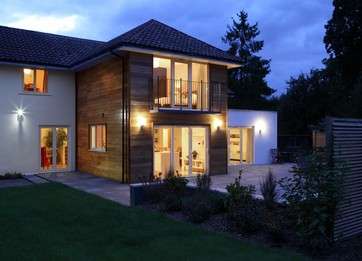 A finance executive who retires in two years is a visibly worried man. The family home in South Delhi, built in the early 1970s, is unlikely to provide all the comforts he has become accustomed to in company-provided rented apartments. He is now seriously looking at rebuilding his dated house.
Another also has a home built in the mid-1970s. Based in Chittaranjan Park in South Delhi, she lives comfortably enough, but she wants her two daughters and sons-in-law to move in close to her and so wants to rebuild her home.
Both are fortunate enough to have the money to re-model their homes, but what they don't have is the energy to run after builders and contractors. They also hate the thought of making trips to civic offices to get approvals.
Based on our experience of designing and building residential homes, here is our advice to these two and countless others like them on how to go about choosing the right home builder. Here's a list of critical aspects that help choose developers to design and build your dream home to fit your family needs.
Integrated design and construction
Building a modern home is no longer an exercise of using bricks and mortar to raise four walls with a roof above. A residential home needs seamless integration of design, construction and understanding of civic approval norms, sticking to those and yet building a spacious home.
Look for a builder with a team that demonstrates a good understanding of how to use space, light and ventilation effectively. Equally important is to look for someone who is familiar with new construction materials and practices. Look for someone who spells out the cost and delivery schedules and has a process to meet these two critical parameters.
The safety of a home is a function of the structural design, quality and quantity of critical materials like cement and steel. Check with the builder as to how much steel and cement will be consumed per square foot of built up space.
Ask if they stick to the approved national code for buildings, structures, de-shuttering, electrical and plumbing. If you don't get a satisfactory answer you can be certain that you are settling for compromises on safety. After all, you are going in for building a multi-storeyed home and you don't want to risk your life with poor quality material. Ask him also about the practices followed to keep workers safe. How will issues involving inconveniences to neighbours be addressed?
If the basic material such as cement and steel is in question you can be sure that the builder will deliver shoddy build quality. The builder will focus on outward show with a home that will not last long. Make sure to ask if he is willing to remove any niggling defects, cracks, (no matter how superficial), leakages and peeling paint, faulty lights, etc., for the next three to five years. And insist on including this in the contract.
Structure and facilities
Basic architectural design is the most critical element in a modern home. However, the local contractors will typically lay more emphasis on the interiors, sometimes to cover up defects caused by poor quality and lower grade raw materials.
Begin with questions on basic design elements such as which rooms in the apartment will get natural light and ventilation. Do you need to switch on lights inside the house during day time? What glass will be used to minimise retained heat in the sun-facing rooms?
Features for a modern home
Ask the builder about landscaping features and how fresh air will be brought in and how harsh sunlight will be kept out. How will energy efficiency be deployed to retain heat when needed and keep the home cool during summers. What will be the cost of lighting and how will it be brought down? Insist on 5-star rated appliances with easy access for potential repairs. For the kitchen and other areas, check on adequate storage with easy access — without having to climb up on stools or bend low to reach things.
Most importantly, ask for details of home security measures and what features they offer to keep you posted via alerts while you are away.
Developer track record
Before you enter into an agreement with a builder do a due diligence of the builder's capability. Look for his track record and references because you are going to him to relieve your worries, and not to add to them.
Ask for customer references to determine a builder's track record on meeting delivery deadlines and project management. Builders today are liable to pay Service Tax, VAT on construction and a lot of other taxes. The builder should give you supporting documents to prove that he has paid all the required taxes. This is critical because should you decide to sell this apartment any time, the amount paid towards these taxes can be added to the total cost of construction. This will help calculate capital gains accurately.
Peace of mind
A vast majority of Delhi builders promise coverage area higher than permitted by the municipal bodies, but they conveniently forget to tell you that you will not get a completion certificate. A completion certificate is an absolute must for your peace of mind. You don't want to be troubled by municipal notices, threats, penalties and demolitions. Reject an offer that violates laws and aim towards building a smart elegant home you love to come back to day after day.