Advertisement

At first glance, it looks like a Mexican shack seen in movies about the Wild West. Then you realise it's made out of snow blocks. Welcome to what is claimed to be India's first "igloo" constructed by two local skiers at an altitude of over 3,000 m close to Hampta Pass overlooking this picturesque tourist resort in Himachal Pradesh….writes Vishal Gulati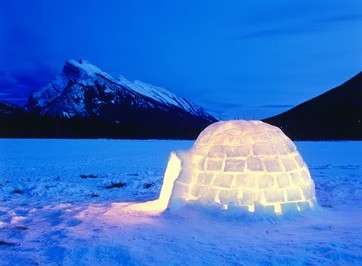 "We have constructed an igloo for the first time; it has a ceiling height of nine feet," one of the duo, Vikas Kumar, told of the 12'x10′ structure with a 12-foot-high frontage, which can accommodate a snow bed, a table and a chair.
He said initially he and his friend Tashi Dorjee constructed a six-foot tall igloo in his house in Manali two years ago. But that one melted in a few days owing to flaws in the construction technique.
The present igloo is built in Sethan village, 12 km uphill from Manali, an area known for growing delicious apples.
Kumar said three persons could easily stay in the structure.
"It's quite cozy inside as the temperature is around zero degree when it's minus 10 degrees Celsius outside. We are not promoting it commercially. But any visitor to the village could stay for a day," he said.
According to Kumar, the area where the igloo was set up has more than three feet of snow.
"If the present climatic conditions continue, we are hopeful the igloo will not thaw till March-end," he added.
His "co-architect" Dorjee, who has been brought up here, said they constructed the igloo by learning the technique on YouTube.
"It's (construction of igloo) related to skiing. We are doing skiing since childhood. We along with our friends constructed this magnificent structure in 20 days," he said.
"It was really a mammoth task. Village elders also helped us in identifying the right snow, how to cut through it to make snow blocks and stack them in such a way that enables excellent insulation from the freezing winds," Dorjee said.
Their initiative has brought cheers on the faces of members of the hospitality industry. They feel renting out igloos to the tourists will boost adventure-related tourism in the Kullu-Manali region, a hot spot for tourists, which is followed by Shimla and Dharamsala.
Prem Thakur, a prominent local hotelier, said the state should promote such ventures as the construction material for an igloo causes no pollution.
He said the government should promote construction of igloos at identified sites on the pattern of the state's rural homestay scheme, which started in 2008.
"It will generate employment for the locals, besides promoting economic activity," he said.
The Hampta Pass is known for steep and deep pistes (skiing paths) and attracts professional skiers from across the globe every year.