Advertisement

His Highness Sheikh Mohamed bin Zayed Al Nahyan, Crown Prince of Abu Dhabi and Deputy Supreme Commander of the UAE Armed Forces, has met with President of the French Republic, Emmanuel Macron, to discuss bilateral relations and the latest regional and international developments….reports Asian Lite News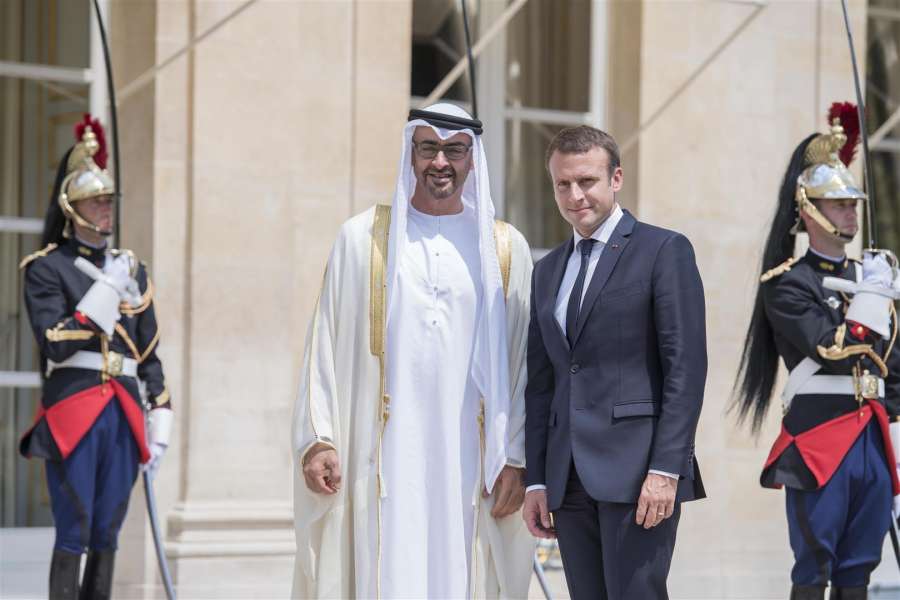 The meeting was held during His Highness's two-day visit to the French capital, Paris.
During the meeting, His Highness Sheikh Mohamed bin Zayed conveyed the greetings of President His Highness Sheikh Khalifa bin Zayed Al Nahyan, to President Macron, reiterating his congratulations to the President and the people of France on the successful election.
H.H. Sheikh Mohamed said that the UAE attaches special importance to relations with France, and continually works to develop these ties across all fields, as they represent a distinctive example of friendly cooperation between states based on understanding, mutual respect and common interests.
The French President welcomed H.H. Sheikh Mohammed bin Zayed Al Nahyan to Paris, hoping that this visit will contribute to closer cooperation between the two countries, and continuing discussions on regional and international issues of mutual concern. Macron conveyed his greetings to His Highness Sheikh Khalifa bin Zayed Al Nahyan, wishing him good health and prosperity, and to the UAE and its friendly people, continued progress and development.
The meeting was also attended by H.H. Sheikh Mansour bin Zayed Al Nahyan, Deputy Prime Minister and Minister of Presidential Affairs, and H.H. Sheikh Abdullah bin Zayed Al Nahyan, Minister of Foreign Affairs and International Cooperation, where Sheikh Mohamed bin Zayed and President Macron discussed strategic relations between the UAE and France, as well as developments in the region in the cultural, social, educational, economic, and military fields.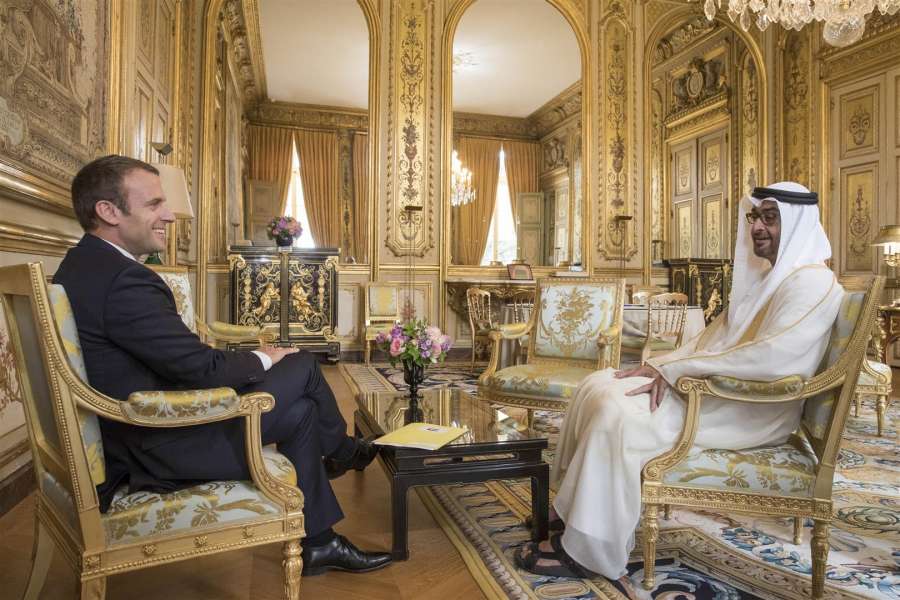 The two parties also discussed ways to benefit from investment opportunities between the two countries.
H.H. Sheikh Mohamed bin Zayed said that his meeting with French President Emmanuel Macron provided a renewed opportunity for dialogue on issues of mutual interest, co-ordination on current developments in the region, and co-operation with other countries for regional security and stability.
"Bilateral relations between the United Arab Emirates, UAE, and the Republic of France are not limited to the political, military and economic arenas. Rather, they include culture, education and scientific research. This provides a greater depth for our two friendly countries because culture and knowledge can help achieve rapprochement and enhance ties between people. Extremist and terrorist forces work to sabotage relations between people, religions, cultures and civilisations to serve a suspicious agenda that damages global security and peace," Sheikh Mohamed stated.
He further noted that "both the UAE and France share close views and positions on challenges and risks that threaten the security of the Arabian Gulf, the wider Middle East and the entire world. Of these, the danger of extremism and terrorism stands out as it strikes anywhere in the world with no place spared."
"It is time a decisive international position was taken to counter terrorist forces and organisations while drying up their financial and intellectual sources and resources and designating them as the greatest threat to global security and peace. That is because any hesitation in confronting this danger would mean that more innocent blood would be shed and more fear and violence would spread in the entire world.
"What gives us hope is that the world is now more aware of the dangers of terrorism and extremism, more prepared for settling the confrontation in its favour, and more knowledgeable about what it should do to counter this looming danger that targets all of us," he added.
He expressed hope that awareness would lead to the establishment of effective executive mechanisms "for eliminating this disease as soon as possible."
He also appreciated President Macron's keen interest in promoting relations with the UAE in light of a great potential for expansion in economic and trade areas that have witnessed significant development over the past years.
"These relations are expected to grow significantly in the coming years, thanks to the common political will of the leaderships of the two friendly countries," he said.
Other Emirati officials who attended the meeting include Dr. Sultan bin Ahmad Sultan Al Jaber, Minister of State, Ali bin Hammad Al Shamsi, Deputy Secretary-General of the Supreme National Security Council, KhaldoonKhalifa Al Mubarak, Chairman of the Abu Dhabi Executive Affairs Authority, Mohammed Mubarak Al Mazrouei, Under-Secretary at the Abu Dhabi Crown Prince's Court, and MaadhadHarebMughair Al Khaiili, UAE Ambassador to France.