Advertisement

PM Narendra Modi marks the 150th birth anniversary of Indian saint, poet-philosopher, spiritual luminary Shrimad Rajchandraji with the launch of commemorative coins and stamps….reports Asian Lite News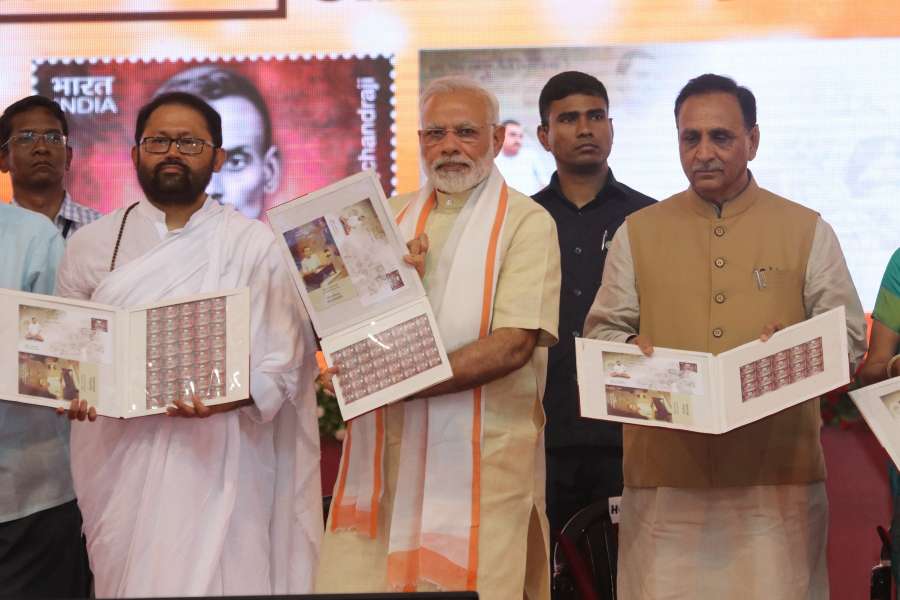 "The more I consider His life and His writings, the more I consider Him to have been the best Indian of His times."
– Mahatma Gandhi on Shrimad Rajchandraji, Letter to HSL Polak, April 26, 1909
"In my moments of spiritual crisis, Shrimadji was my refuge."
– Mahatma Gandhi, The Story of My Experiments with Truth (Ch. Raychandbhai)
Sabarmati Ashram in Ahmedabad, India celebrating its centenary, was the fitting location for Hon'ble Prime Minister of India Narendra Modi to mark the 150th birth anniversary of great Indian saint, poet-philosopher, and spiritual luminary Shrimad Rajchandraji (1867-1901) with a special commemoration. Hailed as the spiritual guide of Mahatma Gandhi, Shrimad Rajchandraji had a tremendous and formative influence on the Father of the Indian Nation.
In the Presence of Gurudevshri Rakeshbhai, Founder of Shrimad Rajchandra Mission Dharampur, Om Prakash Kohli, Governor of Gujarat, Vijay Rupani, Chief Minister of Gujarat and amidst an elated audience of government officials, special guests and heads of various organisations, Prime Minister Shri Narendra Modi paid a glorious tribute to the Mahatma's Mahatma, Shrimad Rajchandraji, by launching two commemorative coins of One Hundred and Fifty Rupees and Ten Rupees released by the Central Government, and a special Five Rupees postage stamp, a First Day Cover and a First Day Cancelled Cover released by the Department of Post.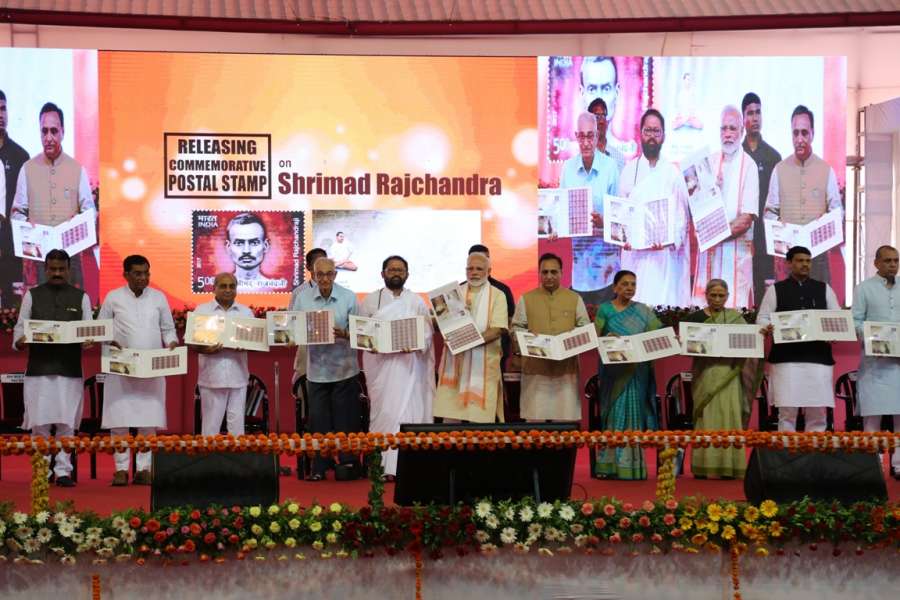 Bearing Shrimadji's portrait, the Ten Rupees coin and the stamp will be in normal trade circulation across the country, while the One Hundred and Fifty Rupees coin serves as a souvenir to the general public.
The celebration continued with an uplifting speech by Narendra Modi in praise of the values upheld by Gandhiji and a heartfelt wish expressing "Entire generation is unaware of Shrimad Rajchandraji's name… There should be further academic research on the life and thoughts of Shrimad Rajchandraji… As a society, it is always essential to remain connected with our history."
Shrimad Rajchandra Mission Dharampur (SRMD) aims to spread Shrimad Rajchandraji's values to bring His illuminating and spiritually uplifting teachings to maximum people from all walks of life.
Elaborating upon Shrimadji's influence on Gandhiji, Abhay Jasani, President of SRMD said, "Gandhiji met Shrimadji for the first time in Mumbai, upon his return from England as a barrister in 1891. Shrimadji's inner equipoise, absorption in spiritual pursuits, enlightening wisdom, knowledge of the scriptures and moral earnestness left a deep-rooted impression on Gandhiji."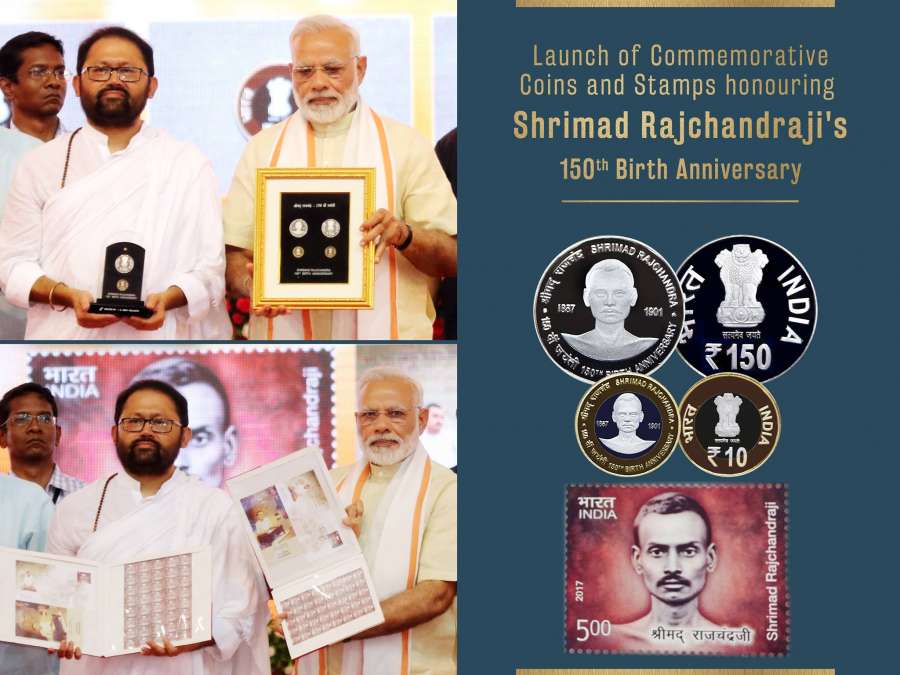 "Their relationship blossomed over profound interactions in the two years that Gandhiji spent in Mumbai. Upon moving to South Africa, Gandhiji corresponded with Shrimadji through letters. Shrimadji's insightful thoughts ignited the fire of spiritual inquisitiveness in Gandhiji. Their close association contributed in moulding Gandhiji's moral fibre. Shrimadji's inherent adherence to the principles of satya, ahimsa and dharma later crystallised as the fundamental tenets of Gandhism," said Abhay Jasani.
An epitome of spirituality, Shrimad Rajchandraji was a perfect blend of pure knowledge, selfless devotion, and complete detachment. Shrimadji attained self-realisation at the young age of 23. His preachings have been published in an invaluable volume 'Shrimad Rajchandra,' which continues to benefit and quench the thirst of seekers. Through ashrams, temples, and institutions dedicated to Shrimadji around the world, lakhs of devotees are progressing on the spiritual path, today.
Pujya Gurudevshri Rakeshbhai is an ardent devotee of Shrimad Rajchandraji and the torchbearer of Shrimad Rajchandraji's mission. A spiritual visionary and a modern day mystic, he is illuminating thousands of lives globally through enlightening discourses and an array of meditation retreats. His divine benevolence has uplifted a multitude of underprivileged lives through inner augmentation and societal development.