Advertisement

Indian Prime Minister Narendra Modi and Israeli Prfemier Benjamin Netanyahu saluted the valiant soldiers, who laid down their lives for the liberation of Haifa during the First World War….reports Asian Lite News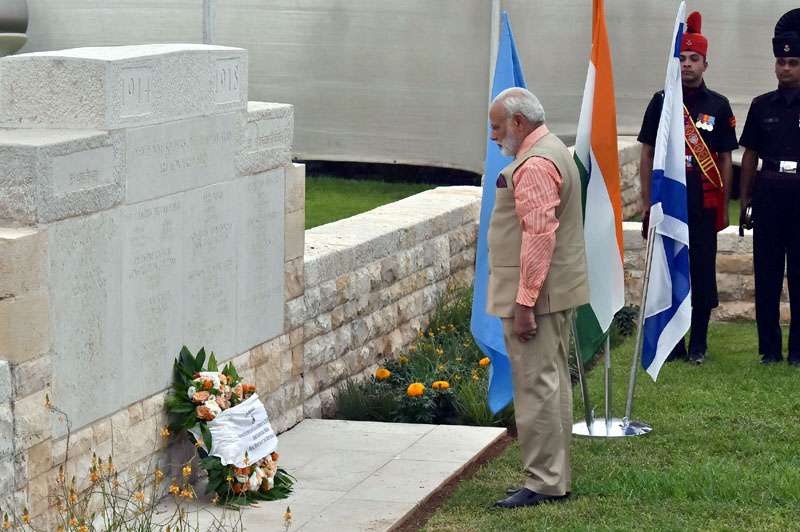 Indian Prime Minister Narendra Modi and Israeli Prfemier Benjamin Netanyahu laid floral wreaths at the Haifa Indian Cemetery that contains the graves of 49 Commonwealth servicemen killed in World War I, 44 of whom were Indians.
Haifa was captured by the Mysore and Jodhpur Lancers from Turkish and German forces on September 23, 1918.
In a highly sombre atmosphere, Modi and Netanyahu also jointly unveiled a plaque commemorating Major Dalpat Singh, who led the Jodhpur Lancers.
"Hailing the hero of Haifa. The leaders unveil plaque commemorating Major Dalpat Singh whose bravery in this battle is folklore," External Affairs Ministry spokesperson Gopal Baglay tweeted.
Blue Berets, as the UN peacekeeping forces are better known, from India were present on the occasion. The two leaders also wrote in the visitors' book at the cemetery.
"I am deeply honoured to stand here today to salute the valiant soldiers, who laid down their lives for the liberation of Haifa during the First World War," the Prime Minister wrote in the visitors' book.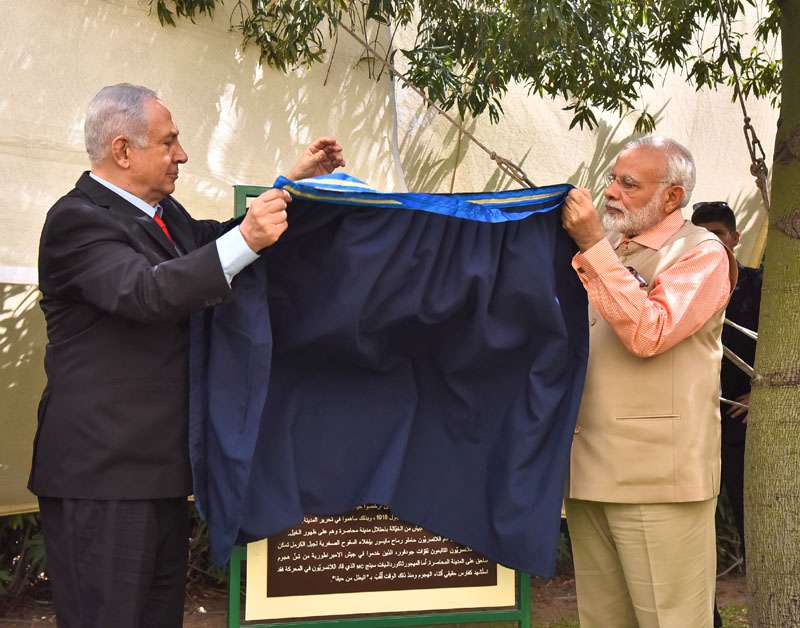 He also wrote that next year, the centenary of the Battle of Haifa would present another opportunity to mark the enduring bond between India and Israel.
An Indian officer who laid down his life in the same battle was Captain Aman Bahadur, whose grandson later served as a Brigadier in the Indian Army.
According to information shared by the External Affairs Ministry, the three bronze statues at Teen Murti in New Delhi represent the Hyderabad, Jodhpur and Mysore Lancers who were part of the 15 Imperial Service Cavalry Brigade.
The brigade carried out the victorious assault on the fortified city of Haifa on September 23, 1918, during World War I.
There are various accounts of this battle — all narrate the brave valour with which the Lancers undertook the assault on the garrisoned town protected by a joint force of Ottomans, Germany and Austria-Hungary. The capture of Haifa cleared a route for the Allies' supplies to the city through the sea.
Till date, the 61 Cavalry celebrates September 23 as its Raising Day or "Haifa Day".
On the third and last day of his visit to Israel, Modi, accompanied by Netanyahu, arrived here by helicopter.
This is the first ever visit by an Indian Prime Minister to Israel.
On Wednesday, India and Israel upgraded their relationship to that of a strategic partnership and signed seven agreements, including on space cooperation, water management and agriculture.