Advertisement

Prime Minister Narendra Modi paid homage to the architect of the Indian Constitution, Bharat Ratna Bhimrao Ramji Ambedkar on the occasion of his 126th birth anniversary in Nagpur….reports Asian Lite News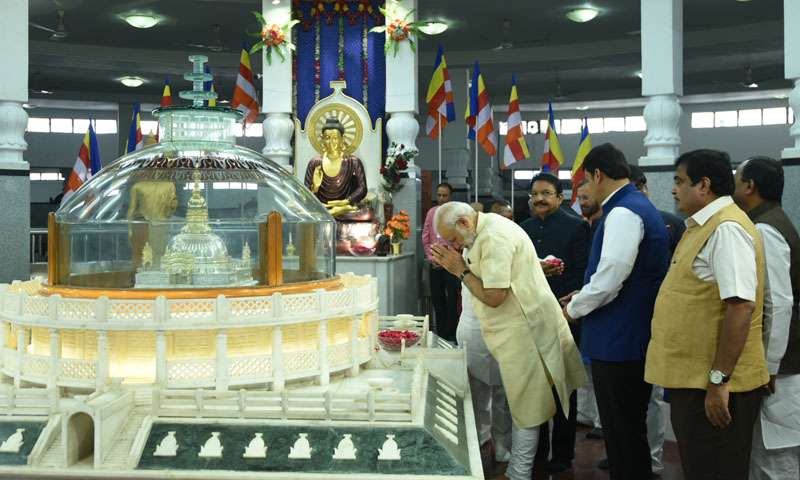 Arriving on a daylong visit for various engagements, Modi started his day with a visit to the historic monument, Deekshabhoomi, where Babasaheb Ambedkar and over 600,000 followers had embraced Buddhism on October 14, 1956.
This 'Dharmantar' is considered the biggest mass religious conversion at a single location in history that took place 61 years ago.
A series of functions has been organised to mark the Ambedkar Jayanti on Friday across Maharashtra, including at Deekshabhoomi in Nagpur and Chaityabhoomi in Mumbai, where Babasaheb Ambedkar was cremated following his death on December 6, 1956.
Born on April 14, 1891, Ambedkar was the first Law Minister of the Independent India, the principal architect of the Indian Constitution who dedicated his life for the uplift of Dalits, women and labourers, and was posthumously conferred the country's highest civilian award Bharat Ratna in 1990.
Congress President Sonia Gandhi and Vice President Rahul Gandhi extended their greetings to the nation on the occasion of the 126th birth anniversary of Dr B.R. Ambedkar.
"Babasaheb was indeed one of the greatest icons of modern India and his contribution to the making of India, as a nation shall always remain undisputed," Sonia said in an official statement released.
She said that Ambedkar's life is a guiding light to all Indians who want to live together, united and under the shade of the constitutional laws and ethos.
"The Indian Constitution is a living affirmation of the inclusive cohesiveness and guarantee for equality that Babasaheb envisaged", she said.
She paid tributes to "one of the greatest sons of India and champion of social equality and democracy", and said that the path of social democracy shown by Babasaheb Ambedkar shall forever remain relevant.
Rahul Gandhi also extended his greetings on the occasion, and tweeted "Babasaheb's life and his work embody the struggle for the conscience of a nation."
"May we never cease to strive for the ideals Babasaheb dedicated his life to…," he said in another tweet.
He also shared the link to a website that the Congress launched on Friday.
"Congress is proud to launch today a platform designed to deepen our understanding of Babasaheb's thoughts," he said.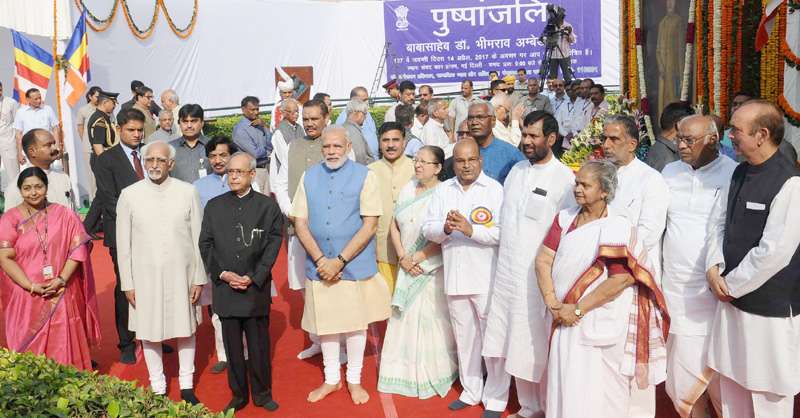 CPI-M General Secretary Sitaram Yechury said that B.R. Ambedkar's vision of the "Constitution above all" was under threat and called upon the people to take forward his ideals.
"B.R. Ambedkar's vision, more than just symbolising social justice, helped create a political framework to achieve it, and that is our Constitution," Yechury said on social networking sites on the occasion of Ambedkar's 126th birth anniversary.
"That vision is under threat today. On Ambedkar's birth anniversary we must pledge to take forward the finest lessons from his struggle," he said.
"Puthandu, Vishu, Poila Boishakh, Baisakhi, Rongali Bihu, Vishuba Sankranthi … — one land, many festivals," Yechury wrote.
"On the day we are marking Ambedkar's birth anniversary and observing Good Friday, let us renew the pledge to cherish and strengthen our unity, protecting this diversity," added Yechury.
The Congress on Friday launched "Quest for Equity" website on the occasion of Dr B.R. Ambedkar on his 126th birth anniversary.
The website contains pictures of his achievements and a copy of the original Constitution of India.
Chairman of the Scheduled Castes Department of the All India Congress Committee K. Raju said the website www.questforequity.org contains over 300 archival pictures of Ambedkar, 97 scans of his correspondence and the full transcripts of the Constituent Assembly debates.
In addition, he said the website hosts the most comprehensive and longitudinal data set, broadly categorised into access to public services, discrimination, economic data, education, employment in public and private sectors, health and household data on the Scheduled Caste and Scheduled Tribe communities.
"The website also contains over 200 papers and reports of diverse scholars and organisations working on issues of inequality, discrimination and poverty. It therefore aims to be the definitive platform for data, research and legislation on issues related to Scheduled Castes and Scheduled Tribes, and eventually minority communities," Raju said.
Quest for Equity hopes to take Babasaheb Ambedkar's spirit forward by encouraging critical analyses of contemporary socio-economic and political issues, so as to deepen India's social justice paradigm, he said.
"In trying to understand how to make the promise of this nation further accessible to all, it is therefore imperative that we continuously study why and how marginalised groups are discriminated against or excluded," Raju said.
"It is only then that scholars, activists and policy makers can re-order India's social justice paradigm to uplift and empower. It is hoped that Quest for Equity will prove to be a vital resource in furthering this objective," he added.