Advertisement

In a rare and challenging case, a 68-year-old woman weighing just 35 kg underwent a 'high risk aortic valve replacement and bypass surgery at the Asian Heart Institute here recently….reports Asian Lite News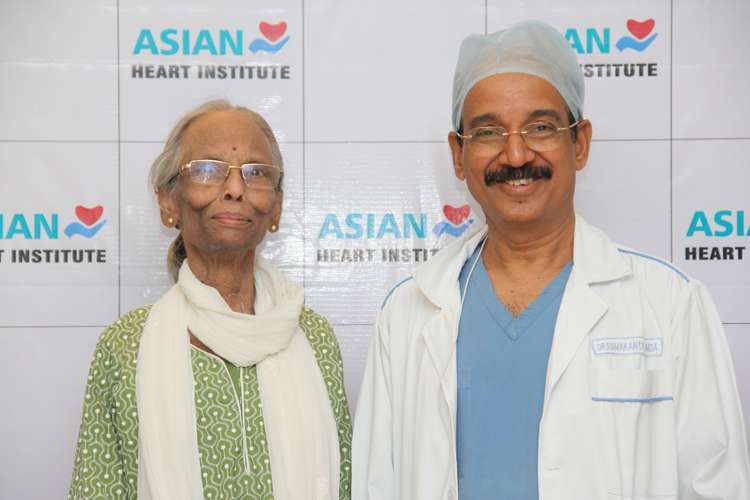 The patient, Asha Phatak, who weighed around 60 kg around a year back, dropped steeply to 35 kg owing to her precarious heart condition, making her an "extremely dangerous case", said renowned heart surgeon and AHI Vice-Chairman Ramakanta Panda.
A diagnosis by Panda revealed that Phatak's heart pumping was very weak, barely 20-25 per cent of normal; she had two major blockages in the heart, and narrowing of a heart valve.
"She needed to undergo both – a bypass surgery and an aortic valve replacement, but she was very fragile at the time of the surgery," Panda, who has earlier performed surgery on former Prime Minister Manmohan Singh, explained.
A recovered Phatak recounted how initially the famous surgeon flatly refused to take up her case, but when she expressed willingness to undergo the surgery, despite a 90 per cent risk, Panda relented.
"It was her strong willpower which revived her weak heart… It was one of the most complex and challenging cases I have handled. She's my bravest patient…!" Panda said lauding Phatak.
In the marathon 10-hour surgery, the team of medicos led by Panda performed part of her bypass which included two grafts, LAD and Ramus Intermedius with the 'beating heart technique' and the rest with the help of a heart-lung machine.
After the bypass, Phatak's heart was stopped to replace the narrowed valve with a new one – giving the patient a fresh lease of life.
On November 23, Phatak was rushed from her Mahim home to the AHI in Bandra in a critical condition with a congestive heart failure as it could not pump sufficient blood and oxygen to the body, besides fluid flooding her lungs coupled with low blood pressure.
She was kept in the ICU for 19 days and after the surgery on December 12, was kept on ventilator, remaining a total of two months in the ICU till her discharge on January 23.
Panda said Phatak's positive attitude towards life, courage and willpower contributed to her speedy recovery since the medicos had apprehended she would not be able to tolerate the stress of the surgery and succumb on the operation table itself.
Nearly three weeks after discharge, the retired bank manager is convalescing well at h