Advertisement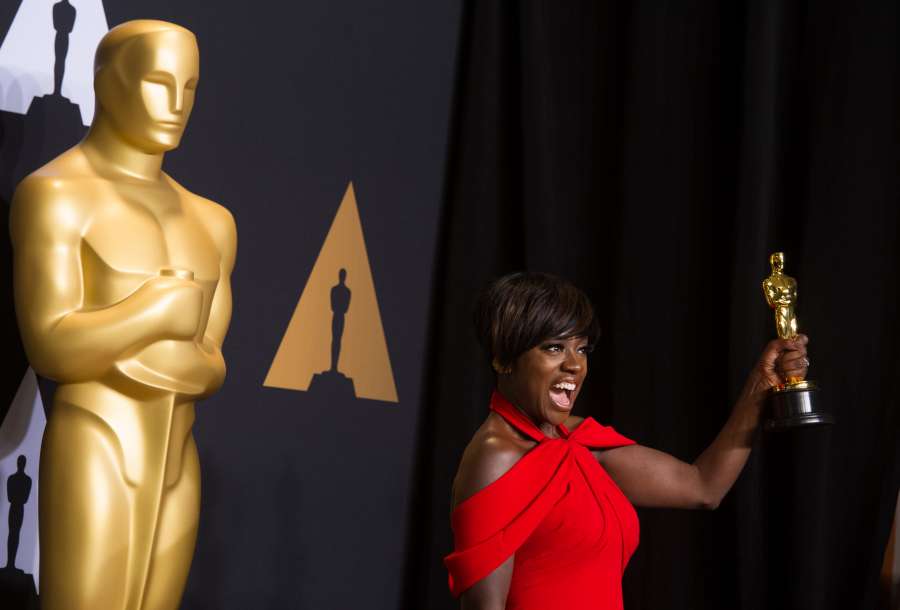 A record number of wins by black stars, a Muslim actor winning for the first time, the victory of an Iranian filmmaker who skipped the ceremony in protest against a travel ban, US President Donald Trump-bashing and a Best Picture winner announcement gone wrong. The 89th Academy Awards — where "La La Land" got six honours and late Indian actor Om Puri was remembered — turned out to be one of a kind…..reports Asian Lite News
The Oscars ceremony was held at the Dolby Theatre here on Sunday night, with Indian actress Priyanka Chopra, Indian-origin British actor Dev Patel, his mother and Indian child actor Sunny Pawar, 8, in attendance.
"Quantico" star Priyanka stepped out in a white Ralph & Russo gown for her red carpet moment, while Dev was nominated for his role in "Lion", and Sunny stood out when he acted like baby Simba from "The Lion King" on being lifted by Oscars' host Jimmy Kimmel.
Even India-set films "The Jungle Book" — which won for Visual Effects — and "Lion" — which won none of its six nominations — found their moment at the Oscars, but India's true moment of pride came when Om Puri was commemorated in the "In Memoriam" montage with the likes of Prince, Carrie Fisher and Debbie Reynolds.
Overall, "La La Land" took the lion's share of six honours, including Best Actress for Emma Stone and Best Director for 32-year-old Damien Chazelle, who made history by becoming the youngest Best Director Oscar winner. The film's lead actor Ryan Gosling lost in the Best Actor to Casey Affleck's grieving brother act in "Manchester by the Sea".
"La La Land" also missed out on — in an 'oops' moment — the Best Picture trophy to "Moonlight".
In an unprecedented gaffe, presenters Warren Beatty and Faye Dunaway announced "La La Land" as the winner in the Best Picture category, when in fact it was "Moonlight".
The "La La Land" makers were mostly through their speech before the error was realised, and the film's producer Jordan Horowitz said: "There's a mistake… 'Moonlight', you guys won Best Picture… This is not a joke, I'm afraid they read the wrong thing."
Beatty apparently had the wrong envelope, but the mistake has become the talking point of the awards ceremony, where in the 'In Memoriam' segment, a photograph of living Australian producer Jan Chapman was mistakenly used against late costume designer Janett Patterson's name.
All said and done, the winners, in a pleasant change, were 'not-so-white'.
The Best Picture went to "Moonlight", about a young black man growing up in Miami. Viola Davis won the Best Actress in a Supporting Role Academy Award for "Fences" and became the first black star to have won Oscar, Emmy and Tony awards for acting.
Actress Halle Berry, who won an Oscar in 2002, was also happy to see diversity.
"Things have progressed and are changing," Berry said at the red carpet.
Dev, who was running for the Best Supporting Actor trophy for "Lion", lost out the Oscar to "Moonlight" star Mahershala Ali, who became the first Muslim actor to take home the golden statuette.
Barry Jenkins and Tarell Alvin McCraney won for Best Adapted Screenplay for "Moonlight", and director Ezra Edelman won alongside filmmaker Caroline Waterlow for Best Documentary Feature for "O.J.: Made in America".
In an interesting turn of events, Iranian filmmaker Asghar Farhadi, who skipped the ceremony in protest against Trump's travel ban, won the Best Foreign Language Film for his movie "The Salesman". It is his second Oscar, and in a statement, he said: "My absence is out of respect for the people of my country and those of other six nations who have been disrespected by the inhuman law that bans entry of immigrants to the US."
There were some memorable performances as well.
After singer-actor Justin Timberlake opened the ceremony with his Oscar-nominated number "Can't stop this feeling", Lin-Manuel Miranda, Sting and John Legend took the stage to entertain the audience.
The 89th edition followed this year's awards season's trend of taking swipes at Trump. Right from Kimmel to some of the nominees, the gala was politically charged.
Kimmel, in his opening monologue, said the show was being watched in over 225 countries "that now hate us and I think that is an amazing thing".
"I don't have to tell anybody the country is divided right now. I've been getting a lot of advice from people telling me, 'You need to say something to unite us'. Let's just get something straight off the top — I can't do that."
Alessandro Bertolazzi, who shared the trophy for Best Makeup and Hairstyling with Giorgio Gregorini and Christopher Nelson for their film "Suicide Squad", raised his trophy and said: "I come from Italy. This is for all immigrants."
There were some surprising elements as well like when Kimmel escorted a group of wide-eyed tourists into the theatre in the middle of the ceremony.