Advertisement

Ever wondered how a dish named drunken fish or wine-glazed mushroom would taste? Head for the ongoing Grills on Fire — a fiery feast at The Ancient Barbeque (TAB) in this suburb of the national capital where an array of 24 kebabs — vegan and non-vegan — await the opportunity to tickle your tummy….writes Somrita Ghosh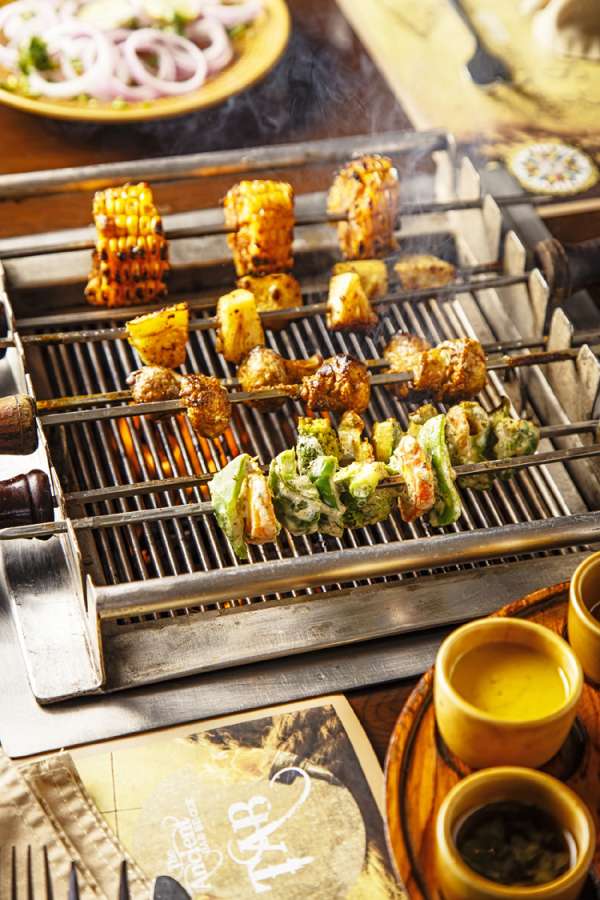 TAB specialises in grilled delicacies and this makes it an ideal place for foodies who enjoy digging into starters more than the main course.
"There are too many restaurants with the same menu. We thought of coming up with something different. We wanted to focus mostly on the barbeque dishes and cater in the best best possible way," Jehangir Khan, Branch Manager, The Ancient Barbeque told .
So how did the thought of a festival focused on kebabs happen?
"Since we are already focused on grilled items so, we wanted to bring in some more variety to the existing menu. The items which will be liked by visitors will also be included in the main menu," Khan replied.
As I took my seat, I was served…you guessed it…. 'grilled cocktail', a much-needed refreshing drink that cast its spell on me and eased away the tiredness of the day. The vodka-based drink, a signature offering, was given a smokey touch with grilled slices of apple.
The fine-diner also has quite an exquisite variety of mocktails; for instance, 'pineapple on fire' — pineapple juice and grilled slices of fresh pineapple sans the liquor.
Then came the array of starters, increasing my appetite with their hypnotising aromas.
Without wasting a single moment, I dig into a mutton barra and rogini mutton seekh kebab. Both had a uniqueness — instead of being dry, like other kebabs are prepared, they were coated with gravy and that made them heavenly.
Next up was patrani machhi — mint-flavoured fish wrapped in banana leaf followed by a butter biryani chicken. Yes, this too was a tikka, with the chicken done in that manner and sprinkled with the rich taste of biryani masalas.
It was now the turn of the drunken fish. Mixed with beer, the fish was fried and served with a dash of mayonnaise, but the item which stood apart was the mutton galouti with ulta tawa paratha. The mutton was extremely soft and full of 'desi' flavours and melted inside mouth in no time.
And for die-hard momo lovers, there are even tandoori chicken momos!
Alongside this, you can take your pick from the vast buffet on offer. The eatery normally serves five varieties of vegan and non-veggan tikkas and expanded this to 12 each for the Grills on Fire festival.
The choice really is unlimited — kababs and buffet, or kababs only or buffet only.
I decided to stick to kababs only for my culinary journey. However, one tiny suggestion from this foodie — keep some space in your tummy because with six to seven varieties of deserts!
So go and grab a bite of the culinary miracles before your heavenly world of starters gets over!