Advertisement

After India's frontiers got realigned during partition in 1947, the cuisine of the countries beyond our borders got confined within their own boundaries. To overcome that, the Hilton Chennai's Ayna restaurant is hosting an "India-Beyond Borders" food festival with vegetarian and non-vegetarian dishes of Pakistan, Nepal, Bangladesh and Sri Lanka….writes Venkatachari Jagannathan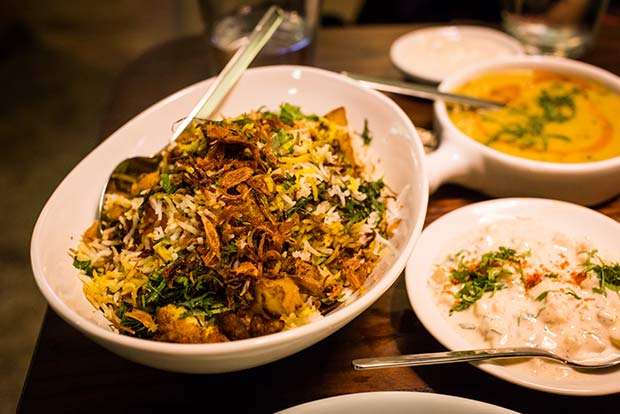 "The spices used for making the masala in these countries are similar to ours. But the different ratios with which ingredients are used to make the masalas gives each dish its distinctive taste and flavour," Achal Aggarwal, Executive Chef at Hilton Chennai, said.
"The ratio of spice ingredients used in Pakistan to make their masala is completely different from what we use in India. Pakistanis use more of aromatic spices, including rose petals for a nice aroma," Aggarwal said while offering the starters.
For the vegetarians the char grilled soft Pakistani kandhari paneer tikka coated with reddish pomegranate juice and mild spicy masala tasted great, while the begun bhaja (mustard laced grilled eggplant) gave out the mustard flavour at the first bite.
The beehaji ka tikka (pan fried lotus stem patties from Sindh province in Pakistan) was crunchy.
Non-vegetarians can go for chapali kebab — lamb patties from Pakistan's northern frontier.
"Instead of chicken one can keep one or two chapali kebabs inside a cut bun and have it like a burger," Aggarwal said.
Seafood lovers can certainly dive into the Bangladeshi speciality macher dhakai paturi (fish coated with spices and mustard oil, wrapped in banana leaf and cooked). The aroma of the mustard oil masala and fish is not to be missed.
One can also blindly go for Nepali poleko machala (roasted soft grouper char-grilled with newari spices). Chicken lovers can opt for chiken sekuwa (skewered chicken thigh rubbed with spice mix and grilled on charcoal).
According to Aggarwal, the masalas are different for each dish and are not inter-changeable.
Both the soups, vegetarian (subz shorba) and non-vegetarian (murgh jahangri shorba), were light on the stomach.
At the next table, a tween was seen mixing a tamarind/garlic dip with the vegetarian soup and smacking her lips.
It was time for the main course.
And Chef de Cuisine Paul Joe brought taster's portions of vegetarian dishes — kaju sudata uyala (raw cashews tempered with onion, garlic spices and served in rich coconut gravy, a Sri Lankan speciality); polos (baby jackfruit made with native Sri Lankan curry powder); aloo tama (potato with bamboo shoot from the Kathmandu Valley) and palak nadir (stir fried lotus stem with baby spinach a speciality from Pakistan's mountainous region).
Non-vegetarians can choose from ambalatiya — the costliest item in the menu (a spicy preparation of tuna and Sri Lankan kokum); hash bhuna (duck curry popular with dock workers of Chittagong); gulnar jhinga (a spicy prawn curry); haku choila (Nepali ground chicken dish with hot spices); namkeen chaap gosht (a rustic meat dish from Khyber Pakhtunkhwa); khasiko masu (a Nepalese mutton curry); Karachi khichra (a famous Ramadan speciality from the by lanes of Karachi); kunna murgh (a dish from Chiniot, near Lahore, that takes its name from a small earthenware pot in which it is made) and rongpur doi maach (chunks of surmai cooked in delicate yoghurt-based curry from Bangladesh).
All the main course dishes went well with the breads, one of which was made with ragi.
One can also try out the lamprais (a meal in itself from Sri Lanka of yellow rice, vegetable cutlet, dried brinjal, and raw bananas and sini sambal packed in banana leaf) along with any one of the main course items.
Those with a sweet tooth should go for luqmat al qadi (a Persian dessert of deep-fried flour dumpling soaked in honey) and patishapta (sweet pancakes filled with dates, coconut and jaggery).