Advertisement

India's hospitality industry is changing because of evolving consumer needs, says Andrea's Eatery's owner Andrea Aftab Pauro, who belongs to the family of hoteliers who own the Imperial Hotel that opened its doors in 1934. He also says that people are looking for organic ingredients and hence healthy food is getting prominence in current time….writes Nivedita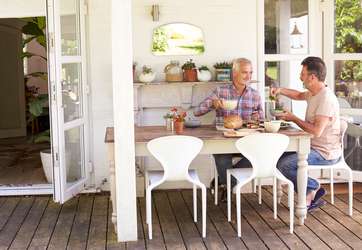 "The Indian hospitality industry is evolving at a very fast pace where consumer preference keeps changing. It is the reason why demand for various cuisines and styles of food has lead to the current boom in food service. Evolving consumer needs has spurred the trend for casual dining," Pauro said.
"Rising disposable income and a willingness to experiment is driving the change in India's attitude towards food and lifestyle. People are looking for organic ingredients, nutritional value and healthy food gaining prominence," he added.
A traveller and gourmand, Pauro is an inveterate globetrotter, whose passion for experiencing new places is complemented by his love for food. In 2004, he launched Baci, a fine-dining restaurant followed by Italian food joint Amici which was launched eight years ago.
He has now opened Andrea's Eatery at Select City Walk in the capital and he says that with this outlet, he is tapping into the desire of the market to eat healthy food.
"Most of our dishes are made using organic produce and high quality ingredients. We offer a world cuisine menu giving the customer the flexibility to follow their whims. We often see one person on the table eating Southeast Asian and another eating Italian and a third eating Gluten free dishes. We want to offer something to each and every person that visits Andrea's Eatery," he said.
He also feels that the "dining out culture in India has changed drastically".
"Exposure to international trends, cultures and willingness to experiment has had a major contribution towards this change. Also the idea of going out to have a good time is taking center stage in urban culture.
"People nowadays are looking for truly authentic experience while dining out. Ranging from hospitable service, soothing décor, warm ambience, innovative menu, and little elements that make their experience rewarding and unforgettable," he said.
Pauro, who has a Bachelor's degree from Hotel Management Institute of Denver and a Master's Degree from Hotel Management Institute Montreux, has a point to make.
"It is always important to use local fresh produce while cooking. But at the same time to cook International cuisine you need authentic products to achieve the right flavors, which only specific imported products deliver. I feel for a successful food and beverage industry we need to find the right balance," he said.
"At the end of the day it is the customer who needs to be protected and served what he or she's wants and is paying for. If someone wants to eat Parma ham, it has to be Italian Parma ham, as Indian Ham is not very good. While eating Indian food in London, most ingredients come from India. I surely wouldn't want to eat masalas made in England," he added.