Advertisement

Like bitters enhance cocktails, spices tickle the palette and a variety of additions raise desserts to an altogether new level, it is innovation and creativity that make for an overall fine-dining experience, stakeholders in the space say….reports Asian Lite News
To this end, if the idea of the UN World Innovation and Creativity Week (WICW, April 15-21) is to remind and encourage people to use their creativity towards making the world a better place and make their place in the world better too — can the food and beverage industry be far behind?
But first, let's talk drink. How about a Monkey Thandai, with the base being Monkey Shoulder, a free-spirited, fun-loving three-malt blend with an easygoing smooth, rich and mellow vanilla deliciousness?
It has, in fact, become quite faddish for the Indian summer drinker!
As for the main course, changes in the culinary landscape are widening the scope for chefs today in terms of what can be offered, says Arun Sundararaj, Executive Chef, The Taj Mahal Hotel in Delhi.
"Innovation in cuisine has no limitations, much like an artist who works on his imagination with no restrictions. For example, two of our star dishes at Varq, the signature Indian restaurant, are 'Different Strokes' — a trio of crisp 'jalebi' with saffron, passion fruit reduction, fennel and black pepper crust; and 'Sweet Tooth of the Maharaja — layers of garlic 'kheer' and broken wheat porridge.
"Also, one of the other treasured culinary delicacies at the hotel is the 'Khichdi rafat', an innovative twist to the humble Indian comfort food. The unique recipe uses rice cooked with tender pieces of chicken, duck and lamb and is flavored with aromatic spices and almonds," Sundararaj said.
"In the recent past, we have curated a series of specially-designed menus, to offer exquisite dining experiences to patrons. Each of the dishes across the hotel's dining destinations is a craft in itself and combines the best ingredients from across the world to create memorable experiences," he added.
Working on festive menus is another occasion to present exquisite offerings.
"Over the years," Sundararaj said, "our team has created an array of contemporary dishes, each of which derives its base from traditional Indian desserts. During Ramadan, we created a unique take on the festive 'Qubani ka meetha' by presenting it in the form of a mille feuille. We've reimagined the traditional delicacy and used puff pastries to give it a classic French twist."
Chef Vineet Bhatia at Ziya (The Oberoi, Mumbai) has always followed a signature approach and, as a consequence, redefined the way Indian food is eaten.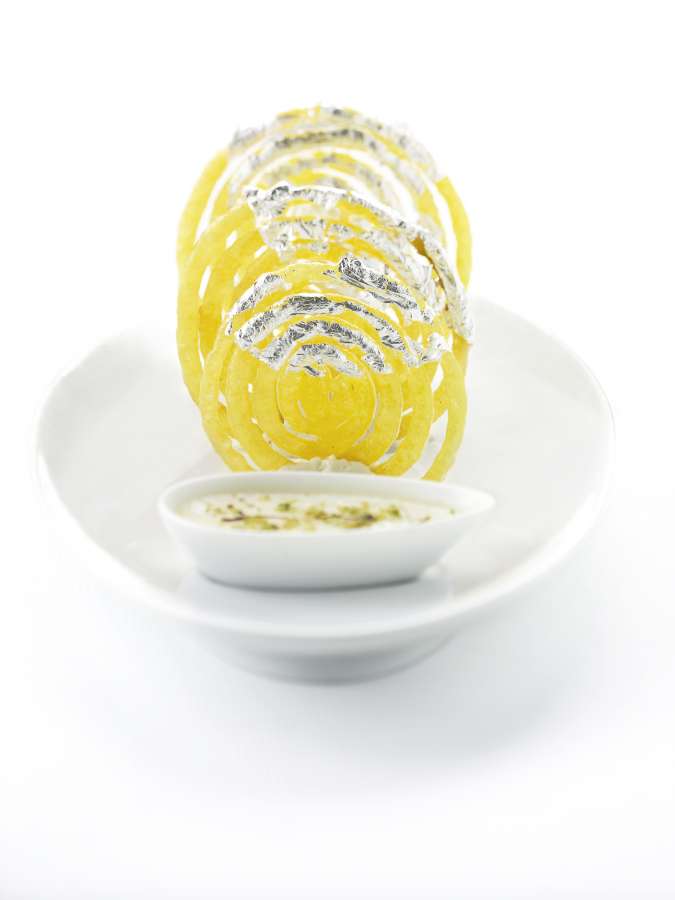 For instance, Bhatia had, way back in 1993, invented the 'chocomosa', which redefined the 'samosas' and took it out from a very savoury genre into a sweet genre.
Until that point, 'samosas' could be stuffed with anything and more often than not, this would be minced meat or chicken or prawn.
"We take Indian ingredients that one normally see in everyday home cooking and treat them very differently in Ziya… so, for example, it could be a 'gulab jamun', but in Ziya it takes the form of a 'Gulab Jamun cheese cake'," Bhatia said.
"Hence, I would say that there is not one signature dish in Ziya — it's a whole approach of having a multi-flavour experience.
"Another example is the 'dahi-bhalla' as an ice cream. It lasted for a long time on the menu and was so popular that we found it very difficult to take it out of the menu," Bhatia added.
It's homespun ingredients with progressive Eurasian flavours for Executive Sous Chef Abhishek Gupta at Gurugram's The Leela Ambience.
The ambience of the Epic – Global restaurant adds to his delectable menu, enticing the five senses with soothing music, soulful aromas and nicely decorated table spreads with a touch of luxury.
With intriguing dishes like pureed pumpkin with marigold flowers, potato starch petals, sambuca-infused sous vide beans, cherries and gooseberry cooked with mild butter sauce, farm leaves grilled with smoked butter and more, "a prism of culture, time, and place is created which builds a deeper appreciation of how regional characteristics have shaped global food", Gupta said.
Molecular food is the name of the game for Mahesh Kumar Sharma, Executive Chef at Dwarka's Radisson Blu Hotel.
"I have done some Indian twists like 'mishti doi' — sweet curd molecular; mango sphere from mango pulp and 'papdi chaat' molecular. I made juices and yoghurt spheres that were my prime molecular innovation in the food industry. I have included these in a la carte orders and they are gaining popularity amongst guests," Sharma said.
"I have changed a lot in buffet presentation post my joining. I have introduced new cold meats, terrines and different kinds of salads in my coffee shop buffet. I have done a lot of work on shooter and mixed-flavored juices.
"Since I belong to pink city Jaipur, I have introduced Rajasthan's authentic cuisine in my banquet menu in Delhi," he added.
Enough food for thought?