Advertisement

He's quite a citizen of the world, what with being born in Kenya to an English mother and Indian father, whose roots are in Gujarat, and whose grandmother was from Daman and Diu. Just the right genes for Chef Kiran Jethwa to transport television viewers across the country with his "Spirited Traveller" show that highlights Indian culture through its local drinks and food….reports Asian Lite News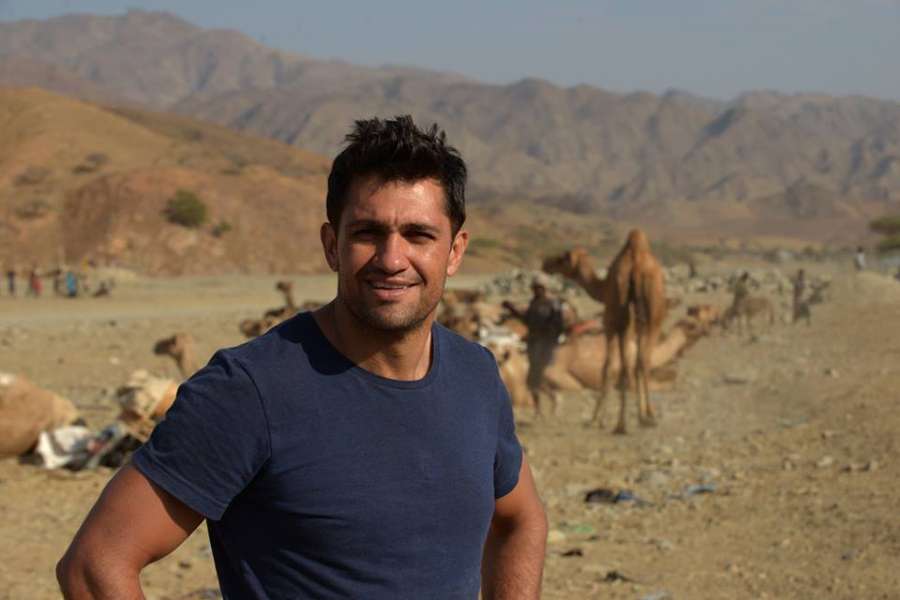 "It's a first-of-its-kind show that aims to explore the most authentic, exotic beverages across India. I was approached to do it and then we just went on with it and it's done," Jethwa said of the show that premiered on Fox Life on Monday and will air every Monday and Tuesday at 9 p.m.
And what a voyage across India it's been, taking in Kerala, Goa, Mumbai, Coorg, Bengaluru, Jaipur, Delhi, Varanasi, Kolkata, Ravangla (Sikkim), Dimapur and Benreu village in Nagaland and Majuli Island and Jorhat in Assam — delving into the rich local traditions, distinctive beverages and the cultural idiosyncrasy that the country has to offer.
"Right from meeting the royals in Jaipur to tasting their aromatic royal drink Chandrahas to relishing the special coconut palm wine toddy and duck chasing in Kochi to playing a game of archery in Ravangla and Kushti in Varanasi to joining the traditional puja of the forest Gods in Ravangla — the show is an exciting celebration of Indian culture like never before," Jethwa explained.
The upshot is that one can learn and discover a sporadic drinks menu from around the country, which includes the oldest, unknown, unheard of beverages such as butter tea and chhang of the Lepcha community, toddy from Kochi, ginger wine from Kolkata, Cabo from Goa… the list is endless.
"I learnt something about every single one of them. It's difficult to pick one of them or how to expand all of them," said the chef when asked if he had any personal favourites.
The show will also help you discover the age-old secrets behind the local traditional cuisines — like Nagaland's Zegithana.
"Naga food is really fantastic and is actually light years ahead of our current diet. You know they eat everything, everything that's there in their surrounding and they are not picky about what they eat. They get their protein from many different sources. Something we are gonna think about doing as a global population.
"I think Naga food is really ahead of its time," the chef asserted.
Viewers will also get to meet and greet locals — for instance, Mrs. Wangdi, a village elder in a Lepcha tribe.
"This show is all about people and their stories and so all of the people you meet along the way are the essence and the heart of every story. It was just really fantastic to meet such a varied number of people," Jethwa said.
Thus, the show touches upon the Lepcha tribe and Ravangla village in Sikkim, Zeilangs and Benrurs of Nagaland and the Mishing tribe of Assam, among others.
"Exploring the cultures of any tribe is fascinating, because you kind of feel like you kind of step back to understand that traditions in the history, but you always feel like you come all the way to learn something, you almost feel like going back because these people are ahead of you — because of their understanding of natural world, their environment and their respect for you," he added.
Overall, what would he say of his journey?
"Kochi was beautiful and sort of Venice of India, the backwaters were so serene; Bangalore (Bengaluru) is crazy with really interesting food and drink; Goa is beautiful; Mumbai is Mumbai…
"In Jaipur, I was fascinated particularly by all those very big palaces; Nagaland is just very beautiful and absolutely stunning; Kolkata has really incredibly unique food; Varanasi for me was not just a highlight, it was fascinating, captivating; Delhi, yes, it's a stunning city," the chef offered.
Happy viewing, may you have much to chew on!