Advertisement

One's curiosity was piqued when the invitation to review a Chettinad food festival with the King of Fruits, the Mango, at Annam Café, landed in the mail box. Especially as the festival menu was not very elaborate, unlike other Chettinad food festivals….writes Venkatachari Jagannathan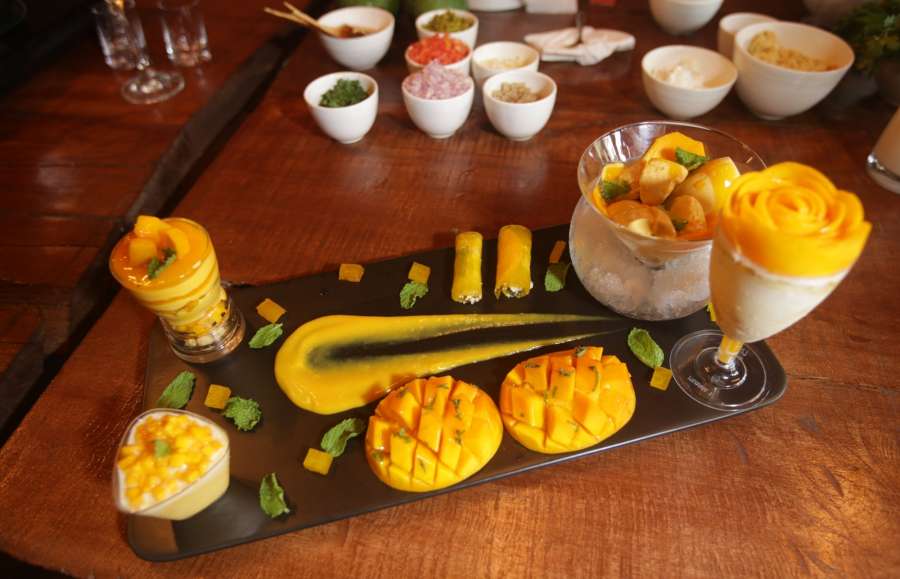 The Annam Café is a 45-cover restaurant housed in the 27-room Design Hotel Chennai by juSTa, inside the upmarket Phoenix Market City at Velachery and has an interesting decor.
The lights at Annam Cafe — "annam" is food in classical Tamil — are fabricated to look like musical instruments, representing the skeletal forms of the Ghatam, Mridangam, Thavil and Tabla (classical Indian drums).
The Café also displays old pickle jars, copper tiffins, jewellery boxes, stone weights, as also many coffee table books on sculpture, architecture, classical dance forms, in easily reachable alcoves.
Thirtyfour-year-old B. Suresh, Head Chef, dispelled those initial food-based reservations with his special mango mocktail — a mix of mango and lemon juice, sugar syrup and a dash of mango pickle.
The mild mango pickle taste tickled the palate with every sip.
"We mix a tinge of pickle paste without oil in the juice. You will not find any trace of pickle oil," said Suresh, who once nursed ambitions of becoming an aeronautical engineer. After a hotel management course, he turned into a different kind of an engineer — a food engineer — taking his guests on gastronomical flights.
By this time the chicken starter — Chettinad spiced kozhi varuval — was brought to the table. The fried urad dal added to its crunchiness. "The chicken chunks are marinated in masala for six hours," Suresh informed.
For sea food lovers there is the crunchy and spicy curry leaves fish (fish fried with curry leaf paste) and prawn with Chettinad masala. Both were tasty but were not in the festival menu.
After the starters, taster's portions of the main course — chicken Chettinad (spicy gravy chicken dish with Chettinad masala) and the vegetarian kai kari Chettinad (a vegetable khorma) — arrived at the table.
Chicken Chettinad was spicy and flavourful and was taken with basmati rice, though the chef said it tastes equally good with traditional south Indian Ponni rice. The vegetarian starter, broccoli and cauliflower Chettinad peratai (fried broccoli and cauliflower with Chettinad masala), is also be had with the rice.
"I sprinkled a dash of Chettinad masala powder after the dish was made to release the flavour," Suresh explained.
Those avoiding rice can have the dish with kothu paratha (minced paratha with options — vegetarian, egg, chicken and mutton), with a tasty mango chutney side dish.
It is then the turn of desserts to arrive at the table. The Mango Panna Cotto and the Mango Baked Yoghurt (made with different types of mangoes) served on a black slate are not to be missed, whether one has a sweet tooth or not.
And you can wash it all down with a Mango Lassi.
FAQs
What: The Journey of Chettinad with The King of fruits, Mango
Where: Design Hotel Chennai by juSTa
When: June 15-25, 2017
Timings: Lunch 1 p.m. to 3 p.m.; Dinner 7 p.m. to 11 p.m.
Price: Meal for two would cost around Rs 1,200 without taxes