Advertisement

Emergency repair work on the damage to the Oroville dam in Northern California, and storms expected in the coming days, could aggravate the situation that are keeping the roughly 200,000 people who were evacuated due to flooding danger….reports Asian Lite News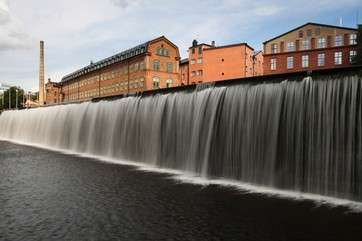 Authorities held a press conference in Oroville, located about 250 km northeast of San Francisco, to provide details about the situation after the evacuation of local residents was ordered due to the severe damage detected in the 235-meter-high dam's main spillway, Efe news reported.
Butte county Sheriff Kory Honea said that the evacuation order remains in place for the towns of Oroville, Palermo, Gridley, Thermalito, South Oroville, Oroville Dam, Oroville East and Wyandotte.
He said that only when the situation is deemed safe, based on the evaluations of California's Department of Water Resources (DWR), federal and state authorities, will they be in a position to determine whether to lift the evacuation order, emphasising that the main purpose of the measure is to safeguard the public.
The situation improved slightly in recent hours after the DWR reported late Sunday night that the water level behind the dam had fallen to 275 metres, thus easing pressure on the structure.
Specifically, authorities said that more than 3,100 cubic metres of water per second is moving through the main spillway, despite the 200-foot-long, 30-foot-deep hole that continues to enlarge.
Lake Oroville is California's second-largest reservoir and the dam is the tallest such structure in the US.
The problems at the dam began last week when a large portion of the main spillway eroded and broke apart, whereupon authorities closed that spillway and opened the emergency spillway for the first time in the dam's history.
However, on Sunday a crack was found in the emergency spillway and, given the imminent possibility that the dam could overflow – or even burst – the Butte county Sheriff's Office ordered the evacuation.
The National Weather Service said that the emergency spillway could potentially collapse due to an uncontrolled release of water from Lake Oroville.
According to local media, the emergency has affected between 180,000 and 200,000 people.
The problems at the dam have been aggravated by a very wet winter in California, a state that has been suffering from a drought in recent years but which in the past few weeks has registered exceptionally heavy rains.
DWR officials said they were intending to use helicopters to drop bags of boulders to fill in the eroded section of the spillway.
California Governor Jerry Brown on Sunday declared a state of emergency in Oroville, while the state's 23,000-man National Guard was placed on alert.