Advertisement

The vexed issue of the Trump administration mulling curbs in H-1B visas has been taken up with by Finance Minister Arun Jaitley with the American authorities during his ongoing visit….reports Asian Lite News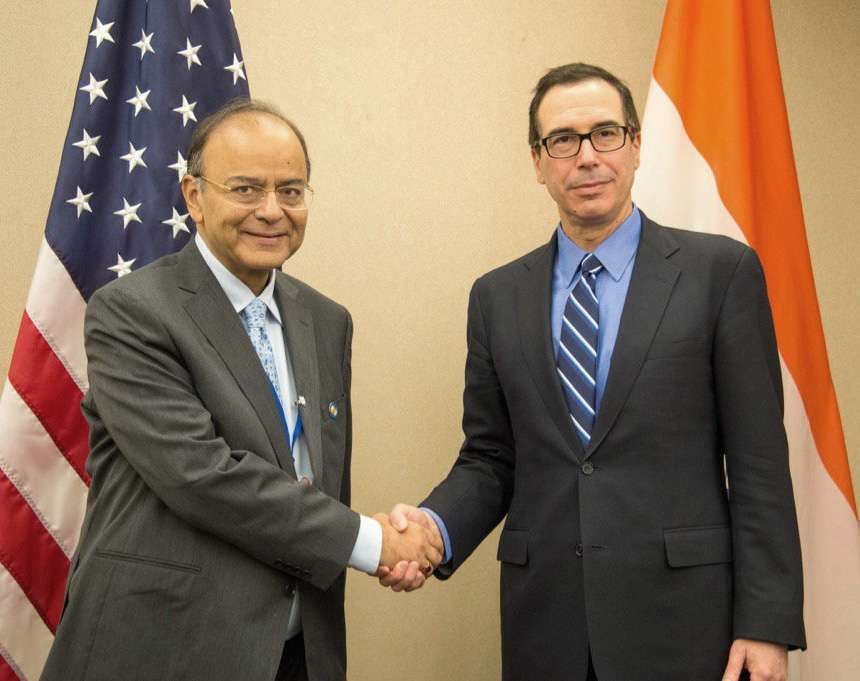 The issue was raised by Jaitley during his meeting with US Treasury Secretary Steven Mnuchin here on Saturday, an Indian Finance Ministry statement said.
"Finance Minister Arun Jaitley raised the issue of H-1B visas for skilled professionals from India and highlighted the contribution which Indian companies and professionals are making to US economy," it said.
The issue stems from recent executive orders signed by US President Donald Trump which indicate a possible tightening of the H-1B visas.
"Issues related to terror funding were also discussed and the US Treasury Secretary appreciated the role of India in this regard, including Indo-US cooperation in FATF (Financial Action Task Force)," the statement said.
"Critical economic issues like Indo-US Investment Initiative, infrastructure collaboration, National Investment and Infrastructure Fund, collaboration with USA for smart cities development, etcetera, were deliberated upon during the meeting," it added.
Jaitley is on a five-day visit to the US to attend the Spring Meetings of the International Monetary Fund and the World Bank.
According to the Finance Ministry, Jaitley also held bilateral meetings with the Finance Ministers of Sweden, France and Bangladesh, as well as with World Bank President Jim Yong Kim.
Meanwhile, the US, in turn, has alleged that Indian IT companies were unfairly cornering the major share of H-1B visas by putting extra tickets in the lottery system, which the current US administration wants to replace with a more merit-linked immigration policy.
"The top recipients of the H-1B visa are companies like Tata, Infosys, Cognizant — they will apply for a very large number of visas, more than they get, by putting extra tickets in the lottery raffle, if you will, and then they'll get the lion's share of visas," a senior US official said at a White House briefing last week, according to transcripts posted on the White House website.
"And those three companies are companies that have an average wage for H-1B visas between $60,000 and $65,000. By contrast, the median Silicon Valley (US) software engineer's wage is probably around $150,000," the official said.