Advertisement

Indians are a valuable community of Kansas and they are welcome in the state, Governor Sam Brownback has told Indian diplomats and community members in the aftermath of a bias killing of an Indian there….A special report by Arul Louis for Asian Lite News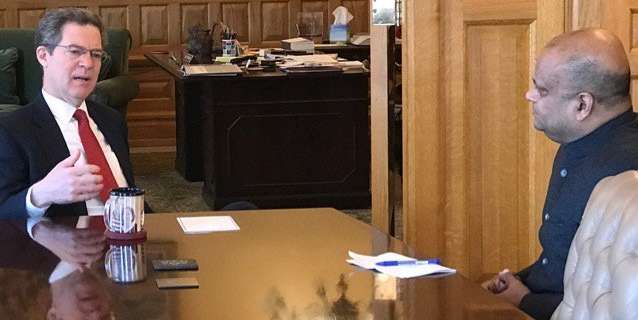 Brownback said he was ashamed of the killing of Srinivas Kuchibhotla and the wounding of Alok Madasani last month and it was not characteristic of the state that valued Indians, Consul General Anupam Ray told.
"The hateful actions of one man doesn't define us," Brownback said.
Ray, who is based in Houston, Texas, has jurisdiction over Kansas state.
He visited the state last week and met the Governor, Lieutenant Governor Jeff Colyer and members of the Indian community.
The state leaders said they are available for the Indian community and will give them whatever help they need, according to Ray.
Ray described as moving his meeting on Thursday with Ian Grillot, the heroic American, who was shot while trying to stop the gunman.
"I have not met a person like that in my life," Ray said. "A very brave man, he took a bullet for another man."
Grillot "represents the best of America," he said.
Ray showed him the tweet by External Affairs Minister Sushma Swaraj that "India salutes the heroism" he has shown.
Grillot was shot while trying to stop former Navy personnel Adam Purinton, who opened fire at the two Indians after screaming "Get out of my country".
According to news reports, he later said that he thought they were Iranians.
After the shooting Consul R. D. Joshi and Vice Consul Harpal Singh from the Houston Consulate General rushed to Kansas to help Madsani and the family of Kuchibhotla.