Advertisement

The US fired 59 Tomahawk missiles on a Syrian airbase in response to a chemicals weapons attack which killed dozens of civilians, drawing condemnation from Damascus and its key ally Russia….reports Asian Lite News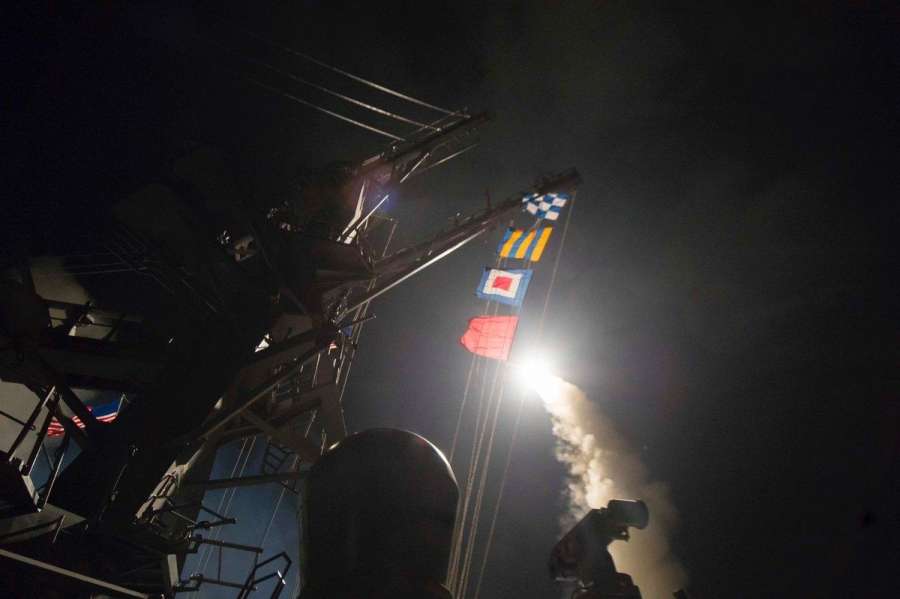 The US action killed six Syrian soldiers and caused huge damage at the Shairat military base in Homs province in central Syria, a monitor group said.
Syria termed the Thursday night barrage an "American aggression", Xinhua news agency reported.
Russian President Vladimir Putin said the strikes were an "aggression against a sovereign state" and violated "international norms". The Kremlin warned it would hamper Washington's ties with Russia.
This is the first direct military action President Donald Trump has unleashed against the regime of Syrian President Bashar al-Assad in the six-year civil war and represents a dramatic escalation in the US military campaign in the volatile region.
Trump said he ordered the Tomahawk strike in the "vital interest" of the US.
Speaking to the media at Mar-a-Lago resort in Florida, the President said the Syrian government "ignored the urging of the UN Security Council".
CNN reported that the US action could be interpreted by the Assad regime as an act of war.
Washington has blamed the Syrian military for the toxic attack in which over 70 persons died. Damascus called the allegation a "lie".
Homs Governor Talal Bazarir accused the US and Israel of backing the terrorist groups in Syria.
Syrian Foreign Minister Walid al-Moallem said Israel was the only beneficiary of the allegations of the chemical attack and denied the army had fired toxic gas.
He said the army struck an arms depot of the Al Qaeda-linked Nusra Front, and that the target contained chemical materials that terrorists had brought from Iraq.
The Syrian airbase hit by the US missiles was used in the war against the Islamic State group. It played a key role in liberating the ancient city of Palmyra from the Islamic State.
Victor Ozerov, the chairman of Russian Federation Council's Committee on Defence and Security, said on Friday that the US strike in Syria was "an act of aggression" against a UN member.
He said it would "undermine the efforts in the fight against terrorism" in Syria and that cooperation between the US and Russia may be "shut down".
Adam Schiff, the ranking member of the US House Intelligence Committee, said there were "no current plans for additional strikes".