Advertisement

US President Donald Trump pledged his full support to NATO, reaffirming Washington's commitment to the alliance and saying he no longer considers it "obsolete", a sharp reversal from his campaign trail remarks….reports Asian Lite News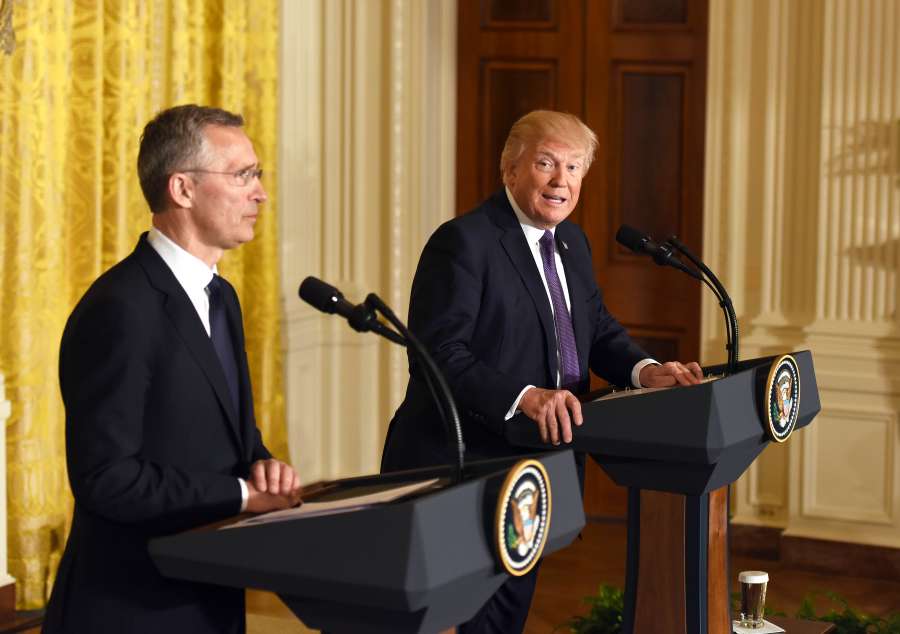 During a joint news conference with NATO Secretary General Jens Stoltenberg, Trump professed that his criticisms prompted the alliance to make changes that satisfied his concerns — though he did not specify what those were, the Washington Post reported.
"I complained about that a long time ago, and they made a change — and now they do fight terrorism," Trump said. "I said it was obsolete. It's no longer obsolete."
For more than a year, Trump has said NATO is outdated and costing the US too much money, suggesting replacing it with an alternative organisation focused on counter-terrorism and repeatedly using the word "obsolete".
Trump continued to stand by this position saying in a January interview with The Times, London, and Germany's Bild daily that NATO is "obsolete because it wasn't taking care of terror".
Stoltenberg in response told the President that he was "right", but described the change in far different terms.
"We have established a new division for intelligence, which enhances our ability to fight terrorism, and working together in the alliance to fight terrorism in an even more effective way," the Washington Post quoted the Secretary General as saying.
"But we agreed today, you and I, that NATO can and must do more in the global fight against terrorism."
Despite his rhetorics, Trump has committed to attending a meeting of the NATO countries on May 25 in Brussels during his first foreign trip, and Secretary of State Rex Tillerson attended meetings of the alliance last month.
In brief remarks, Trump again called on NATO members to "meet their financial obligations and pay what they owe", noting that member-states are expected to contribute 2 per cent of their gross domestic product (GDP) to defence.
Stoltenberg confirmed that ensuring the cost burden is better shared among countries has become a top priority for him.
Trump also thanked NATO members for condemning Syrian President Bashar al-Assad's use of chemical weapons and "the barbaric killing of small and helpless children and babies".
Trump referred to the Syrian leader as a "butcher".
On Wednesday, Trump backed away from several other firm positions that he had held for months on the campaign trail, reports the Washington Post.
Early in the day, the government ended a federal government hiring freeze that Trump had promised to institute, although departments have been told to find other ways to shrink staff sizes.
Then, in an interview with the Wall Street Journal, Trump announced he no longer considers China a currency manipulator. He said he now supports lower interest rates and the US Export-Import Bank.
He also said he would consider renominating Federal Reserve Chair Janet L. Yellen when her tenure is up next year, though on the campaign trail, he had said he would "most likely" not reappoint her.