Advertisement

When Nikki Haley, the US ambassador to the UN, hinted on April 5 at Washington taking "our own action" in Syria unless the UN Security Council moves to prevent the use of chemical weapons in the war-torn country, it was perhaps an indication of imminent US military action….A special report by Aadil Mir for Asian Lite News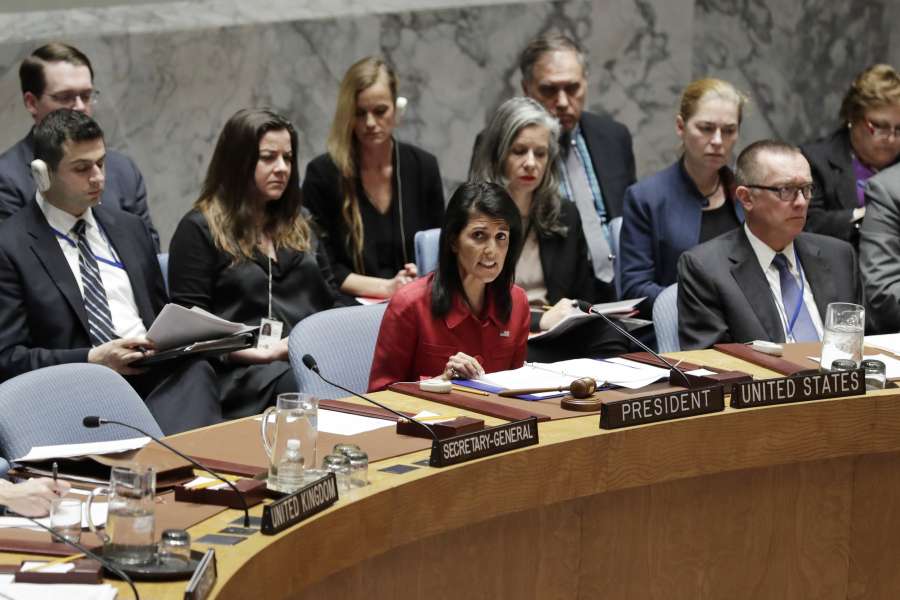 The barrage of cruise missiles ordered by President Donald Trump late on Thursday, in fiery retaliation for Tuesday's chemical weapons attack against civilians in the town of Khan Sheikhun, appeared limited to punishing Syrian President Bashar al-Assad for using the poisonous gas on his people at a time when there was no escalation in the country's long and brutal civil war.
By hitting military targets in Shayrat, Trump perhaps aimed at preventing Assad from repeating such barbaric attacks. The strikes by dozens of missiles marked the first time the US military intentionally attacked Assad's regime. These came two days after 86 people, including 27 children, died from what has been determined to be a lethal nerve gas.
"The strike was intended to deter the regime from using chemical weapons again," Jeff Davis, a Pentagon spokesman, said in a statement.
Trump said he ordered the targeted missile strikes as the Syrian government "ignored the urging of the UN Security Council". "It is in this vital national security interest of the US to prevent and deter the spread and use of deadly chemical weapons," he said.
For President Trump, choosing targets and launching cruise missiles to punish the Syrian regime for using chemical weapons might have been a relatively clear-cut decision. But the big question is what comes next.
The US military had been preparing options for a strike against Assad since well before 2013, when Syrian forces killed nearly 1,300 people in a devastating nerve agent attack.
The biggest difference between 2013, when President Barack Obama threatened air strikes against Assad, and Thursday's strikes by President Trump is that the risks of widening the conflict are much greater now.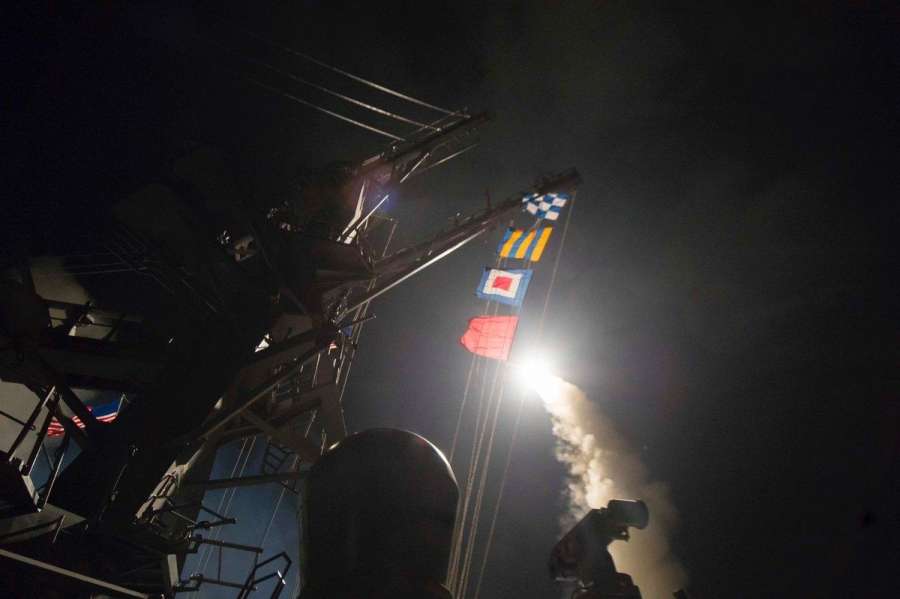 Since 2013, the US-led coalition has been conducting air strikes in Syria against the Islamic State, which opposes the Assad regime, but until now the US has been careful to avoid direct attacks on Syrian forces.
Assad's regime will likely survive the strikes, and the Syrian leader may bide his time — hoping that Trump will soon turn his attention to a crisis elsewhere.
The US also realises that forcing a sudden collapse of the Assad regime would lead to further chaos and would rather prefer to pursue diplomacy to remove him from power. Secretary of State Rex Tillerson said removing Assad would require an international effort, which was being vetoed repeatedly by Russia and China.
Yet, even a limited military attack raises a host of risks. Once military power is unleashed, it is difficult to predict what will happen next.
The US military has several hundred troops in Syria who back anti-Assad forces fighting the Islamic State. A US strike could provoke a Syrian retaliation against these US forces.
Trump's decision to strike Syria has also sent a powerful message around the world — one that could be read very differently in Moscow, Pyongyang and Beijing.
For Russia, it may finally put to rest any expectations that Trump would pursue closer ties with President Vladimir Putin, a staunch ally of Assad.
For North Korea, the air strikes are a warning the US is willing to act unilaterally.
For China, whose leader Xi Jinping was dining with Trump right before the missiles took flight, the attacks are a potent sign of the new American President's unpredictability.
Xi's meeting with Trump at the latter's Mar-a-Lago resort in Florida was supposed to be an opportunity for the two leaders to build a rapport and work through tough issues, especially trade. Instead, it was overshadowed by the assault on Syria.
The strikes also possibly put Putin on notice that the US will no longer tolerate his close ties to Assad. Russia has sent troops and weapons to Syria to bolster Assad's battle against the IS and rebels seeking his ouster.
In a sign of how little trust there is between the US and Russia, Secretary of State Tillerson said the US didn't consult with Moscow before the strikes. Instead, it used an established military "deconfliction" channel to inform Russia that an attack would soon be underway.
Tillerson, who is due to meet Putin in Moscow next week, left no doubt about the administration's view of the Russian President's relationship with Assad.
Russia on Friday denounced the US attack in stern language. Putin "regards the strikes as aggression against a sovereign nation", his spokesman Dmitry Peskov said, according to Interfax, noting that the Russian leader believes the strikes were carried out "in violation of international law, and also under an invented pretext".