Advertisement

Board an Emirates flight and all the complaints that one is accustomed to in most budget airlines are instantly sidelined. Comfort and luxury set in as you prepare to take off. You land at a spectacular airport, drenched in glitz and pomp. This is Dubai, the city that literally spells luxury….writes Saket Suman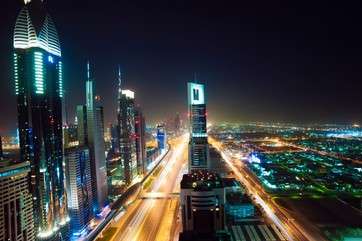 There is something very extraordinary about this city — its magnificence and incredible infrastructure — marked by all things extravagant that lead up to the creation of a man-made wonder. Dubai is all about thrills and adrenaline rush as its many architectural wonders, starting from the Burj Khalifa itself, keep you enchanted in some sort of a spell.
Where else, for instance, can you watch some sequence of the "Fast and Furious" come alive before your eyes? At around midnight on the road leading to the Deira City Centre, one saw Ferraris and Lamborghinis racing each other at top speeds. And if you thought the speed and noise was too much for the time, rest assured that the city offers enough solitude for one to relax.
High-rise buildings are common in most metropolitan cities today but Dubai is at an altogether different level. If one were to take a count, the average number of storeys in high-rise buildings here would probably be close to 50, and the city is extremely well planned.
The celebrated highest tower in the world (Burj Khalifa) is one-of-a-kind. It was unlike anything I had ever seen or imagined earlier, and even though I had watched a couple of documentaries on the tower, it still seemed too huge to say the least.
And then there is the shopper's paradise, the largest mall in the country, the Dubai Mall. It is a town in its own right. All the brands one can ever imagine are here under one roof. There is also a beautiful aquarium-cum-watertank inside the mall, which contains diverse fish species and an ice skating ring, all things to keep you occupied for the three-four hours (minimum) that you spend inside.
Information about Dubai's history is at hand in the Dubai Museum, situated in Bur Dubai and housed in the 18th century Al Fahidi fort. It has several galleries that depict the life around Dubai over the past 5,000 years of a trading settlement, through the oil boom and finally the current skyscraper world.
The courtyard exhibits traditional housing and life in the desert.
The last gallery on archaeology showcases prehistoric objects found around Dubai such as bronze daggers and coins. The most interesting impression that this museum leaves on one is Dubai's race against time. How much can a city achieve in so short a span of time?
Despite its massive progress, snapshots of its ancient past are visible in the lanes of old Dubai. The architecture and facades of several houses as well as mosques is a walk down the pages of history.
More than anything else, Dubai seemed a very happy city. It is no contradiction of the age-old saying, "Money cannot buy happiness", but if money is invested in the pursuit of a sound lifestyle, it may. Dubai lives by this example.
Never had I earlier seen so many families spending time together in open spaces. Dubai offers so many open spaces and families actually go out. Unlike India, cinema is not the only source of recreation for families. Men, women and children, young and old can be spotted in groups of various numbers on beaches, in parks, restaurants and the like.
If you are travelling to Dubai from India, do not miss out on some crazy Indian bites at Rang Mahal, which is housed inside the tallest hotel in the world, JW Marriott Marquis Hotel. From saag paneer to murg zafrani tikka, the hotel will ensure you don't long for authentic Indian food.
Everything about this city seems straight out of Hollywood sequences, amazing you in more ways than you can think of. Not only does this city win you over but it creates a lasting impression on you, prompting the thought of a second visit as soon as you leave. Dubai must remain on your bucket list.