Advertisement

A retired naval officer from India Mr Kulbhushan Jadhav was sentenced to death by a Kangaroo court in Pakistan. The local media is accusing the government of diverting the attention from rising sectarian clashes and fall in GDP through a sensational plot ….writes Syed Shihabudeen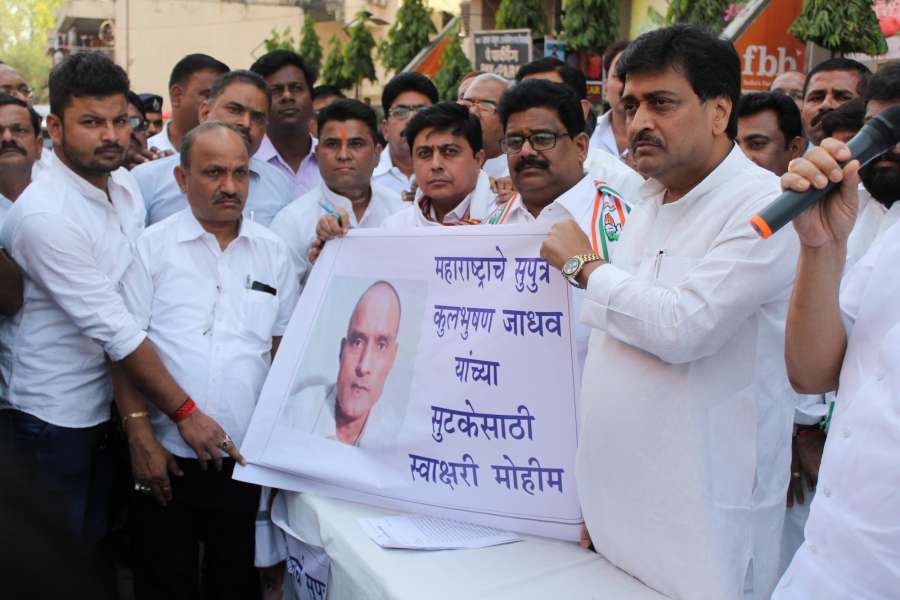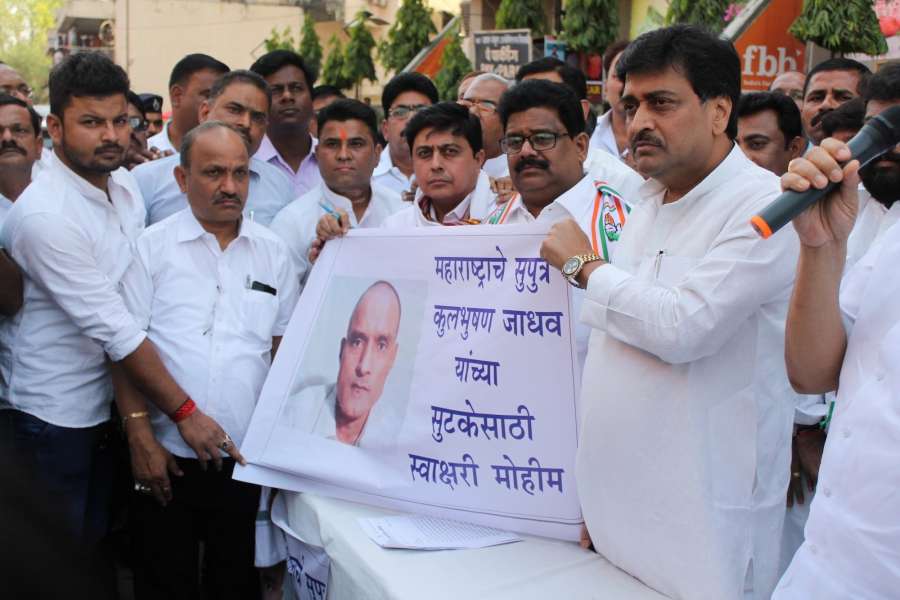 A Pakistani military court (Field General Court-Martial), where often the verdict is a forgone conclusion, has ordered that former Indian Navy officer, Kulbhushan Jadhav, be hanged to death, for his alleged espionage and subversive activities in the Land of the Pure, while sitting in a southern Iranian port city for Exim business.
The civilian government in Islamabad has readily accepted the decision. The due process of law and civilized norms, as understood in the civilized world, was not followed in the trial of Jadhav. The military establishment is pleased that there is country-wide welcome for ordering death sentence to a citizen of the 'enemy' country.
There is an additional and more important reason for the military-civilian combine to dwell on Jadhav's death sentence. It diverts attention from the regular sectarian clashes and murders and deepening financial crisis caused by "towering current account deficit", as the Express Tribune reported on 11th April.  At 2.6% of the Gross Domestic Product (GDP) it has already breached the year's target of 1.5% of the GDP. Pakistan's exports as a ratio of GDP are at a historic low.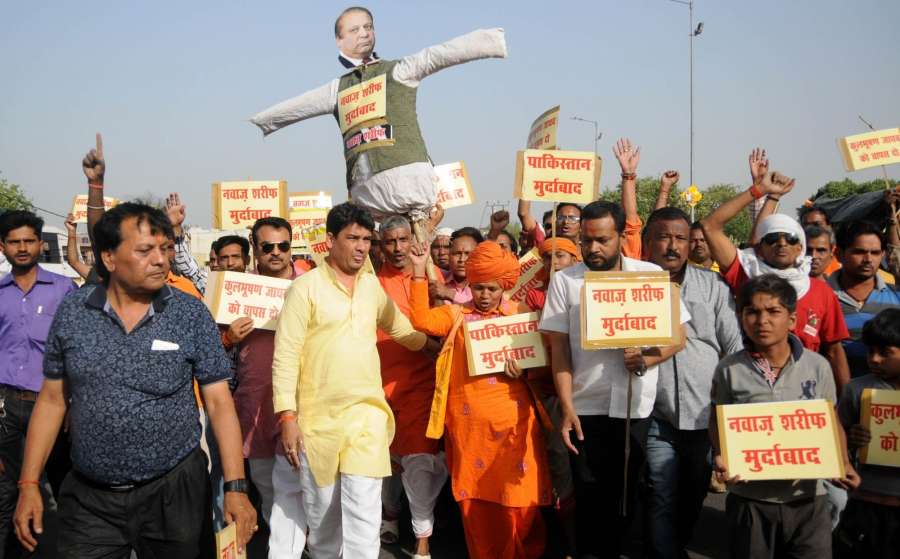 So much so, the death sentence could not have been timed better. Discontent among the people was beginning to surface with militancy showing no signs of abating even after two much publicized military operations. It has spread to Punjab, Pakistan's most privileged province, and the home to officially nurtured Islamist jihadi groups like LeT and JeM for making India and Afghanistan bleed with thousands of cuts. Lahore, the home turf of Prime Minister Nawaz Sharif and a premier Punjab town, has witnessed a number of attacks.
The IS has taken responsibility for a string of deadly blasts between Feb and March. One of these attacks was inside the crowded shrine of revered Sufi saint, Lal Shahbaz Qalandar in Sehwan town, some 200 kms northeast of Karachi. It came a day after Pakistan vowed to "liquidate" all those elements posing a threat to peace and security in the country, reports The Huffington Post. Put simply, the IS feat has made a mockery of the official claim that the dreaded Islamist organisation has not penetrated the country.
The normal Pakistani practice is to blame India for all attacks in the country, more specifically its external spy agency, RAW.  It could not have been an oversight not to make a song and dance about the alleged Indian hand behind the latest blasts. But there is no need to mull over why that lapse was allowed after the possibility of hanging an Indian 'spy' received hearty endorsement in the country.
The Pakistanis are elated for having caught a 'serving' officer of the Indian Navy although India has repeatedly stated that he had retired from service some years ago. Pakistan's de facto foreign minister, Sartaj Aziz had told the Pakistani Senate last December that there was no evidence against him. Of course, the minister's statement was promptly retracted under military pressure.
It is not a Pakistani practice to ponder over the negative fall-out of their egregious acts. Mere demarches and high decibel verbal protests would not matter for them. It is time therefore for India to exercise its many options, excluding war, to deal sternly with Pakistan.
Pakistan says Jadhav was arrested in Balochistan.  But from local media reports it appears that he was caught either by Pakistani-friendly militants or agents of Pakistani spy agency, ISI, inside Iran and then 'sold' or transferred to Pakistan.
The name of Jaish-ul-Adl, an Iran-centric, Pakistan-based terror outfit, has cropped up as the most likely group that had kidnapped Jadhav inside Iran but close to the Pakistani border and then either handed him over to Pakistan or 'sold' him to earn some quick money.
This version of the Jaish has been involved in terror attacks inside Iran, including one at Chabahar, the port in southern Iran being built with Indian collaboration. Pakistan cannot see the port project executed successfully because it might affect the Chinese built deep sea port at Gwadar, mere 70 km away on its Balochistan coast.
Pakistani narrative on Jadhav espionage/sabotage mission has all the ingredients of a Hitchcockian thriller. It suffered from one flaw though. "Elementary my dear Watson",   Sherlock Holmes would have told them had he been consulted before hitting the 'enter' button.  It is elementary for Jadhav too to not enter Pakistan with an Indian passport. But his interrogators have told the media that he had entered Pakistan on a passport that identified him as an Indian national with a Muslim name. Since his arrest in March 2016, Pakistan has refused 13 requests for allowing counsellor access to Jadhav. Again elementary!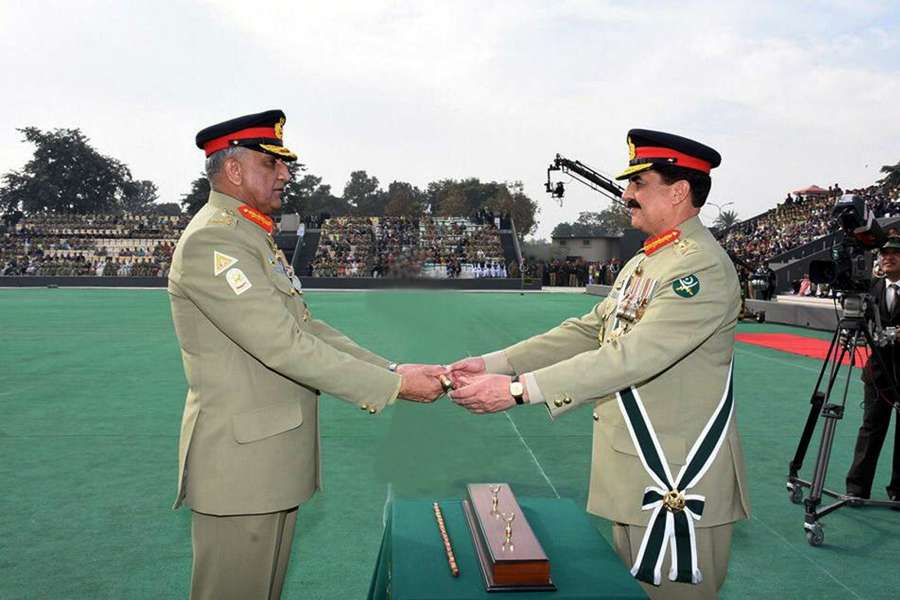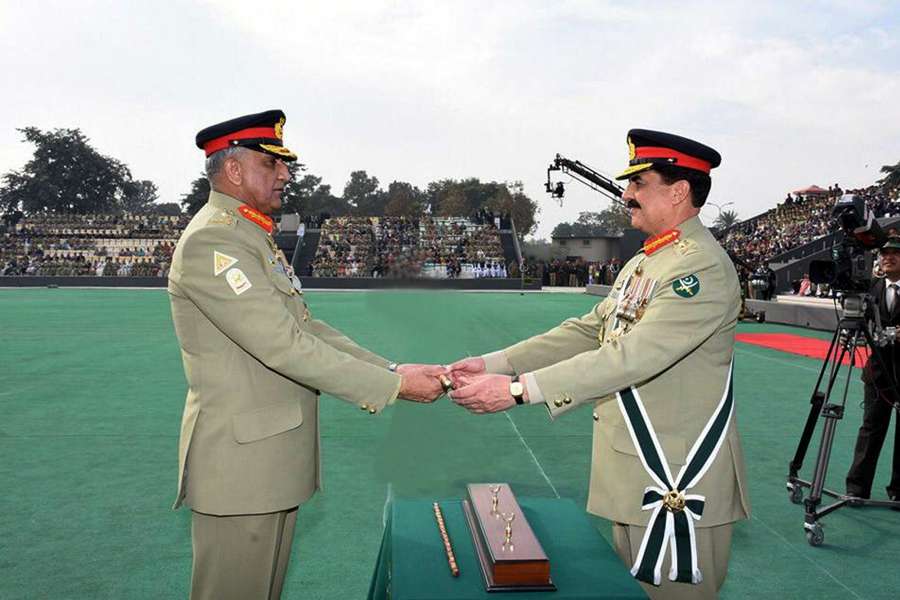 Pakistan has received a slap on its face when it tried to involve Iran in the Jadhav affair. The Iranian President, Hassan Rouhani, was visiting Islamabad around the time Jadhav was arrested.
"The army chief, Raheel Sharif, called on Rouhani, and apprised him that the Research and Analysis Wing (RAW) of Indian military was found to be using Iranian soil on occasions in furthering its designs to create unrest in Pakistan, especially in Balochistan",  director general of Inter Services Public Relations, (ISPR), lieutenant general, Asim Bajwa, said in a tweet. And added that Raheel Sharif had sought Iranian influence over India to stop these activities so that Pakistan could maintain stability in its territory.
"With this tweet, we (Pakistan) had put our foot in our mouth", says Islamabad-based researcher Mohammad Shehzad.
"It instantly destroyed the goodwill between the two neighbours and Rouhani made a mockery of us — though subtly — by denying the claims made in the tweet, at a press conference later held in Islamabad. His words were: "Whenever Iran comes closer to Pakistan, such rumours are spread!" The world makes fun of Donald Trump for running America through tweets. It should credit Bajwa for setting a precedent the Trump seems to have picked on," Shehzad wrote in his Daily Times column, "Wanted: common sense in our foreign policy" (April 11, 2017)
Iran was furious, needless to say at the Raheel-speak and Bajwa tweet. German diplomat and scholar, Dr. Gunter Mulack, has an interesting take on the evidence presented by Pakistan. Speaking at the Pakistan Institute of International Affairs on 01 April, 2016 on the topic of 'Crisis in the Middle East — A German Perspective', he said he was sure that Jadhav was dragged into Pakistan by the Taliban at Pakistan's behest. Taliban is close to ASWJ aka LeJ aka Jundullah. These are the reincarnations of Sipah-e-Sahaba Pakistan, (SSP), a Sunni militant group cut in the mode of the Taliban and Jaish-ul-Adl.
Be that as it may, it is possible that Pakistan has announced the Jadhav sentence with an eye on the Moscow conference convened by Russia to discuss Afghan conflict.  Because Pakistan can cry before the world with its "tales" of Indian interference in its internal affairs.
Such tactics are not going to help Pakistan win world sympathy or support because it has a long record of sponsoring terror and blatantly lying about its role in fighting global terror. Moreover it has just provided another proof that it is a banana republic where 'justice' is dispensed by kangaroo courts.