Advertisement

Adding to its growing naval might, China launched its first home-built aircraft carrier, amid high tensions in the Korean Peninsula and the South China Sea….reports Gaurav Sharma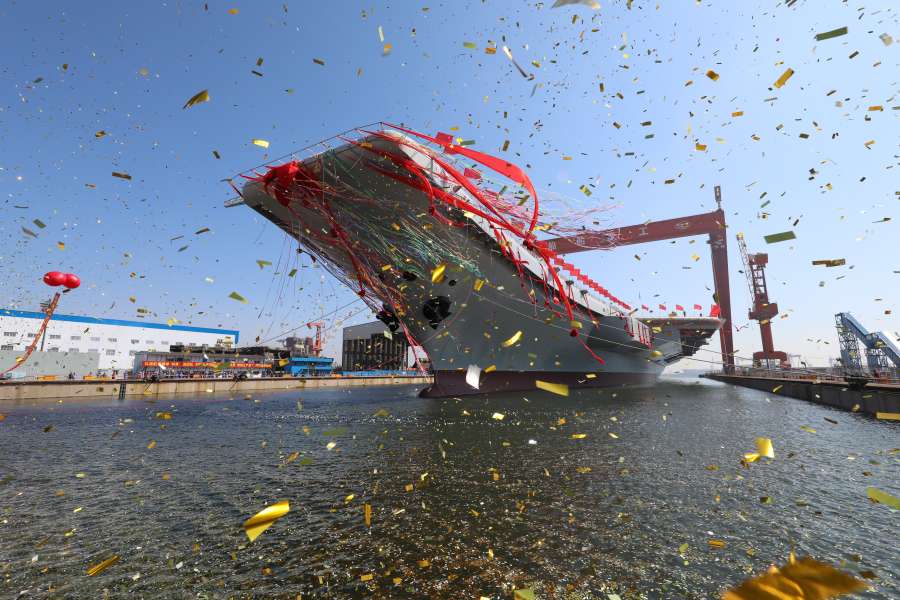 The 50,000-ton carrier, which was launched in the port of Dalian, will be operational by 2020. It will take the number of such vessels to two.

So far, China's sole aircraft-carrier, Liaoning, is functional. The vessel was bought unfinished from the former USSR.
"The launch was to safeguard China's strategic interests and had nothing to do with the arms race," Chinese Foreign Ministry spokesperson Geng Shuang told the media here.
The launch comes at a time when the US has deployed a naval strike group in the Korean Peninsula in the wake of Pyongyang's latest nuclear missile tests.
Beijing is increasingly becoming assertive in the seas and engaged in a rapid build-up of its navy. Besides claiming almost the entire South China Sea, it is gradually increasing its influence in the Indian Ocean.
In a commentary this week, state-run Global Times mocked India for harbouring naval ambitions despite "not being well-equipped".
It advised India to focus on the economy rather than building aircraft carriers to check China's increasing presence in the Indian Ocean.
The influential newspaper said China's naval build-up was in sync with its economic wherewithal and being the world's second-largest economy. It said Beijing was "capable of building a strong navy to safeguard the security of strategic maritime channels".
On the contrary, "India could be taken as a negative example for building up aircraft carriers", it remarked.
It said Indian was in the initial stage of industrialisation and will face many technical obstacles in building aircraft carriers.
Beijing in the past has told India not to consider the Indian Ocean as its "own backyard".
The second-most powerful navy after the US, China has some 65 submarines whereas India has 14. In comparison to China's 48 frigates, India has 14.
Experts say that China's Yuan-class diesel-electric submarine models are quieter than US' nuclear ones.
However, China's naval strength is still far behind that of the US.