Advertisement

Massive JuD protests in Pakistan over Hafiz Saeed's arrest ….reports Asian Lite News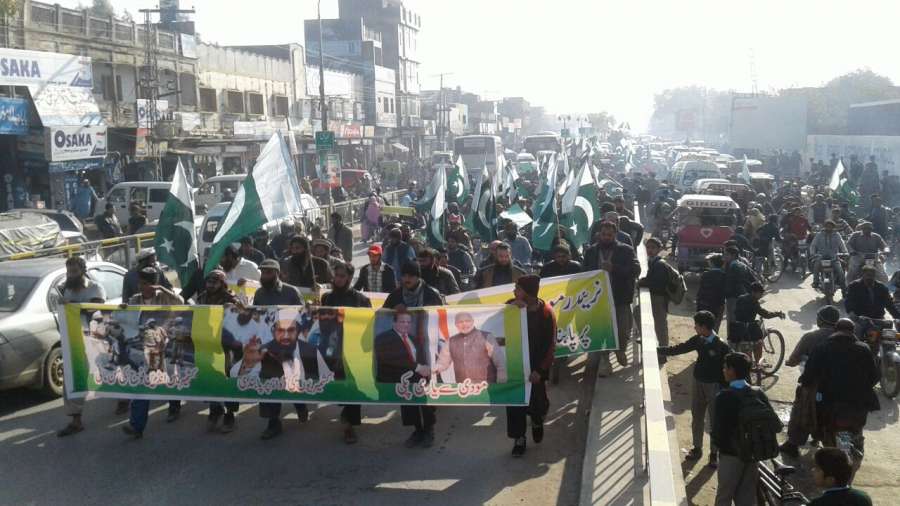 Hundreds of supporters of arrested Jamat-ud-Dawah founder Hafiz Saeed on Tuesday staged protests across major cities of Pakistan, including Lahore and Islamabad, against the government's decision to place the 2008 Mumbai terror attacks alleged mastermind under house arrest.
Following the Pakistan government's crackdown against the JuD, Saeed was detained late on Monday by the Punjab police at his residence in Lahore's Johar Town. His organisation took out protests in almost all major cities, and raised slogans against India and the US.
Besides Islamabad and Lahore, JuD supporters took out protests in Multan, Rawalpindi, Karachi, Hyderabad, Gujranawala (Sindh) and Muzaffarabad (Pakistan-administered Kashmir). The protesters also staged a sit-in outside the Punjab assembly.
The action comes as the Donald Trump administration has announced visa curbs on seven Muslim-majority countries and placed Pakistan under "extreme vetting".
"A large police team arrived (at the JuD headquarters) on Monday night and told us that Hafiz Saeed would be placed under house arrest," a JuD spokesperson told IANS.
He said the police told them they had an arrest warrant for Saeed and four others at JuD headquarters in the eastern city of Lahore.
In a video message issued before his arrest, Saeed blamed the bonhomie between Prime Minister Narendra Modi and US President Donald Trump for the latest action, and slammed the Nawaz Sharif government for its "helplessness".
Saeed also asked his followers to raise the issue of Kashmir during Kashmir Solidarity Day, observed every year in Pakistan on February 5, and said that he was not afraid of being arrested. The video message was shared by the JuD's media cell and appeared to have been recorded inside a moving car.
"I believe that this (arrest) is not aimed at me, but is an international conspiracy aimed at sabotaging the Kashmir struggle," he said.
"This is the wish of (Indian PM Narendra) Modi, at the prompting of (US President Donald) Trump, and the government's helplessness."
Four JuD aides – Abdullah Ubaid, Zafar Iqbal, Abdur Rehman Abid and Qazi Kashif Niaz – were also held.
They were detained under Section 11-EEE of Pakistan's Anti-Terrorism Act, which gives the government the power to arrest or detain "terrorism" suspects for up to 12 months.
The Indian Ministry of External Affairs, however, did not appear very convinced at Saeed's detention. MEA spokesperson Vikas Swarup urged the Nawaz Sharif government for a "credible crack down on the mastermind of the Mumbai terrorist attack and terrorist organisations involved in cross border terrorism".
"India has long maintained that the UNSC 1267 provisions pertaining to listing and proscription of known terrorist entities and individuals must be effectively and sincerely enforced by all member states," Swarup said in a statement in New Delhi.
In 2012, the US placed a $10 million bounty for information leading to the arrest and conviction of Saeed, who is also the founder of the terror group Lashkar-e-Taiba.
Though the LeT has claimed responsibility for several attacks on Indian security forces and civilians, Saeed has distanced himself from the group, and maintains he only runs the JuD as a charity. He has also denied involvement in the 2008 Mumbai attacks.
The United Nations and the United States have listed the JuD as a front for the LeT. Both organisations, as well as Saeed as an individual, are under international sanctions.
His being allowed to roam free in Pakistan has been a source of continuing friction between New Delhi and Islamabad, and also pointed out by the US.
The Pakistan Army on Tuesday termed Saeed's arrest "a policy decision".
During a media briefing, Director General Inter-Services Public Relations (ISPR) Maj Gen Asif Ghafoor said: "This is a policy decision that the state took in national interest. Lots of institutions will have to do their jobs."
Earlier in an email interview to IANS, Pakistan Foreign Office spokesperson Nafees Zakaria said that Islamabad "is taking all necessary actions" as per the UN sanctions slapped on the LeT chief, but maintained that India had provided "no material evidence" so far to prosecute those arrested in the 26/11 case trial.
To a question on why Pakistan continued to drag its feet on the 26/11 trial, he said that Islamabad had "extended cooperation since the beginning" but that "India inordinately delayed" in providing the necessary information and had not given evidence which met the "requirement of the prosecution" in his country.