Advertisement

Defence Minister Arun Jaitley said India supports a greater role by Russia in global affairs as well as in "our shared neighbourhood" in view of growing terrorism which "remains the primary concern for peaceful countries"….reports Asian Lite News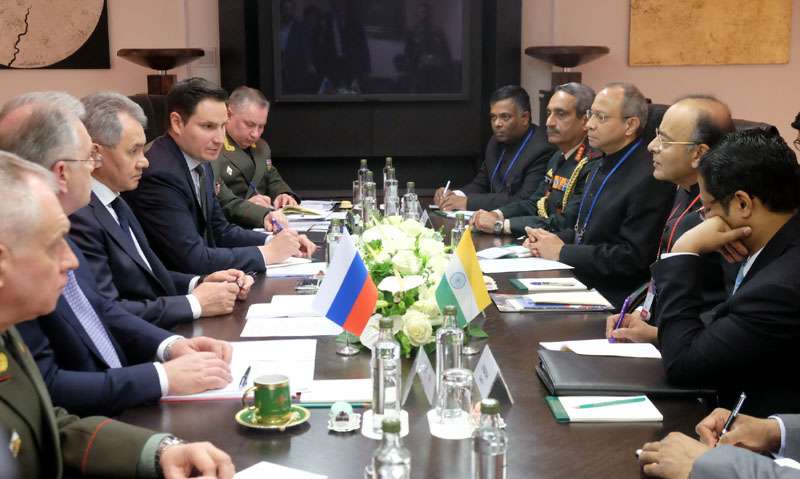 Jatiley also expressed concern over growing maritime territorial disputes and the tensions arising in the Korean peninsula.
"As a long-standing friend and strategic partner, India supports an expanded role by Russia in global affairs, especially in our shared neighbourhood," Jaitley said speaking on 'Global Security: Challenges of the 21st Century' at the 6th Moscow Conference on International Security.
"The scourge of terrorism remains the primary security challenge for all peaceful countries," he said, recalling the bomb blast on a St. Petersburg Metro train on April 3 this year, and conveyed India's strong solidarity with Russia.
He pointed out the use of social media and technology for radicalisation.
"Terrorism is being reinvented in newer and even more dangerous manifestations. The manipulation of young minds by fundamentalist groups using new technologies and social media has already caused long-term damage to our societies," Jaitley said, citing the "lone wolf attacks" in many countries as an example of this.
He said while elimination of terror breeding grounds in West Asia is being done, there is a threat of such elements returning to their home countries.
"We need to encourage closer information exchanges and intelligence cooperation to address this threat," he said.
"Distinctions are still sought to be made between good and bad terrorists, despite all the evidence and experience to the contrary. Terrorism will recoil on those who nurture it," the Indian Defence Minister said.
Jaitley welcomed Russia's efforts to hold consultations on Afghanistan, and said: "A policy of zero tolerance towards violence and terrorism and continued efforts to consolidate the capacity of the Afghan government to deal with violence as well as promote development are essential."
"We welcome recent efforts by Russia to hold consultations on Afghanistan, in which India had also actively participated," Jaitley said.
Calling territorial dispute in maritime domain another "serious challenge", Jaitley said: "India believes that the rights of freedom of navigation and over-flight as well as unimpeded commerce should be ensured. These are vital to India's own economic engagement with the Indo-Pacific region."
"The recent escalation of tensions in the Korean peninsula is a matter of concern," he added.
The Defence Minister, who is also the Finance Minister, said economic and diplomatic engagements with Eurasian region is a "top priority" for India.
Talking about the tri-service joint military exercise with Russia INDRA, set to take place later this year, Jaitley said: "This would be a historic occasion as it will be the first time that India and Russia are taking part in joint exercises in such a format with each other or with any other country."