Advertisement

Barely a week after an Indian dhow with 11 crew members was hijacked by Somali pirates, Indian and Chinese navies joined hands to save a Tuvalu-flagged container ship with 19 Filipino crew members from a pirate attack late on Saturday night in the Gulf of Aden….reports Asian Lite News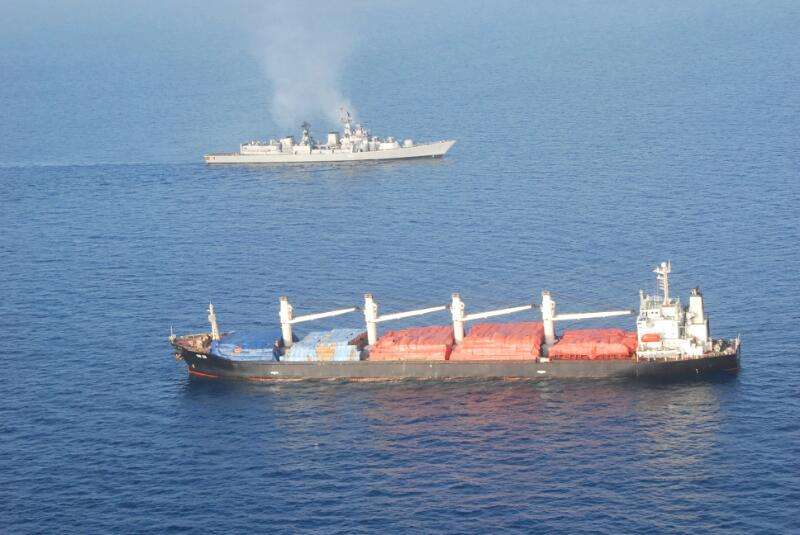 Responding to an alert from UK Maritime Trade Organisation (UKMTO), the Indian Navy deployed its warships INS Mumbai, INS Trishul, INS Aditya and INS Tarkash which were on a mission to the Mediterranean, to help the 21,000-ton bulk cargo carrier, named 'MV OS-35', sailing from Port Klang in Malaysia to Port of Aden, in Yemen.
Early on Sunday, the Indian naval ships managed to establish contact with the container ship's captain who, along with his crew members, had locked themselves in a strongroom onboard, as per stand operating procedures.
An Indian Navy helicopter taking off from INS Mumbai carried out an aerial reconnaissance of the ship to "sanitize" the upper decks of the ship and trace the whereabouts of the pirates who could still be on board.
Emboldened by the Indian Naval cover and on receiving an "all clear signal" that there was no sign of any pirate on board, the crew members gradually emerged from the strong room.
Later, an 18-member Peoples Liberation Army Chinese Navy team from its warship PLA-CNS Yulin boarded the ship, while the Indian Navy helicopter provided air cover for the massive 171-metre long X 28 metres wide, 18-year-old bulk carrier.
The Chinese team carried out a full search of the ship along with the crew and ascertained the pirates had escaped under cover of darkness after their hijack attempt was foiled due to timely rescue operations mounted by international maritime forces in the vicinity.
The captain of the Tuvalu-flagged ship expressed his gratitude to the Indian Navy, while both Indian Navy and the Chinese Navy thanked each other for the successful joint high seas operation on the critical maritime corridor.
Earlier on April 3, a Dhow from Mumbai, 'Al Kausar' said to be carrying a cargo of edible items and dry foodstuffs which was proceeding from Dubai to Yemen's Al Mukala Port, was hijacked.