Advertisement

His Highness Sheikh Mohamed bin Zayed Al Nahyan, Crown Prince of Abu Dhabi and Deputy Supreme Commander of the UAE Armed Forces, visited New York University Abu Dhabi (NYU Abu Dhabi) campus at Saadiyat Island, a branch of the international network of New York University (NYU), one of the largest American research universities, which was established in 2009 based on a partnership agreement between the Abu Dhabi Government and NYU….reports Asian Lite News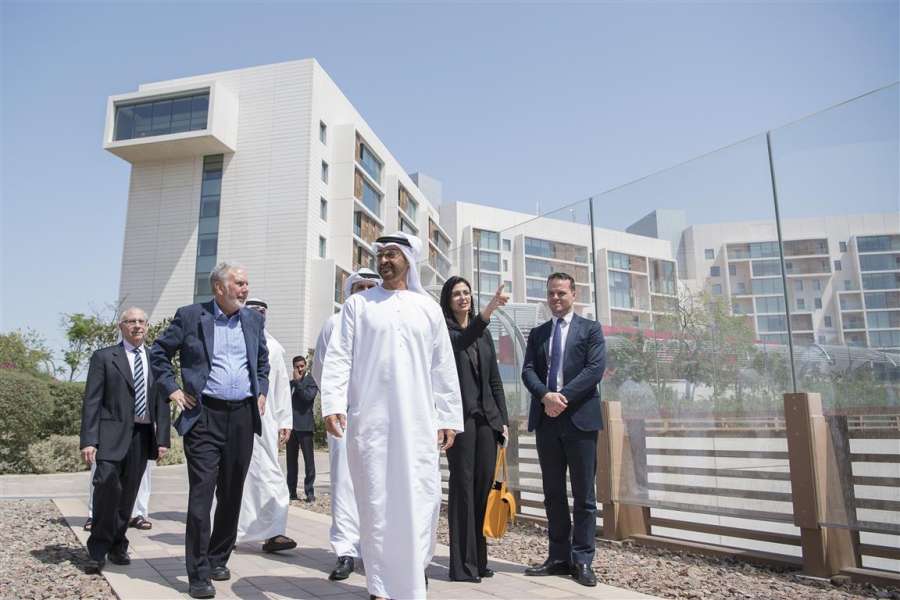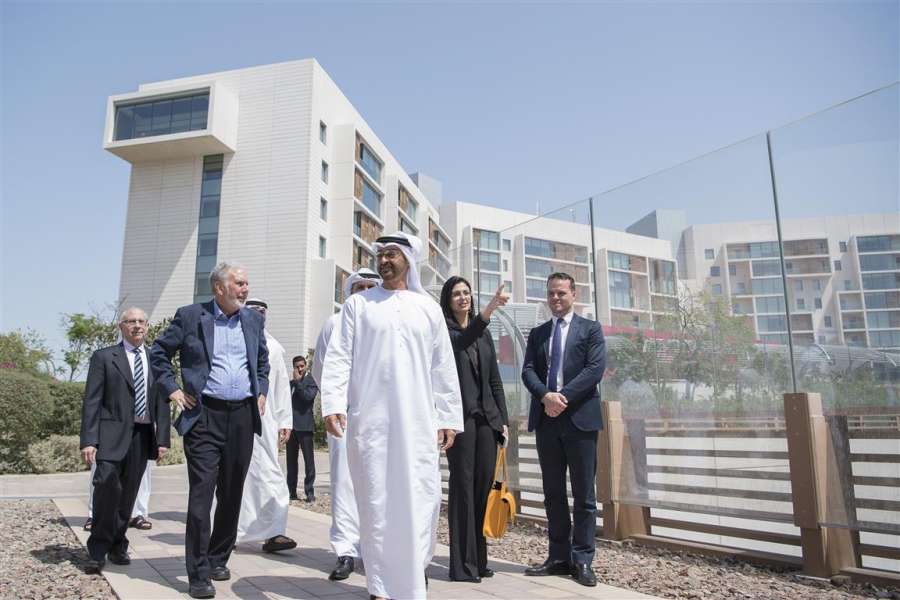 During the visit, His Highness Sheikh Mohamed bin Zayed Al Nahyan, while accompanied by Khaldoon Al Mubarak, Chairman of the Abu Dhabi Executive Affairs Authority, EAA, and Mohamed Mubarak Al Mazrouei, Under-Secretary of the Crown Prince's Court of Abu Dhabi, met with John Sexton, President Emeritus of NYU, and Alfred Bloom, Vice Chancellor of NYU Abu Dhabi, and a number of administrative, academic and educational boards, who welcomed the visit of His Highness.
Sheikh Mohamed learnt from university officials about the educational direction of the university, which is based on the concept of global education as a main element in the message of NYU Abu Dhabi and its educational courses, through global diversity for the student community and the various expertise and nationalities of the educational board, who have exceptional academic expertise in the scientific, research and technical fields.
The university attracts to its different colleges and educational departments of 1,050 exceptional students from 113 nationalities from different countries of the world, who study in 22 main specialties and practise their educational and research activities in an interactive environment between different nationalities, which reflects the elements of co-existence and global diversity that are enjoyed by the community of Abu Dhabi and the UAE.
The campus of NYU Abu Dhabi includes 21 buildings, with a space of 450,000 square metres, and two sports areas with the space of 318,347 square metres.
The university is special as a global centre for advanced research on international and local research projects, such as diabetes and heart and blood vessel diseases, as well as research on date palms, falcon spotter, grouper fishing, cleaning oil pipes, cyber security, and the effects of climate on sea level changes in the Gulf.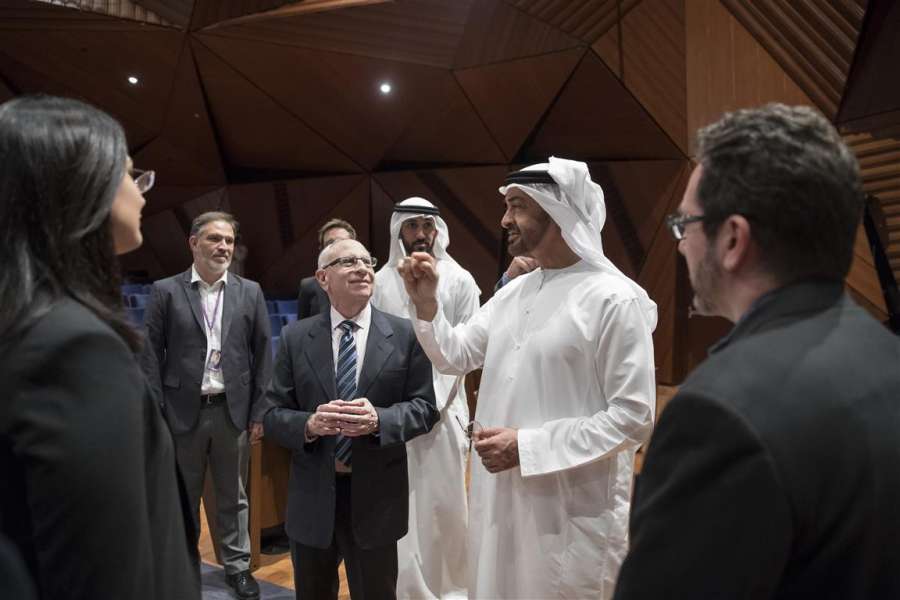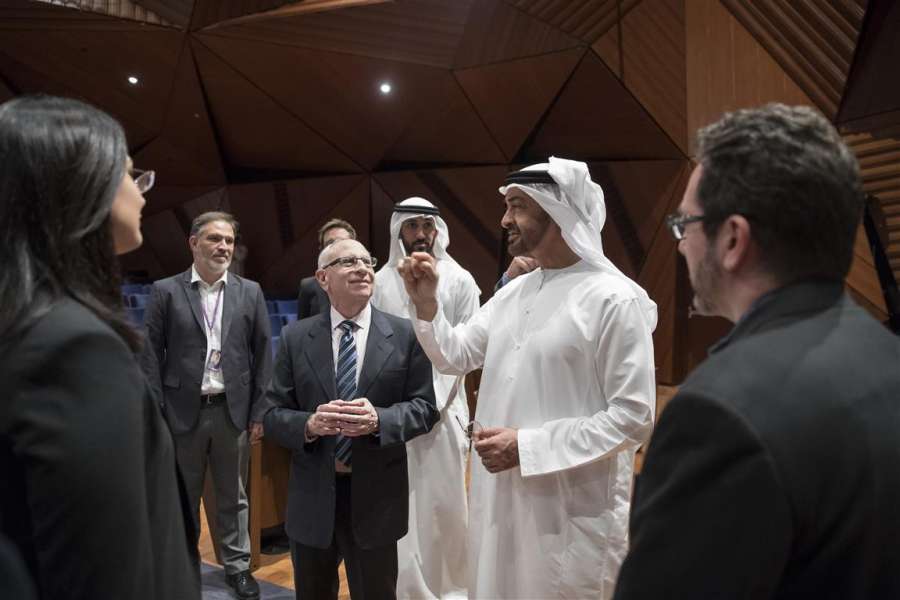 His Highness Sheikh Mohamed met a number of university students who received the prestigious Rhodes International Education Scholarship in 2017, which gives exceptional students the chance to continue their further studies at Oxford University in Britain.
Sheikh Mohamed urged the students to produce greater efforts and strive to achieve excellence, and continue the journey of success that assures the hopes and dreams of the youth generation, who are armed with education, and are confident and aware of their responsibilities, and are capable of taking initiatives and making changes for the better.
His Highness checked the University's library that accommodates 700 students and researchers and includes 60,000 printed books, 121 magazines and periodicals, and 1,100,000 electronic books, audio books and videos, in addition to a special collection of 3,000 books including the Arabic Books Collection which discusses the intellectual history of the Middle East and the surrounding region.
His Highness viewed the Arabic Literature Library, which is a unique research project aiming to deliver Arabic literature content to English speakers and includes translations for important works of Arabic literature.
His Highness also viewed sports facilities that include an adjustable and multi-purpose sports hall including a 200-metre racetrack and accommodates an audience of 2,000 in addition to a gymnasium equipped with the latest sports equipment.
His Highness visited the Arts Centre which includes has a theatre of the latest style seating 700 members, equipped with a foldable space and floor for music bands and a choir hall fitting 150 people.
The Art Centre includes more than 35 annual activities including music, live performances, speeches, acting, and cinematic viewings.
His Highness also viewed the Engineering Design Laboratory, which is a space designed for application use for engineering students to create models of stereographs and is equipped with a 3-D printer and works 24 hours a day.