Advertisement

BJP ally Shiv Sena and the Congress party attacked the government over mutilation of two soldiers' bodies by Pakistani forces along the Line of Control (LoC), with Uddhav Thackeray asking Prime Minister Narendra Modi to stop his "Mann ki Baat" and instead take up "Gun ki baat"….reports Asian Lite News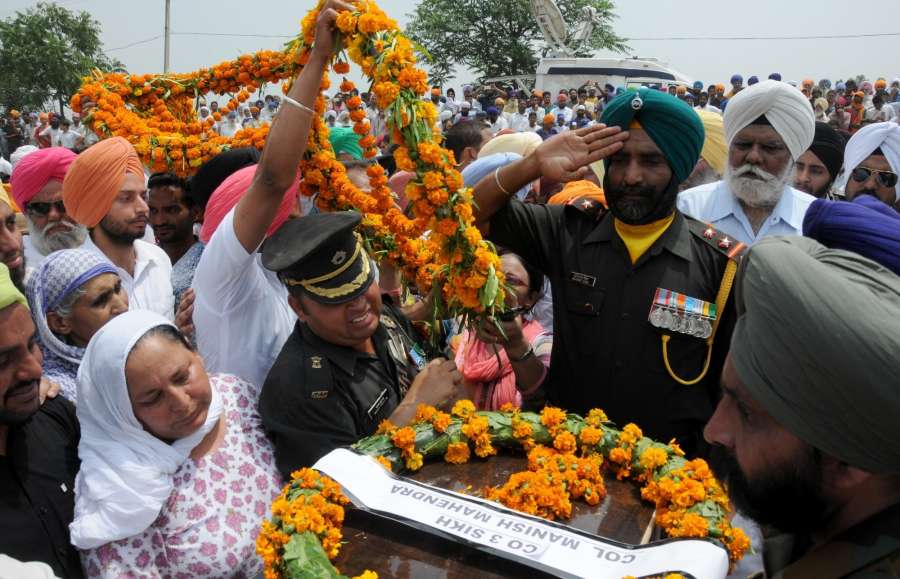 Congress leader and former HRD Minister Kapil Sibal recalled the remarks of Smriti Irani in 2013 when she had threatened to send bangles to then Prime Minister Manmohan Singh when two Indian soldiers were mutilated by Pakistani soldiers in similar fashion and asked whether she would be sending bangles to Prime Minister Narendra Modi now.
Sibal also asked the government to "take off its bangles", take action against Pakistan and evolve a policy.
Clarifying the government's stand, Law Minister Ravi Shankar Prasad said the government was acting tough against border violations and the sacrifice of the soldiers would not go a waste.
In a sharp reaction to the killing and the mutilation of two Indian soldiers near the Line of Control, Thackeray said Kashmir was "burning" and the government must take action.
"It's time to stop 'Mann ki Baat' and start 'Gun ki baat' against Pakistan," he demanded, referring to the Prime Minister's monthly radio broadcast.
Congress leader and a former Defence Minister A.K. Antony said that during the party-led UPA regime, there was just one incident of mutilation but since the BJP-led NDA took over, at least three such incidents had taken place.
"It (the incident) has affected the morale of Indian people and Indian Army, and the continuous attacks on military installations has also put a question mark on the security structure on the border. More than anything, it has affected the prestige, respect and morale of the Indian Army," Antony said.
He termed the act as cowardly and inhuman and asked the government to give a free hand to the army to seek retribution.
His party colleague Sibal wondered if Union Minister Smriti Irani would now "gift bangles" to Modi.
"During the UPA regime there was a woman MP (Smriti Irani), who said the Prime Minister should be gifted bangles. Will the same MP, who is now a Minister, send bangles to Prime Minister Narendra Modi," Sibal asked.
Sibal also said the BJP-led NDA government would have time to protect the borders "only if they have time to spare from election campaigns".
"What kind of a government is this that despite knowing that Pakistan will not change its ways, they invited the ISI to Pathankot," said Sibal, referring to the Pakistani team that went to Pathankot to probe the 2016 terror attack on an Indian airbase.
"In the last 35 months, 135 soldiers have died in Jammu and Kashmir. Who is responsible for this" he asked.
"They said demonetisation will end terrorism, but terror attacks only increased after that. I remember when Hemraj was beheaded (in 2013), Sushmaji (External Affairs Minister Sushma Swaraj) said 'We should get 10 heads for one'… How many heads will they get for two" Sibal wondered.
Maharashtra Minister Ramdas Kadam, of the Shiv Sena, also took potshots at Modi, saying he should concentrate more on national security than elections.
"What's stopping the Centre from taking direct action against Pakistan? How many more soldiers should we lose and how many more widows should we see before India does something?" he said, demanding direct action against the neighbouring country.
All India Majlis-e-Ittehadul Muslimeen (AIMIM) leader Asaduddin Owaisi said that Modi's remarks on Pakistan and black money had become an albatross around his neck.
Prasad rejected the opposition criticism and said the government was taking tough action on border violations.
"The army has issued a public statement that adequate, suitable and effective response shall be given. Let's leave it to the armed forces to completely concretise their strategy," Prasad told CNN News 18 channel.
The Aam Aadmi Party said it would support the government over its response to the mutilation by the Pakistan Army of bodies of army's Naib Subedar Paramjeet Singh and BSF's Head Constable Prem Sagar along the LoC in Jammu and Kashmir.