Advertisement

An animated yoga asana show lit up the iconic glass face of the UN headquarters ahead of the Third International Yoga Day (IYD) celebrations in New York this week….A special report by Arul Louis for Asian Lite News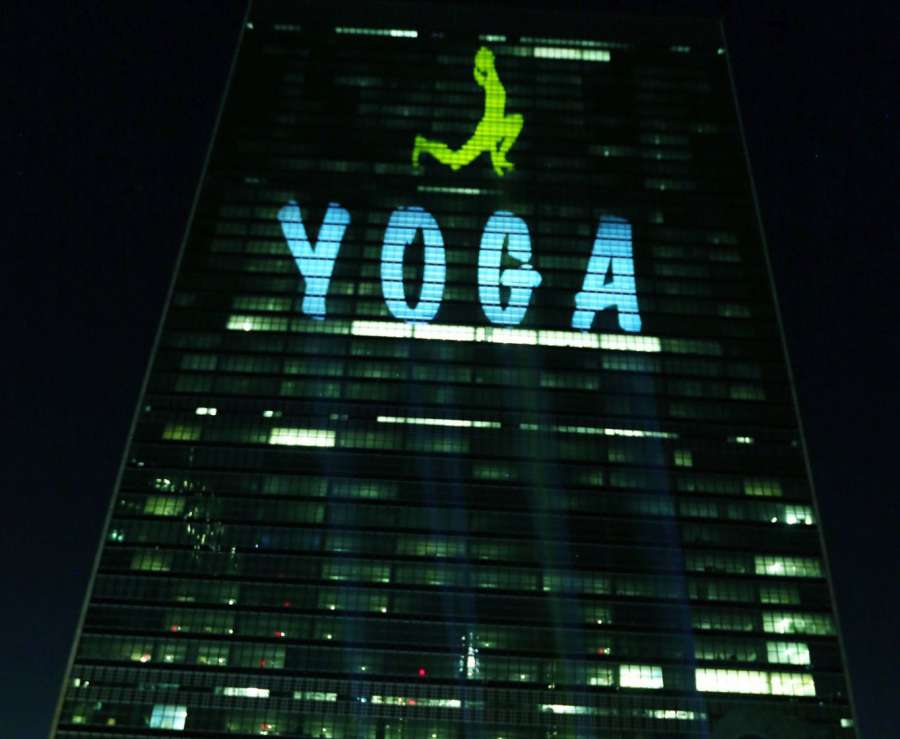 Actor and activist Anupam Kher, who turned on the light show, said: "It's great, great feeling, personally for me as an Indian, as a citizen of the world and (with the global recognition of) yoga today."
A "Yoga Session with Yoga Masters" is planned for Tuesday, the eve of IYD, at the UN with mass participation of diplomats, staff and visitors.
The session is an annual event since the first celebrations in 2015 after the UN had declared June 21 as IYD the previous year,
This year it is to be conducted by Swami Chidanand Saraswatiji and Sadhvi Bhagwati Sarawastiji of the Paramarta Niketan Ashram, Rishikesh, India, and Swami Sivadasananda of the Sivananda Yoga Retreat House, Austria.
On Wednesday, a forum on yoga and health is to be held at the UN with an international panel of swamis and yoga practitioners.
Chidanand Saraswatiji, Bhagwati Sarawastiji, Sivadasananda, Keith Mitchel, a yoga practitioner and former US National Football League star, Stanton Kawer, a US business executive, and Kher are the scheduled speakers.
As part of the IYD celebrations, the UN Postal Administration is issuing a set of 10 stamps each depicting a different asana.
The ten stamps of $1.15 denomination each depict a different yoga pose next to a large Om in Devanagari script.
New York's Times Square, billed as the crossroads of the world, is holding the annual "Mind over Madness Yoga" celebrations on Wednesday, which is the Summer Solstice in the northern hemisphere.
"As the sun climbs to its highest point and is suspended in the sky for the longest period, it provides us with a vital force that sustains all of life, giving us a focal point and uniting our purpose to achieve our highest ambitions," Douglass Stewart, co-founder of the event, which predates IYD, said in a message.
Up to 10,000 people have participated in the past in the all-day event that brings a solemn hush to the frenetic pace of Times Square every year.
The event is organised by the Times Square Alliance with the participation of the Indian Consulate General.