Advertisement

It will not be an exaggeration to say that the South Municipal Corporation of Delhi took Lt Governor Anil Baijal for a ride when he went on his first major inspection after taking charge on new year's eve….writes M.R. Narayan Swamy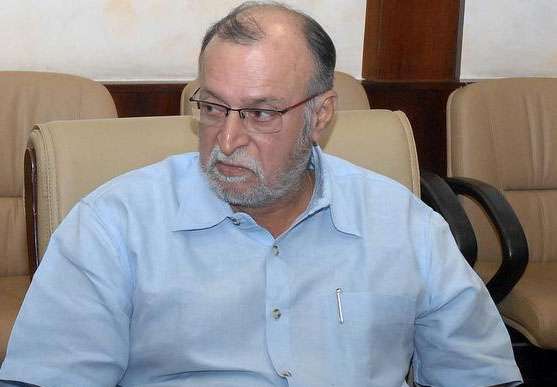 What happened on January 8 was a mass exercise in deception carried out by the municipal authorities to prevent Baijal from seeing the reality of what the three wings of MCD have reduced Delhi to.
Accompanied by senior municipal and police officials, Baijal on Sunday visited Saket, the BRT corridor, Aurobindo Marg leading to Ring Road and some other areas in south Delhi for a reality check on cleanliness.
What he saw was clean streets, vendor-free pavements, unclogged markets — a mass illusion to make Baijal think this is how people live. It is not so.
Saket residents were amused to see a mini army of sweepers descending on the locality over the weekend, furiously removing every bit of dirt from both the streets and pavements.
Garbage and slush that had been taken out of the storm water drains weeks ago and dumped carelessly by the roads disappeared like magic.
All the lampposts were quickly cleared off cardboard hoardings of mainly the BJP and Congress. Mounds of waste that had been allowed to collect on road dividers were pushed into garbage trucks and driven away.
The pavements were emptied of everyone who makes a living from the street: cobblers, chaiwalas, ice cream vendors, bouquet sellers, fruit cart and fruit juice vendors, chole bature walas, scooter mechanics, key makers, dosa outlets… Not one person was spared.
Every shopkeeper in Saket's busiest J Block market was told to free the corridors they had occupied to spread their wares. Left with no choice, all of them frantically pushed their goods into their shops — like they do when they wind up at night. With the shops now choked, the owners in some cases had to stand outside to attend to customers.
And an eyesore of a huge dustbin located diagonally opposite the Kali temple — always overflowing with garbage — too got hurriedly cleaned.
Finally, lime powder was neatly laid along the road junctions — always a sign of impending VIP visits.
So when Baijal visited Saket, he would have seen clean streets, neat and barren pavements, a market in perfect shape. Was this the "reality check" he intended to inspect?
None of us has a grudge against those who make a living from pavements, legally or illegally. All of them need a livelihood after all. But why present a farce to the Lt Governor?
Baijal's visit, however, helped the residents: Saket got spruced up. So the residents aren't complaining.
Baijal's trip also thoroughly exposed the municipal corporation. The hurried manner in which Saket, and parts of south Delhi, were cleaned did prove one thing: that the corporation, if and when it wants, can do a thorough job. And when it doesn't do it, it is just being irresponsible.
If the municipal authorities had kept Saket clean, there would have been no need to put up this 48-hour drama.
On that note, I have a suggestion for Baijal. There was a time when our kings went around their kingdoms incognito to know what people thought of them.
The new Lt Governor must occasionally visit some areas, Saket included, without letting the municipal authorities know he is coming. He will then see the reality — if he wants to see the reality.