Advertisement

Prime Minister Narendra Modi said "Rejecting an Idea just because it is ancient can be potentially harmful. It is essential to analyse it, understand it and take it to new generations in a manner they understand best"….reports
Bhavani

Chowdhary for Asian Lite News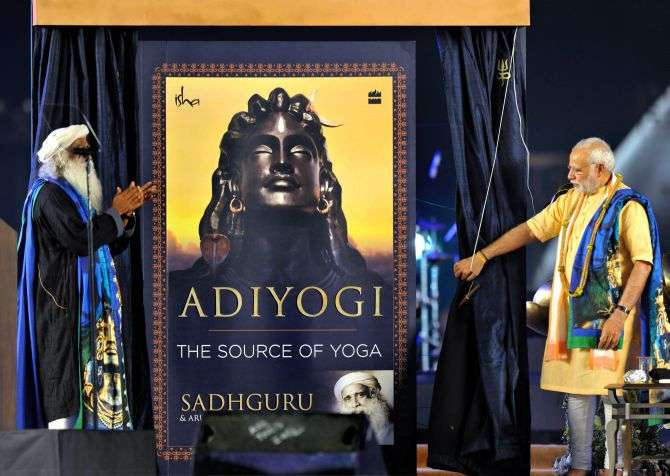 How many of us are aware of Adiyogi?
As one of Trinity of Gods in India, he is mostly worshipped as a shivling or a Nataraja (dancer) or a Bhairava. Shiva has never got recognition for his role as Adiyogi-the source of Yoga. But 15000 yrs ago, this Adiyogi became Adiguru -the first guru at the foothills of Himalayas on a full moon day which is now celebrated as Guru poornima. He taught seven different aspects of yogic principles to Saptarishis (seven sages). These seven enlightened sages went in seven directions and have spread the science of Yoga, which exist till date.
When Isha Foundation, under the helm of Sadhguru Jaggi Vasudev-the profound mystic yogi, has taken up an historic initiative to set up an Adiyogi statue, as a tribute in 4 corners of India, like rest, I wondered how a statue can transcend Adiyogi ? I guess the underlying concept of Sadhguru runs parallel to what Adi Shanakaracharya of 8th century did. Adi Shankaracharya established 4 mutts(monastaries) in 4 corners of India (Dvaraka-west; Shringeri-South; Jagannath-puri-East; Badrikashram-Badrinath-North) that revived, developed and continued the lineage of Advaita vedanta (Universal law of Vedanta) at a time when it was getting extinct. But yoga is already popular worldwide with an International Yoga day to its credit. So where is the necessity to bring forth the concept of Adhiyogi now,if not for vanity of Isha Yoga centre?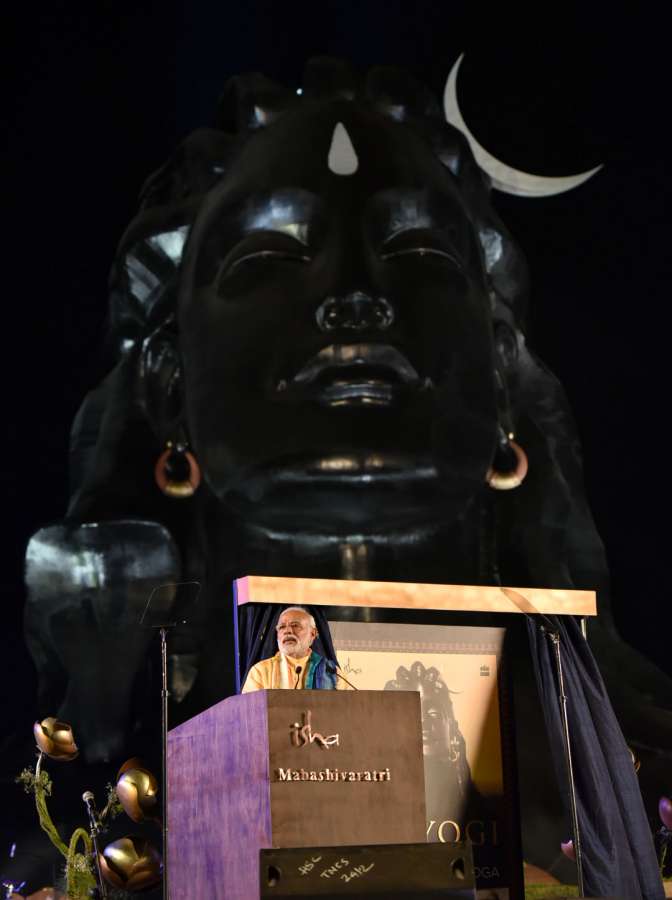 But do we really know what Yoga is and its true potential? Reality is, with many superficial school of thoughts , what survived of this ancient science is just a misperception or a misunderstanding  that Yoga is a physical exercise with some postures and breathing techniques, to improve flexibility or to de stress . The misguided secularism in India has even limited yoga to an extent that Yoga is presumed as a practice of Hindu religion and not Universal science like physics/chemistry/biology. Few European books have already published stating that Yoga is not from India but is an evolved western science of exercises. Famous novelist  Dan Brown of 'DaVinci Code' fame refers  'Hatha yoga as an ancient Buddhist art !' in his book -Angels and Demons. Over a period of time that's what history books might teach and the world may eventually belief. May be it is this grave situation that propelled Sadhguru to envision a place for Adiyogi that symbolically transcends who Adiyogi is and what science of Yoga can offer to humanity as a whole.
In What form will Adiyogi be portrayed? Or will it be just another statue of Shiva? It must have been a dire task to incorporate Adiyogi into a design which they say took 2.5 yrs to design. I had a first glimpse when it was near completion stage in Nov'16 during my ashram visit. Beautiful? Enchanting? Meditating? Inspiring? Graceful? Thought provoking? I guess all. Surrounded by lush green velliangiri forests, open to sky, looking up with no boundaries, it was a towering face of an Adiyogi in human form. Yes, an Iconic Human yogic face that you may call Shiva or any name you wish. Made up of steel, weighing 500 tonnes and towering at 112-ft the Adiyogi's face appeared to symbolise the possibility humans have to reach the Ultimate. 112 ft symbolises 112 possible ways Adiyogi opened up  for Human beings to experience the divine within. It also signifies the presence of 112 chakras of human body to work with to explore 112 dimensions of life.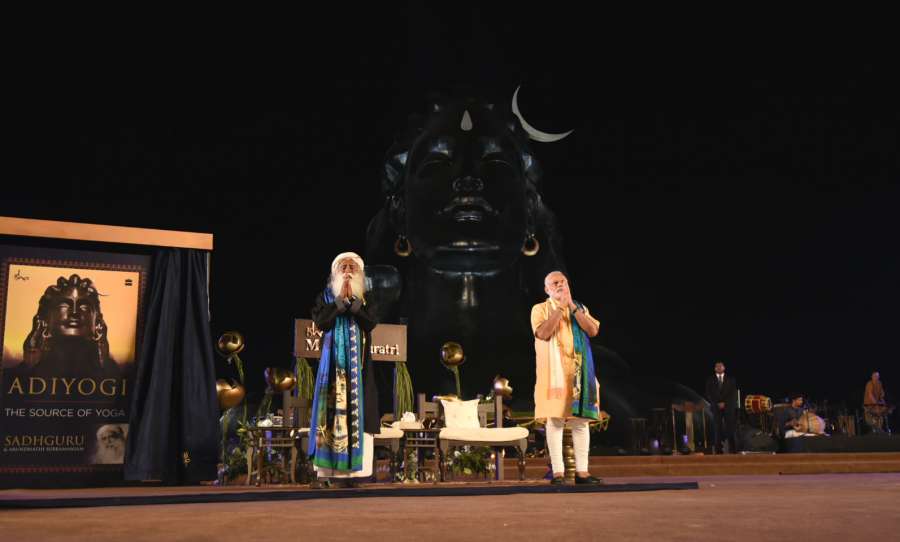 This physical monument consisting of steel and cement finished in record 8 months is all set to become a living force through an ancient consecration process by Sadhguru scheduled from 20 Feb-25 Feb'17. 1000 volunteers keeping aside their family, work and social life took part in 40 days preparatory work. More than 12000 participants registered to witness the consecration process by undergoing 21 day sadhana program. Millions followed live updates on Isha Social media sites that made them feel inclusive in this happening. Yaksha gaanas reverberated the Ashram premises building up the tempo for the ultimate celebration of this celestial being who once took human form to teach yoga for humans. Is that a consecration of a statue or resurrection of AdiYogi from past to future?
Adiyogi …..Finally gets acknowledged. It was a culmination of Sadhguru's vision funded by millions of devotees and sweat of thousands of volunteers from across the world. They have to overcome series of agitations by vested interests groups with baseless allegations and disruptions on daily basis. Amidst 5000 security personnel, 5 tier securities across Border States and mountains, Lakhs of people, State Heads, Ministers, Governors, dignitaries from all walks of life thronged to the venue to witness the unveiling of face of Adiyogi by Prime Minister of India, Shri Narendra Modi on 24 th Februaury Mahasivaratri-A day of awakening. The moment was electrifying, magical, historical and Spiritual for spectators watching in person or on TV's or on live streams.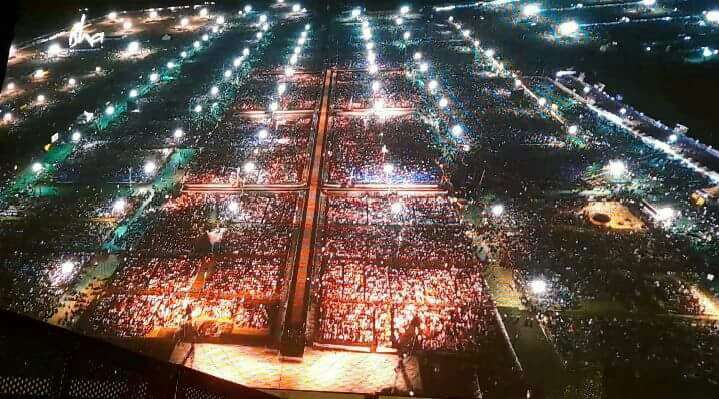 This consecration is a salutation to the science of Yoga that survived knowingly or unknowingly for millions of years across the world without being imposed upon. It's not a vanity project or an event to set history right or to form a new religious cult, it is an offering of Adiguru to World for future generations.  I bow to Sadhguru for bringing forth with his logical and scientific explanations the possibilities of Adiyogi's Yoga, as a liberating force accessible to all those who seek and not as a blind faith.
"I don't want you to see Adiyogi as a God
I want you to see him as a human being,
who achieved a state that everybody should aspire for"
                                                                                              Sadhguru
https://www.youtube.com/watch?v=6CBrQI873bo