Advertisement

Former Union minister and Rashtriya Lok Dal (RLD) chief Ajit Singh is finding Baghpat, his home turf, not the bastion it used to be. Ahead of Uttar Pradesh's assembly polls, his own former confidants are contesting on the tickets of rivals while his own party has fielded an outsider….writes Brajendra Nath Singh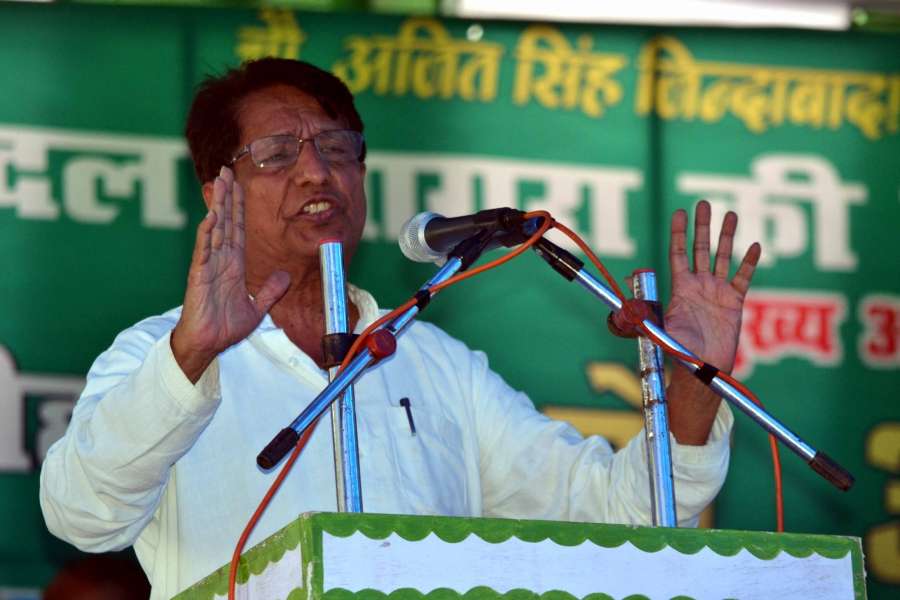 Ajit Singh has represented the Baghpat Lok Sabha constituency six times while his father and former Prime Minister Charan Singh represented it for three consecutive terms. In the 2014 Lok Sabha polls, Ajit Singh was defeated by former Mumbai Police Commissioner Satyapal Singh of the Bharatiya Janata Party (BJP).
With his prestige at stake, Ajit Singh is leaving no stone unturned to win back the seat. But two of his former aides are now the RLD's political foes.
Ajit Singh has fielded former Khatauli legislator Kartar Singh Bhadana, a Gujjar who is giving a tough fight to the Bahujan Samaj Party's (BSP) Ahmed Hameed and the BJP's Yogesh Dhama.
Hameed is son of former minister Nawab Kaukab Hameed Khan, who represented Baghpat five times. He won the first time in 1985 on the Congress ticket. After losing two consecutive elections, he snatched the seat back in 1993. In 1996, he joined the Bharatiya Kisan Kamgar Party of Ajit Singh and won again. In 2002 and 2007, he was elected on the RLD ticket.
Hameed is banking on a Muslim-Dalit combine and his father's image.
BJP's Dhama is trying to consolidate the young Jat and other votes. Himself a Jat, he was once a confidant of Ajit Singh. After he was denied ticket, he joined the BJP.
Bhadana, a prominent Gujjar face, is banking on Gujjar, Jat and Muslim votes apart from attracting a major chunk of voters by using a helicopter for his campaign.
The Samajwadi Party and the Congress have fielded Kuldip Ujjawal, known as Uttar Pradesh Chief Minister Akhilesh Yadav's loyalist. He is banking on Muslim, Jat and other votes.
Ujjawal is a Jat and a Congress candidate. He was chairman of the Uttar Pradesh Liquor Prohibition Board. He was sacked after a video clip showing him threatening and abusing district officials went viral on social media last year.
Among the over 300,000 voters in Baghpat, around 65,000 are Muslims, some 50,000 are Jats and about 45,000 are Gujjars. Dalits and Rajputs are present in sizable numbers.
Mohammad Ali (54), owner of a vehicle parts shop, told that Baghpat was witnessing primarily a triangular fight involving the BSP, BJP and RLD.
"Nawab Saheb has a good image and is above religion and caste. He is acceptable to everyone. His son Ahmed Hameed has these benefits. If he succeeds in getting even 60 per cent of Muslim votes, his chances of winning will be high."
Job seeker Sadiq Hussain (27) said most Muslim youths will vote for the Samajwadi-Congress alliance as Akhilesh Yadav "has done a good job as Chief Minister. But it's also possible that to defeat the BJP, Muslims can go with Hameed.
Jayveer Dayanand (67) thought differently. "A third person benefits in a fight between two," he said, avoiding taking any names. Pressed, he said: "Paisa bolta hai (Money matters)."
Sabhacharan Kalu (46), seated next to Dayanand, said: "Money is with that candidate who is campaigning by helicopter. He won the last election from an adjoining assembly seat on the power of money alone."
Kalu, a primary school teacher, added: "The contest is very close. It depends upon the division of Jat and Muslim votes.
"If Muslim votes are divided in 50:50 ratio, it will benefit the BJP and RLD. If Jat votes are divided in the same ratio, it will benefit the BSP and SP. No one can predict who will win."
Rajeev Kumar (34), a Jat, claimed that while most Jats would vote for Ajit Singh, the young in the community will go with BJP.
"All the four candidates are powerful, but BSP has good chances as Jat votes will be split among the RLD, BJP and SP. If Dalit and Muslim votes remain united, Hameed Saheb will have the last laugh."