Advertisement

In a coup of sorts, Uttar Pradesh Chief Minister Akhilesh Yadav named himself the new head of the Samajwadi Party even as his supporters stormed the party's state headquarters….reports Asian Lite News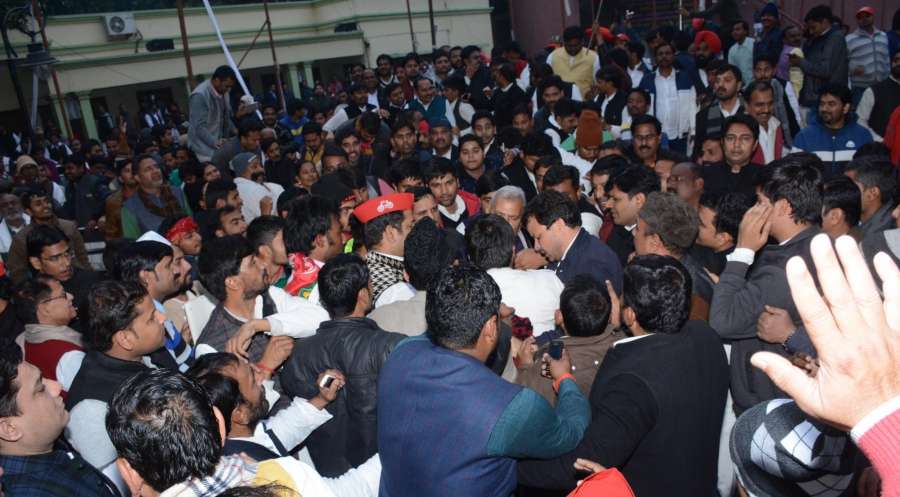 In other key decisions taken at a meeting of Akhilesh supporters here, Shivpal Yadav was sacked as the state unit head while Rajya Sabha member Amar Singh — both Mulayam confidants — was expelled from the party.
Akhilesh Yadav, 43, locked in an ugly internecine fighting involving his family and the Samajwadi Party leadership, named Naresh Uttar as the state chief in place of Shivpal Yadav.
A furious Mulayam Singh hit back, declaring the pro-Akhilesh meeting illegal and expelling party Vice President Kironmoy Nanda and Rajya Sabha member Naresh Agarwal. Nanda refused to accept the decision.
The decisions by Akhilesh supporters — and Mulayam Singh's retaliation — plunged the ruling Samajwadi Party into a fresh crisis.
At the meeting at the Janeshwar Mishra Park, senior leader and Akhilesh's uncle Ram Gopal Yadav moved motions annointing the Chief Minister in place of Mulayam Singh, who was retained as the "Marg Darshak".
These were promptly endorsed by party leaders and thousands of activists with a roar of approval.
Mulayam Singh again expelled Ram Gopal from the party for six years. He was ousted on Friday but taken back as part of a compromise formula later.
Mulayam Singh also announced a convention of his own on January 5.
The Akhilesh camp refused to stick to the so-called compromise formula and went ahead with Sunday's convention, firming up a split in the party.
After a show of strength on Saturday when over 200 of the total 229 party legislators in the state attended a meeting called by him, Akhilesh Yadav on Sunday took complete control of the organisation.
Prompted by Ram Gopal Yadav, party veterans, close associates of the SP chief and ministers refused to be deterred by threats from Mulayam Singh. All of them shared the stage with Akhilesh Yadav.
Prominent among them were Rajya Sabha MPs Reoti Raman Singh and Naresh Agarwal and ministers Rajendra Chowdhary, Balram Yadav, Abhishek Mishra, Nitin Agarwal and Ahmad Hasan.
The young brigade included Anand Bhadauria, Sunil Singh 'Sajan' and Udayveer Singh – all MLCs from the Akhilesh camp who had been ousted from the party in October.
They applauded every word Akhilesh Yadav spoke.
Urban Development Minister and senior leader Mohd Azam Khan, who brokered peace on Saturday between the father and son, did not attend the meeting.
In his brief address, the Chief Minister said after being anointed the new national party chief that he was doing all this to save the Samajwadi Party.
He said he would continue to serve his father as a son. But Shivpal Yadav, he thundered, was working against the interests of the party.
"I am ready to sacrifice everything for Samajwadi Party," Akhilesh Yadav said. And to another roar from the gathering, he thanked everyone who have stood by him in the ugly war within the state's first family.
He vowed to take action against those "who act against the party".
There are now two versions of the Samajwadi Party candidates — one each issued by the Mulayam and Akhilesh camps.
The Mulayam camp said on Sunday that the list issued by it was final. A day earlier Shivpal Yadav had said they would make a new list to take care of everyone's concerns.
Meanwhile, supporters of Mulayam Singh and Shivpal Yadav took to the streets and staged sit-ins at several places to protest against the ouster of Mulayam Singh.
Scores of Akhilesh supporters later barged into the Samajwadi Party headquarters. The police simply watched.
Ramgopal Yadav and Akhilesh Yadav were both expelled for six years from the Samajwadi Party by Mulayam Singh on Friday. The decision was revoked a day later.