Advertisement

Akhilesh hits campaign trail, lashes out at Modi, Maya ….reports Asian Lite News. "Now the 'Hand' has held the 'Cycle'," he said with a chuckle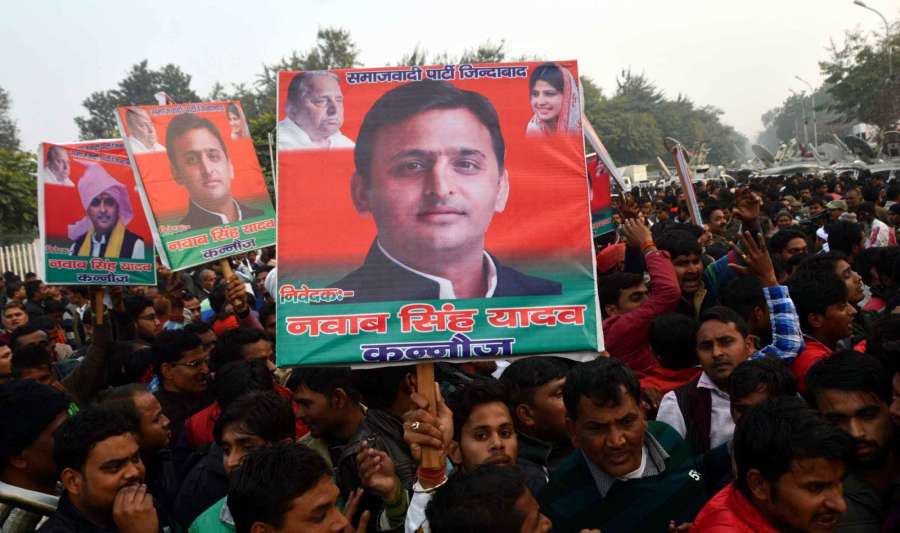 Uttar Pradesh Chief Minister Akhilesh Yadav kicked-off the assembly poll campaign for the Samajwadi Party (SP) on Tuesday and urged the people to vote him back to power, so as to take forward the development work initiated by him.
Addressing two back-to-back public rallies here, the Chief Minister said that while the BJP government at the Centre had only made false claims, the BSP government before the SP government only worked for making parks of stone and erecting statues.
The more the 'Cycle' (SP symbol) pedals ahead, the more the state will speed up on the path to prosperity, he told the gathering, which intermittently raised slogans in his favour.
"Jai Akhilesh, Jai Akhilesh" cried the crowd — with a fair sprinkling of youth — every time the 43-year-old Chief Minister batted for the party.
This was his first rally after he took over as the National President of the party after ousting his father Mulayam Singh Yadav following a protracted feud within the family and the ruling party.
This was also his maiden rally since he sealed an electoral pact with the Congress. Both parties are contesting the staggered assembly polls together with an "aim to stop the Bharatiya Janata Party (BJP) from coming to power".
Alluding to the alliance's secular credentials as a formation, the Chief Minister also said that if the people will give their blessings to the combine and they come to power, the state will see furtherance of the development agenda while protecting the secular credentials of the state.
"Now the 'Hand' has held the 'Cycle'," he said with a chuckle.
"Dilli ki Sarkaar (Modi government) has only fooled people with false hopes and in reality done nothing other than making people stand in long queues outside banks and ATMs to take out their own money," he said and pointed out how many people died in the serpentine queues even as the Prime Minister made fun of people.
"Everyone was branded a 'beimaan' (corrupt) while you were standing in lines to take out your hard earned money," he said while taking a dig at the Prime Minister's statement last year post-demonetisation that the drive had forced the corrupt to stand in queues outside banks to take out petty amounts.
Yadav also took on the Bahujan Samaj Party (BSP) and sought to remind the people how his predecessor Mayawati had created huge monuments and wasted public money. "Do you want such a government again?" he asked the people as they responded with a "No".
Crediting the present SP government of not only fulfilling the promises made in the 2012 election manifesto but going a step ahead by rolling out projects like Metro Rail in Lucknow, Kanpur and Varanasi, completing the 302-km-long Agra-Lucknow Expressway and giving pension of Rs 500 per month to 55 lakh poor families under the Samajwadi Pension Scheme.