Advertisement

Indian Vice President Hamid Ansari, who concluded his three-day state visit to Poland, said it was "very productive" and signalled a new stage in bilateral ties….writes Surender Bhutani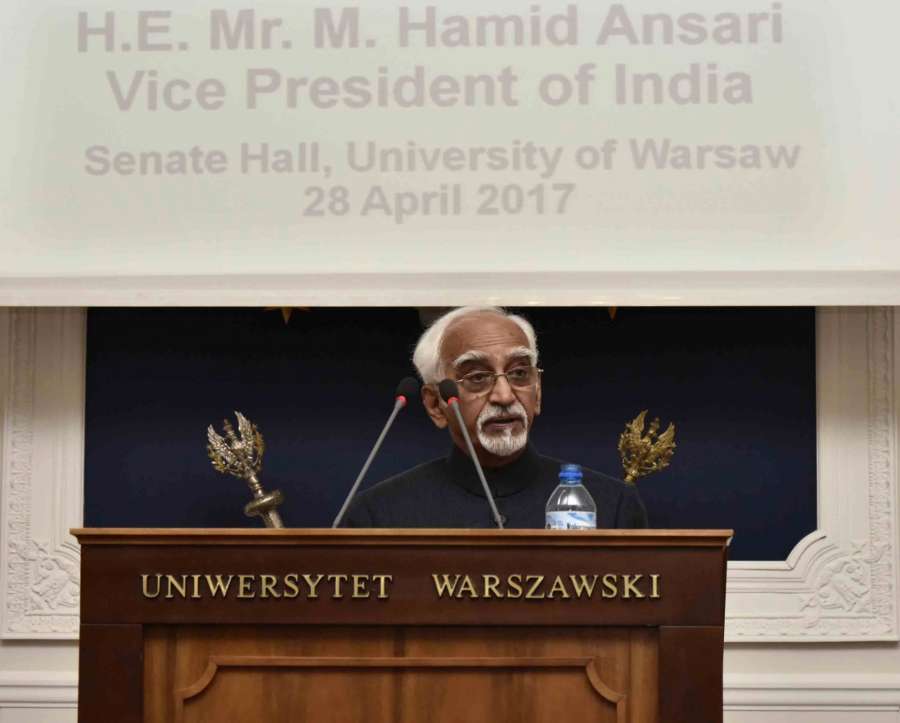 Addressing the Indian community and Friends of India, Ansari said: "If I say my visit to Poland has been very productive, it will be not an exaggeration. The future of Indo-Polish relationship looks very bright and it is almost ready to take off to new heights. There is almost a perfect understanding between the two democratic states."

"The economic progress which Poland has made in the last two decades is very impressive and so is Poland's march towards democracy," he added.
Ansari also invited Polish President Andzrej Duda to visit India. Accepting the invitation, Duda said: "I will come to India with a big business delegation. For us, India is a favourite destination.
Earlier in the day, Ansari had a formal meeting with Polish Prime Minister Beata Szydlo, where she mentioned the importance of India in international affairs.
Later in the evening, she shared the dais with Ansari when she came to speak at the Business Economic Forum. Szydlo said: "We want to see India as our strategic economic partner. Two countries can increase trade and commerce to many folds. Poland is a gateway for India in the European Union because of its strategic location."
Seldom any Polish Prime Minister met a foreign dignitary twice in a day.
The cordiality and warmth she created with her presence spoke volume of her country's importance attaches to India. Since Poland does not have the post of a Vice President, Szydlo herself took the centrestage to be the perfect hostess for Ansari's visit. This gesture went very well with the Indian delegation.
Before his departure, Ansari inaugrated the new building of the Indian Embassy. He was greatly impressed with its design and the location of the place.
The land was originally purchased way back in 1984 and it took many years to clear the project by the Ministry of External Affairs.
Ansari arrived in Warsaw on Wednesday evening. He is accompanied by his wife Salma Ansari. Earlier, the Vice President visited Armenian capital Yerevan on April 25 and 26.