Advertisement

Bollywood celebrities Vishal Dadlani and Anubhav Sinha backed Delhi University student Gurmehar Kaur for her online campaign against the ABVP, with veteran writer Javed Akhtar taking on Union Minister Kiren Rijiju for his "grossly biased" views….reports Asian Lite News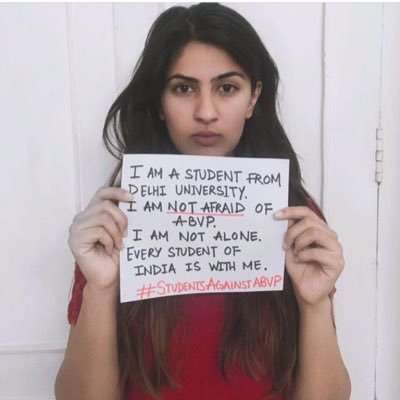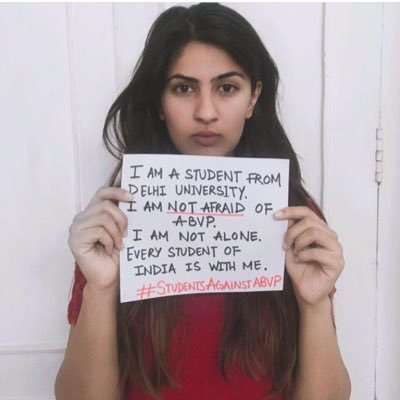 Actress-filmmaker Pooja Bhatt and actor Rohit Roy even slammed cricketer Virendra Sehwag and actor Randeep Hooda, who apparently mocked Kaur, whose father was killed in the Kargil war, for saying "Pakistan did not kill my dad, war killed him'.
Akhtar, who has earlier too spoken out against "rising intolerance", wondered how an "educated" person like Rijiju had remarked as to who was "polluting" the mind of Kaur, who made a Facebook post with the hashtag #studentsagainstABVP.
"If a hardly literate player or a wrestler troll a pacifist daughter of a martyr, it's understandable, but what's wrong with some educated folks. I don't (know) about her, but Mr Minister I know who is polluting your mind," tweeted Akhtar.
"Mr Minister, you have condemned the Left by falsely accusing them of celebrating soldier's killing, and not a word about ABVP. Grossly biased," said Akhtar, who has often spoken out in favour of freedom of expression in the country.
Kaur, a student of Delhi's Lady Sri Ram College, had posted on Facebook a picture of herself holding a placard that said, "I am a student from Delhi University. I am not afraid of ABVP. I am not alone. Every student of India is with me", following last week's violence in Ramjas College in Delhi University.
The post went viral with hundreds of shares. She also held a poster, saying 'Pakistan did not kill my dad, war killed him'.
Following this, Sehwag on Sunday posted his image holding a placard which read "I did not score two triple centuries, my bat did," and said: "Bat me hai Dum! Bharat Jaisi Jagah Nahi (Bat has power! no place like India)."
Randeep also supported Sehwag and retweeted a post which apparently mocked Gurmehar. "It was just very witty of Viru to come with "Bat mein Dum". Can't you see the irony? Defuse the situation not add," he wrote, adding that "She (Gurmehar) is being made a pawn."
Pooja Bhatt slammed the posts, and tweeted: "He who laughs last, laughs alone. Pick on someone your own size boys! This is so NOT cool!"
When she was trolled for her comment, Pooja, daughter of outspoken filmmaker Mahesh Bhatt, said: "Am an artiste and am above politics."
Actor Rohit Roy also said Sehwag's tweet was in "bad taste".
"Trying to be humorous about anything and everything is callous, irresponsible and flippant," said Rohit, adding that he is a huge fan of Sehwag and "supported him when he didn't get what I thought was a fair send off".
Naseeruddin Shah was also quoted by TV channels as coming out in support of Kaur, terming her a brave girl and the comments by Sehwag and Hooda as insensitive.
The reactions from Bollywood came as a protest was held in Delhi University against the ABVP, even as Kaur pulled back after getting death and rape threats.
Actress Raveena Tandon tweeted: "Rape/death threats need to be dealt with severely! Totally agree."
Filmmaker Anubhav Sinha commented: "Of course, anti nationals should not be tolerated. But everything unsuitable/inconvenient can't be called anti national."
Music director and singer Vishal Dadlani, who was part of the Aam Aadmi Party, said: "Whether Modi takes initiative for peace, or Gurmehar does, ordinary citizens in India and Pakistan support peace. Only political stooges don't."