Advertisement

If the Bharatiya Janata Party (BJP) could pride itself on professional poll management in the run-up to the 2014 Lok Sabha elections, for the 2017 Uttar Pradesh assembly polls the ruling party at the Centre seems to have bettered itself….writes Mohit Dubey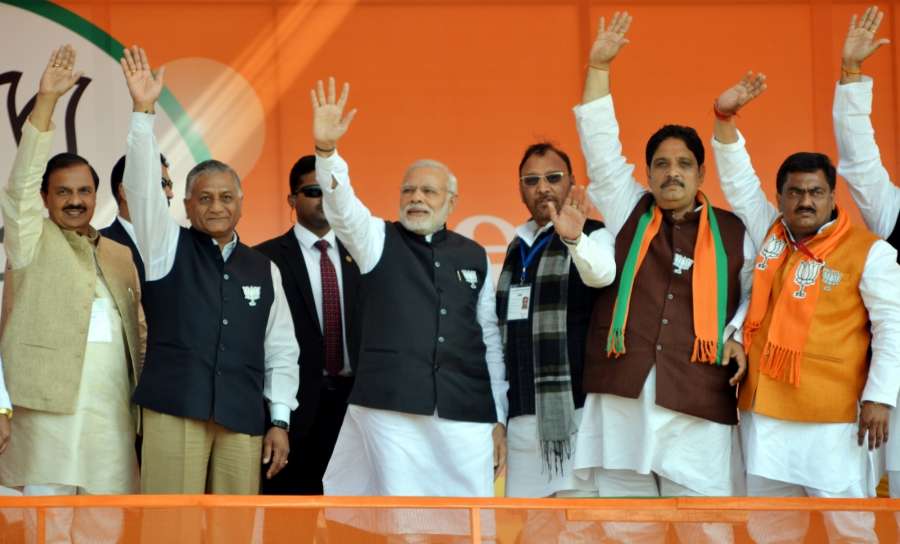 From excel sheets of rallies to be addressed by its national and other important leaders, to constituency profiling, demographic detailing, Twitter handles of all its district units, Facebook pages of its important state leaders, YouTube profiles and minute-to-minute broadcast/telecast/webcast of important speeches, the saffron camp is leaving nothing to chance.
As it aims to end its 14-year-exile in the country's most populous and politically crucial state, the party has even brought out a 'Pratyashi Digdarshika' (candidate directory) — a 100-plus page ready reckoner for each of its 400-plus candidates. The book, in A-8 size, comes in the party's saffron-and-green colour and is in Hindi.
Right from data on assembly constituencies to a detailed lowdown on local office bearers, a variety of publicity material, guidelines laid down by the Election Commission of India (ECI), digital campaigns, initiatives rolled out by the central government, campaigns for the assembly candidate and necessary information for the candidate and his or her supporters, the booklet is a know-all.
There is more! The handy booklet provides details of the constituency — right from the names and number of villages, distribution of areas, list of sensitive booths, main issues of the constituency, district "charge sheet" — describing in detail what issues the candidate has to rake up — salient points of the speech to be given at various local rallies and public meetings, vision document for the constituency containing promises made by the BJP, details of the publicity material being provided and a brief description of the model code of conduct that is in force.
The book also has an amazing detail about possible/permissible poll expenses, relevant Facebook pages of the state unit of the BJP, list of "prabhavshaali" (influential) people of the constituency, and another similar list of important people compiled by the "booth presidents".
The procedure to compile and collate the information took almost eight months, a party strategist told. The booklet is printed in duplicate. One copy is with the candidate and the other with his campaign team.
"This is simply amazing," avers Avinash Trivedi, who is contesting from the Bakshi Ka Talaab constituency in Lucknow. "Being part of such a planned campaign in itself is a matter of great excitement," he told, pointing out that the booklet is a great help to him while canvassing.
A research team has been working since for long to get the booklet together, said state General Secretary Vijay Bahadur Pathak.
The booklet was prepared on the basis of inputs from the ground level and vetted by the state and central leadership based on its "information, analysis and intelligence", he added.
Stitched under the "direct supervision" of party chief Amit Shah's closely-knit poll campaign team, a team of 21 booth-level campaigners is working round-the-clock to ensure back- and front-end help to candidates. A list has been shared with local campaign teams through pen drives, a party official added.
"Open files" of a specific set of pictures of its leaders — Narendra Modi, Amit Shah, Rajnath Singh, Uma Bharti, Kalraj Mishra and state unit chief Keshav Prasad Maurya — have been handed over to every candidate to be used in publicity material at the constituency level. Publicity songs and films — "UP ki sambhalo Naiyya" (song), BJP UP (film), Parivartan Geet (song), "UP ke Mann ki Baat" (song), "UP ki Kahani" (film) and radio spots have also been shared in a pen drive.
Special WhatsApp groups have been made at each constituency level where locally relevant issues are shared every day, sometimes on an hourly basis. Interactive Voice Responses (IVRs) and SMS are also being used extensively by the party, after "necessary permissions" by poll panel officials at district level, informs a senior party strategist.
Agenda launches, Chai pe Charcha, Town Halls, Mandate Sammelans — the party seems to have changed the entire gamut of ways and means that were till now practised in the Hindi heartland. IVR recordings of each and every candidate wherein one-liners under the programme — "Apne Ummedvaar ko Jaane" — has been recorded and shared by candidates with the party office at the state level.
A mid-campaign assessment is also being carried out by state leaders, based on which any "course correction" required is introduced. The election strategists of the party have taken it to the next level in the form of details of villages in every assembly constituency with their exact population, etc. These villages are divided into favourable, battleground (close contest) and difficult categories.
An old hand at the state unit seems flummoxed by the new-age campaign. "In our days it was all in the mind, at the back of our hands but now it's more precise, to the point, fresh and all in flash drives and laptops," he muses. The candidates are both excited and enamoured at the professional handling of the campaign.
Whether the voters equally are, only March 11 will tell when the electronic voting machines (EVMs) spew out their numbers.