Advertisement

A paramilitary trooper's complaint on social media about stale food might have gone viral last month, but a deeper malaise exists: Indebtedness, disputes relating to property and familial problems drove 60 personnel of the Central Armed Police Forces (CAPF) to suicide in 2015, according to a report of the National Crime Records Bureau (NCRB)….writes Rajnish Singh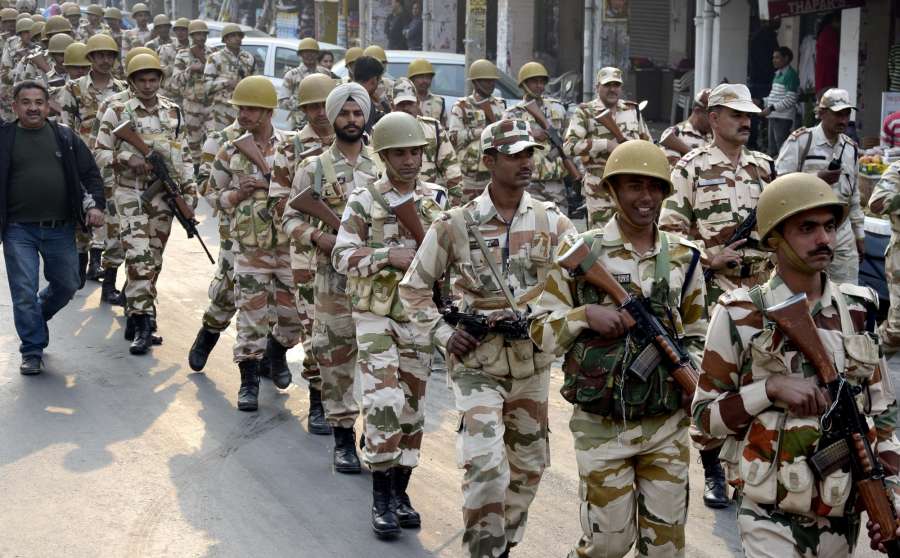 The NCRB's "Accidental Deaths and Suicides in India 2015" says 30 of the suicides were over familial and marriage issues while 12 ended their lives due to financial crunch or indebtedness.
Four took their lives due to property-related disputes while the cause of 13 suicides could not be ascertained. One trooper ended his life from mental depression due to a service-related problem.
CAPFs comprise about 944,000 personnel in the Border Security Force (BSF), the Central Reserve Police Force (CRPF), the Central Industrial Security Force (CISF), the Indo-Tibetan Border Police Force (ITPB), the Sashastra Seema Bal (SSB), Assam Rifles (AR) and the National Security Guard (NSG).
Of the total suicides in 2015, BSF registered the highest at 27 followed by 17 in CISF. The break-up for the other forces was not given.
Former BSF Director General D.K. Pathak said that familial reasons were found to be a significant factor in the suicides.
"Most of the suicides I noticed occurred about two-three months after a trooper returned from his leave," Pathak told IANS.
He said BSF had taken steps to tackle the problem and such efforts had shown encouraging results. He said a 45-minute documentary about life in BSF was prepared in 2015 to sensitise the troopers as well as their families.
"A CD of the documentary is given to the troopers before they go on vacation. They are also advised to watch the CD along with their family," Pathak said.
A former CRPF officer, who spoke on condition of anonymity, told IANS that "lack of camaraderie" can be a factor behind suicides. "A feeling of fellowship is necessary to overcome this problem," he said.
The CRPF officer said that a trooper sometimes cuts himself off from his colleagues due to problems with his family and feels isolated. "They need proper guidance and support of their colleagues and seniors," he said.
Five states — Assam, Andhra Pradesh, Chhattisgarh, Gujarat and Punjab — and Delhi reported 71.7 per cent of total suicides in the CAPFs in 2015.
Of these, Assam reported the highest of 18 followed by six each from Andhra Pradesh and Chhattisgarh.
But the number of suicides in 2015 was significantly lower than in 2014 when 175 instances were reported. Fifteen of these were due to service-related problems or mental depression.
Also, there has been significant reduction in CAPF personnel killed due to "accidents" in 2015 compared to 2014, according to the NCRB report.
While 1,232 personnel lost their lives in accidents in 2014, the figure came down to 193 in 2015.