Advertisement

The devotees who were arrested for throwing a mercury dipped cloth at the newly gold-plated flag post at the Sabarimala temple claimed they were actually performing a traditional ritual in their hometown, and denied sabotage charges….reports Asian Lite News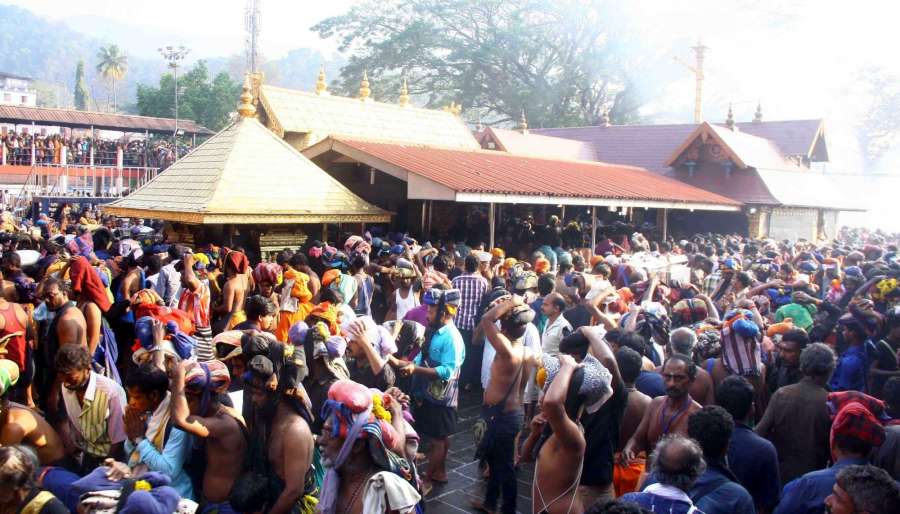 Inspector General Manoj Abraham said the five men from Vijaywada claimed they performed a traditional ritual which they do to newly commissioned things when they threw a cloth dipped in mercury at the flag post on Sunday.
"They say it's a customary ritual in their hometown. There seems to be no inconsistency in their statements. Also, when this happened, they were all taking pictures of it," Abraham said.
He said police officials from Andhra Pradesh would arrive during the day and that a team of Kerala Police was also leaving for Vijaywada in Andhra Pradesh.
"All five are regular visitors to the Sabarimala temple," said Abraham.
On Sunday afternoon, these devotees threw the cloth dipped in mercury on the base of the flag post. This led to the gold plating to peel off. They were identified from CCTV footage and caught.
The police have filed a case against them for hurting religious sentiments.
The new flag post was donated by a business group from Andhra Pradesh. It reportedly cost Rs 3.5 crore.
Situated on the mountain ranges of the Western Ghats, the Sabarimala temple is four kilometres uphill from Pamba in Pathanamthitta district, about 100 km from Thiruvananthapuram.
This temple draws a large number of devotees from Tamil Nadu, Karnataka and Andhra Pradesh.