Advertisement

The DMK elevated M.K. Stalin, son of its supremo and an ailing former Chief Minister M. Karunanidhi, as its Working President….reports Asian Lite News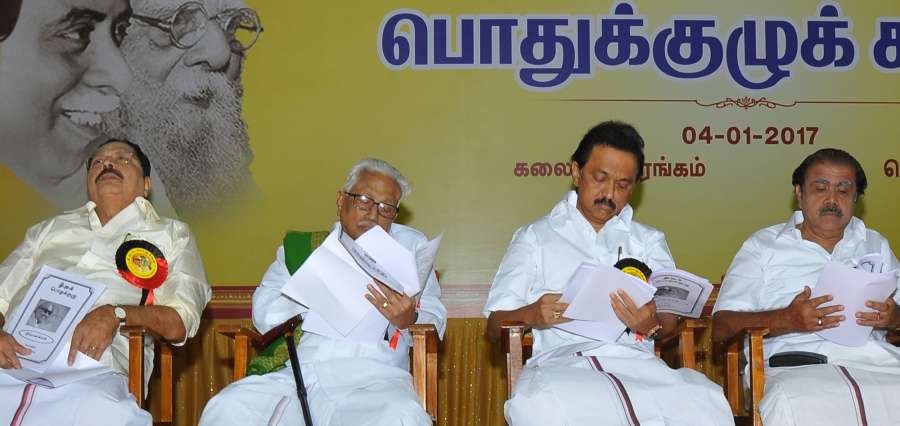 A resolution to this effect was passed at the DMK General Council meeting here at the party headquarters. Stalin, 63, would have all the powers of the President, a party official said.
The meeting was chaired by DMK General Secretary K. Anbazhagan as Karunanidhi, the President, was advised bed rest. Stalin would continue to be the party Treasurer.
"The post of Working President is a responsibility. I will function with responsibility," Stalin told the media.
Wednesday's development comes a month after the death of AIADMK leader and Chief Minister J. Jayalalithaa, who defeated the DMK in successive assembly elections in 2011 and 2016.
The elevation of Stalin, a former Mayor of Chennai, could have come earlier had it not been for his elder brother M.K. Alagiri who had opposed the move.
In 2009, when DMK was in power in Tamil Nadu, Stalin was made the Deputy Chief Minister, signalling to others that he would be the heir apparent to Karunanidhi.
But Alagiri made it clear that he would not accept anybody as his leader if and when Karunanidhi hung up his boots.
The decks were cleared for Stalin when Alagiri was expelled from the DMK for speaking against the party prior to the 2014 Lok Sabha election.
Meanwhile, Stalin strengthened his hold over the DMK, one of the oldest parties in the country.
It was Karunanidhi's poor health and doctor's advice to take rest which seemed to have forced the decision to promote Stalin.
Founded in 1949 by C.N. Annadurai, the DMK came to power in Tamil Nadu in 1967. Annadurai was the party's first Chief Minister.
Annadurai died in 1969 and was succeeded by Karunanidhi with the support of Tamil movie hero M.G. Ramachandran or MGR – then with the DMK – and other leaders and members of the legislative assembly.
In 1972, MGR was expelled after differences with Karunanidhi. MGR then floated the AIADMK and led it to victory in 1977. The DMK was out of power in Tamil Nadu till 1989.
Karunanidhi brought the party under his thumb and started projecting his son Stalin. The party underwent another split when firebrand Vaiko, who was seen as a possible Stalin opponent, was expelled. Vaiko later floated the MDMK.