Advertisement

Prime Minister Narendra Modi said that India and Malaysia have agreed to further strengthen bilateral strategic cooperation while continuing with joint anti-terrorism efforts….reports Asian Lite News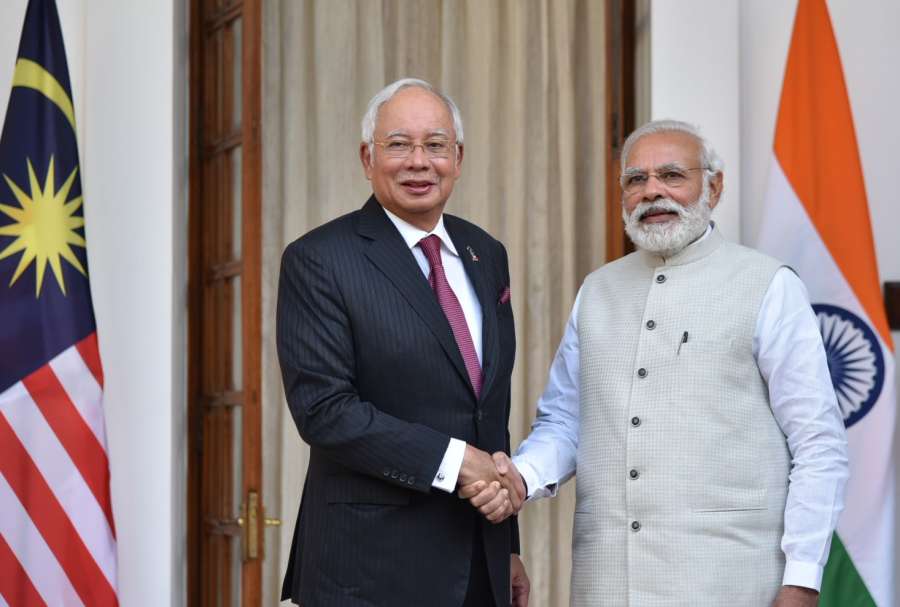 "We live in times and in a region, where both conventional and non-conventional security threats are constantly on the rise," Modi said while jointly addressing the media with Malaysian Prime Najib Razak following delegation-level talks between the two sides.
"Prime Minister Najib and I agreed that these challenges threaten the stability and economic prosperity of our countries and the region," he said.
"And, require us and other countries of the region to work together. In this context, I deeply appreciate our continuing cooperation with the Malaysian government in our joint anti-terrorism efforts."
Modi praised Razak for his leadership in countering radicalisation and terrorism and said it "is an inspiration for the entire region".
Stating that the wide-ranging defence partnership has brought the armed forces of the two countries closer, he said: "We are cooperating in training and capacity building; maintenance of equipment and military hardware; maritime security; and in disaster response."
Modi also said that he and Razak were conscious of their "role and responsibility in promoting economic prosperity, freedom of navigation, and stability in the Asia-Pacific region, especially its oceans".
"To secure our societies, and for the greater regional good, we have agreed to further strengthen our strategic partnership to shape an effective response to our common concerns and challenges," he said.
On the economic side, Modi said both countries "have built a thriving economic partnership".
"In our efforts to scale this up, as the fastest growing large economy in the world, India offers unparalleled opportunities," he stated.
"And, to build new avenues of prosperity in our societies we are ready to expand trade and capital flows between our two economies."
Stating that infrastructure has been an area of fruitful partnerships between the two sides, he said that much more could be done as India's infrastructure needs and plans of developing smart cities matched well with Malaysian capacities.
"Malaysian companies are participating in many of our infrastructure projects across different states in India," he said.
"Indian companies too are extensively engaged and invested in the Malaysian economy."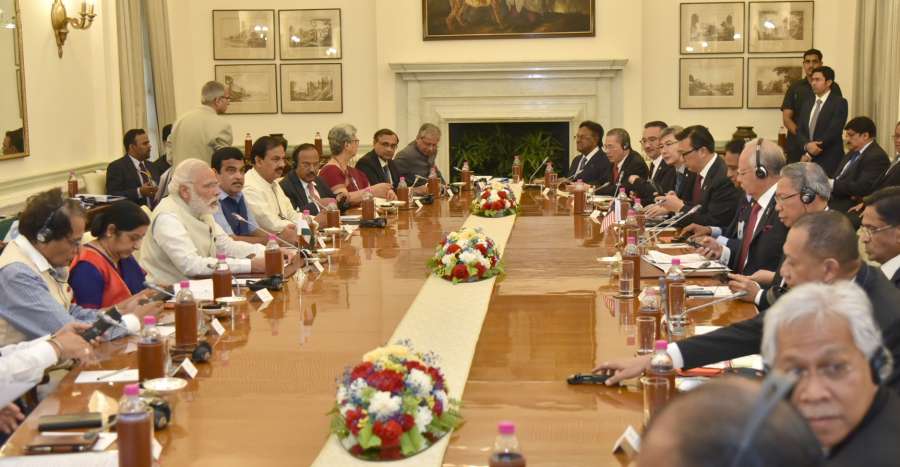 Modi also said that business partnerships forged between the two countries would enhance the level and momentum of commercial engagement.
"We are also converging efforts aimed at food security that are linked to the well-being of our farmers," he stated.
On his part, Razak said that the defence and strategic partnership would be very important for both countries to fight global terrorism, militancy and extremism, including the fight against the Islamic State terror outfit.
He expressed "deep admiration" for Modi for undertaking bold economic reforms and congratulated the Indian leader for the country's high economic growth.
While stating that the bilateral relationship was at a "historic high", Razak said that there was still potential that could be fulfilled.
"History has bound us together. Indian languages,culture and food are popular in Malaysia," he said.
He said that with the end of the Trans-Pacific Partnership (TPP), the Regional Comprehensive Economic Partnership (RCEP) has become all the more important.
RCEP is a proposed free trade agreement between the 10 member states of the Association of Southeast Asian Nations (Asean) and the six countries with which Asean has free trade agreements – Australia, China, India, Japan, South Korea and New Zealand.
Following Saturday's talks, India and Malaysia signed agreements, including on civil aviation, education, human resource development and setting up of a fertiliser plant in Malaysia and a technology park in Andhra Pradesh.