Advertisement

Maharashtra Chief Minister Devendra Fadnavis and five others had a providential escape when their chopper crash-landed after it got entangled in overhead electric cables in Latur district, sparking a major scare….reports Asian Lite News
He later tweeted, "We are absolutely safe and ok. Nothing to worry."
As the chopper appeared to lose control and suddenly came hurtling down to the ground from a height of around 80 feet, parts of its debris flew at least 100 feet away, damaging two hutments and injuring seven persons including two women, a Nilanga police official said.
Later, Fadnavis, 46, said "a high-level probe would be conducted into the incident" to ascertain whether there were any security lapses leading to the accident. The helicopter is around six years old.
The Directorate General of Civil Aviation (DGCA) has ordered an enquiry.
The state government-owned US-make Sikorsky helicopter VT-CMM took off from Nilanga town, near Latur, for Mumbai around noon with six persons, including Fadnavis, two crew members and three other officials.
However, shortly after take-off, the pilot noticed variable wind patterns and decided to return to the helipad, a DGCA official said.
During the landing attempt, the chopper appeared to have lost control and got entangled in some overhead electrical cables near the helipad. It crash-landed from a height equivalent to a 10-storied building, and was hidden for several moments in a huge cloud of dust.
Fearing something amiss as the chopper disappeared from view, hundreds of shocked villagers assembled near the helipad as well as curious onlookers, while police and security officials rushed to the site.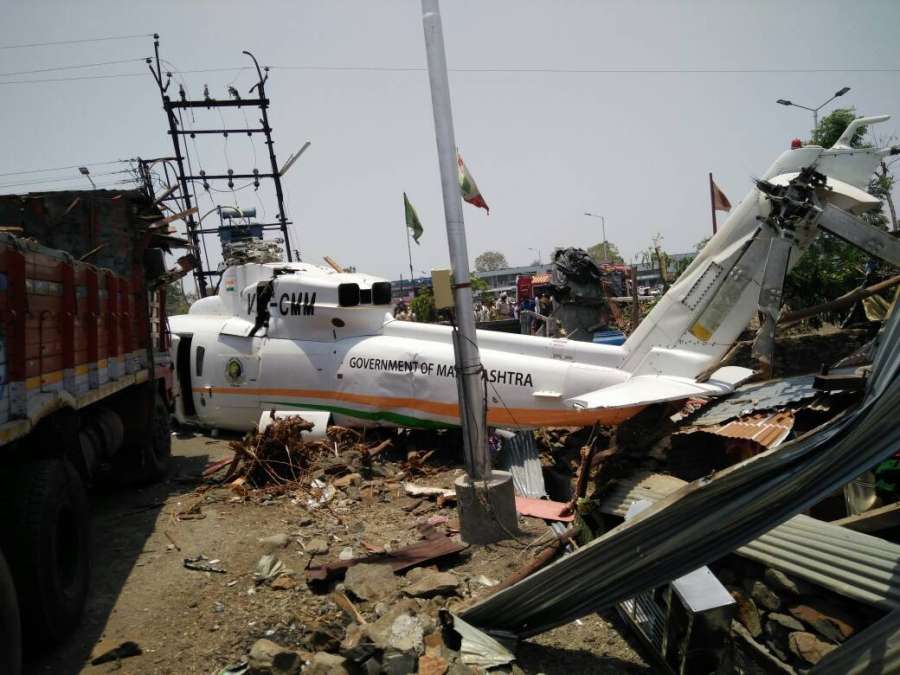 All on board, including Fadnavis, Principal Secretary Pravin Pardeshi, Personal Assistant Abhimanyu Pawar and PRO Ketan Pathak, besides the pilot and co-pilot, clambered out safely from the chopper, which suffered extensive damage.
An anxious Maharashtra Governor C.V. Rao, currently in Chennai as he is holding additional charge of Tamil Nadu, called up Fadnavis soon afterwards and enquired about his well-being as also that of the co-passengers and crew.
He expressed happiness that all were safe and sound after the incident.
Later, Bharatiya Janata Party's ally and Shiv Sena President Uddhav Thackeray also spoke to Fadnavis and enquired about the accident and expressed happiness that nothing untoward had happened.
Leaders of various political parties, including Congress, Nationalist Congress Party, Railway Minister Suresh Prabhu and others also expressed their relief over the fortunate ending.
Though shaken, moments after the crash-landing, Fadnavis himself made a quick reassuring tweet: "Our helicopter did meet with an accident in Latur, but me and my team are absolutely safe and ok. Nothing to worry."
Later, he told media persons that with the blessings of the 12 crore people of the state and Jai Bhavani, he and his team mates emerged unscathed out of what could have been a monumental tragedy.
His family members, including wife Amruta, daughter and mother, also expressed their deep sense of relief after hearing that he was safe and unhurt.
The cause for concern stems from the fact that this is the second time within a fortnight that a chopper issue has affected Fadnavis' programmes.
Earlier, on May 12, his chopper had developed a snag at the last minute prior to take off at Gadchiroli and he was compelled to travel by road to Nagpur through a Maoist-infested area of the district.
After Thursday's incident, Fadnavis has promised he would remain even more vigilant over such security issues in the future.
Fadnavis was in Halgara village in Latur as part of his ongoing ShivarSamvad initiative involving interactions with farmers and to rid dry areas of drought problems and for tanker water supply.