Advertisement

The CRPF has lost 35 firearms in over 700 attacks by Maoists this year in the country — the biggest loss of weapons in any year since 2012….writes Rajnish Singh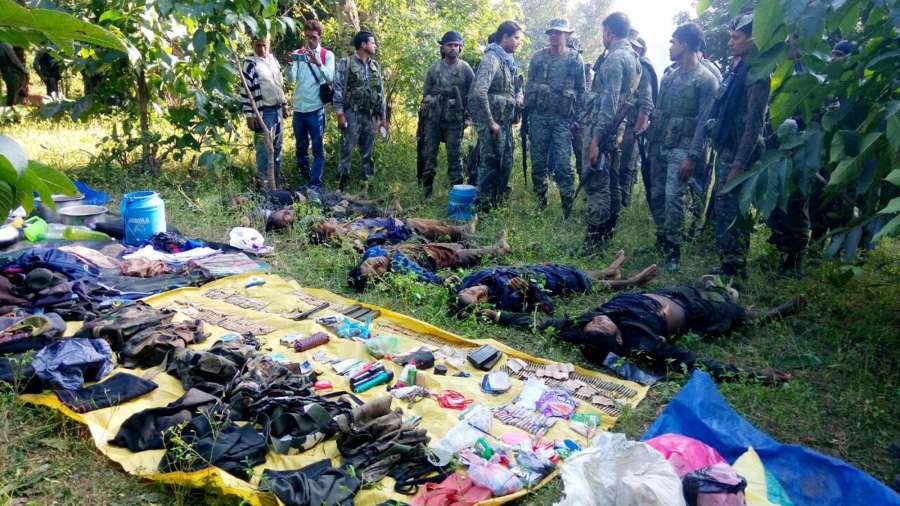 Of this, as many as 21 were seized by the Maoists on one day: the April 24 attack on the Central Reserve Police Force at Sukma in Chhattisgarh.
The Sukma attack, the bloodiest by Maoists in the country since 2010, claimed the lives of 25 CRPF personnel.
The loss that day included 21 weapons, five wireless sets, two binoculars, 22 bullet-proof jackets and a mine detector.
More than 3,000 live cartridges, 70 magazines and 67 Under Barrel Grenade Launchers were also snatched from the CRPF.
The 21 weapons included 12 AK-47 assault rifles, four AKMs, two Insas light machine guns and three Insas rifles, according to CRPF data.
These weapons are generally provided to CRPF personnel deployed in regions like Jammu and Kashmir and areas affected by Maoists.
A total of 83 firearms and 6,683 rounds of ammunition were robbed by Maoists between January 2012 and April 24 this year in over 10,400 violent incidents in 106 districts in 10 states: Chhattisgarh, Jharkhand, Odisha, Bihar, West Bengal, Andhra Pradesh, Telangana, Maharashtra, Madhya Pradesh and Uttar Pradesh.
From January to April 24, 2017, the Maoists robbed 35 firearms and over 1,680 rounds of ammunition.
The least loss of arms and ammunition was reported in 2016 when the Maoists robbbed 33 rounds of ammunition from the CRPF. The year saw 3,103 incidents involving the insurgents.
Two firearms and 187 rounds of ammunition were looted in 2015 (total 1,680 incidents), 31 firearms and 3,330 rounds of ammunition were lost in 2014 (1,605 incidents), 14 arms and 1,288 rounds of ammunition were seized by Maoists in 2013 (1,795 incidents) while only one firearm and 170 rounds of ammunition were robbed in 2012 although there were 1,517 incidents of violence.
The April 24 attack was launched when around 35 CRPF troopers – a third of a 99-member team of CRPF's 74 Battalion – stopped to have lunch in a forested patch between Chintagufa and Burkapal villages.
Twelve CRPF men were killed in a similar Maoist attack in Sukma on March 11.