Advertisement

Opposition candidate Meira Kumar announced that she will fight for ideology which values democratic principles and freedom of expression, press and urged the electors to vote after listening to their conscience while filing her nomination for the July 17 Presidential election….reports Asian Lite News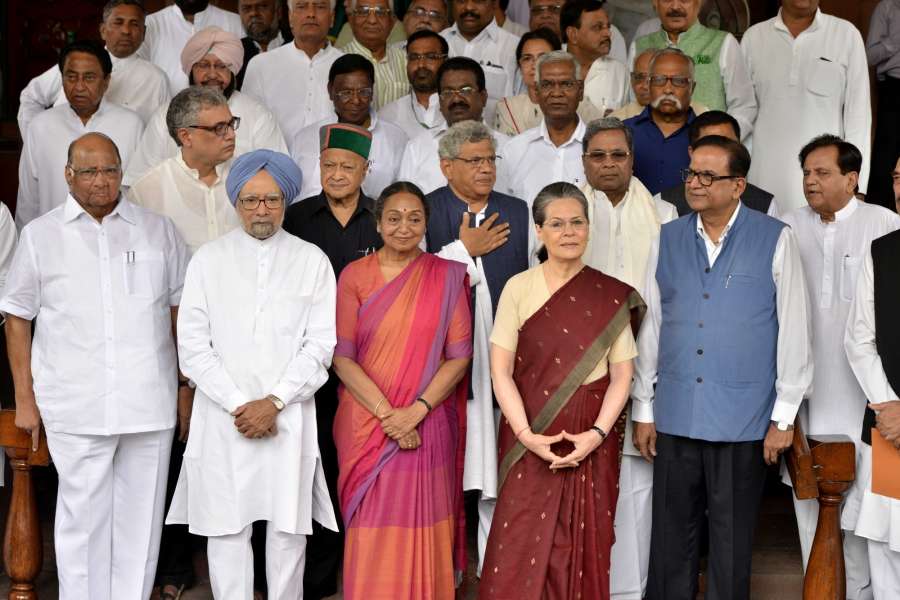 Opposition candidate Meira Kumar filed her nomination for the July 17 Presidential election, which she termed "a fight of ideology for democratic principles" and said she has appealed to members of the Electoral College to "listen to their conscience" and vote for her.
"From today our fight has begun. This is the fight of ideology. Our ideology is based on the values of democratic principles, building an inclusive society, freedom of expression, press freedom, transparency and abolition of caste," Meira Kumar told reporters after filing her nomination in Parliament House.
"I have requested all the electors that this is a crucial time. The nation today stands at the crossroads from where one way leads to the place where there is narrow mindedness and no concern for the poor, Dalits and downtrodden," she added.
The other way, she said, leads to where the poor, Dalits, marginalised, women and people from all religions have their rights and dignity.
"I have requested all the honourable members of the Electoral College to listen to their conscience and vote for me," the former Lok Sabha Speaker and daughter of noted Dalit leader and former Deputy Prime Minister Babu Jagjivan Ram said.
Earlier, opposition leaders, including from the Congress and Left, accompanied Meira Kumar to the Lok Sabha Secretary General's chamber to file the nomination.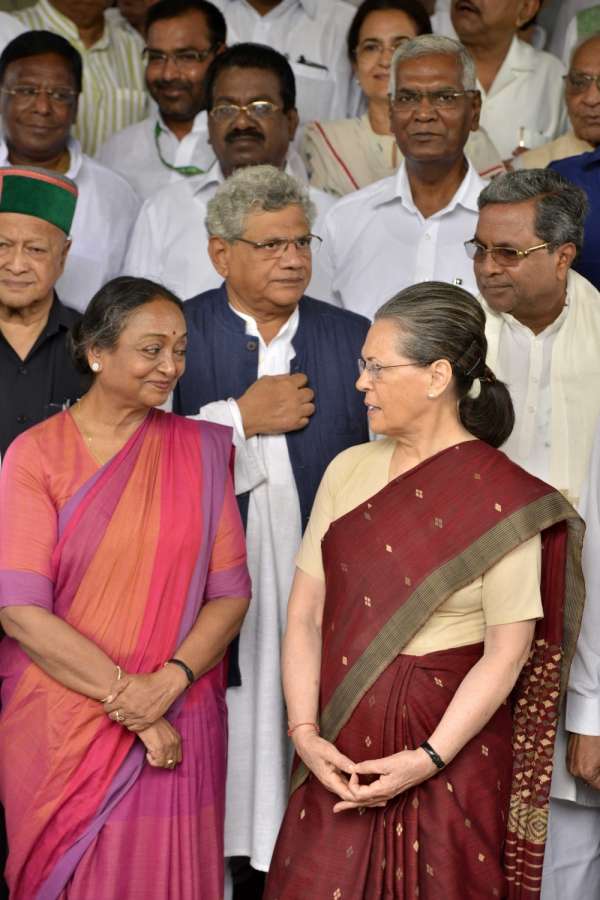 Besides former Prime Minister Manmohan Singh and Congress President Sonia Gandhi, the other leaders present were NCP chief Sharad Pawar, BSP leader Satish Chandra Mishra, CPI-M General Secretary Sitaram Yechury, CPI leader D. Raja and TMC leader Derek O'Brien.
Punjab Chief Minister Amarinder Singh, Puducherry Chief Minister V. Narayanasamy and Karnataka Chief Minister Siddaramaiah were also present.
Unlike the NDA show where all the prominent BJP leaders and leaders of parties supporting Ram Nath Kovind's candidature were present, major opposition leaders including RJD Chief Lalu Prasad, TMC chief Mamata Banerjee and BSP Supremo Mayawati were conspicuous by their absence.
BSP leader Satish Chandra Mishra tried to play down his leader's absence saying all the 17 parties supporting Meira Kumar's candidature were present.
"Why are you looking for individuals? Look, all the 17 parties are present here, all of them are being represented by their representatives. The party chiefs have so many other things to attend to, other engagements etc. But their representatives are here," Mishra said.
Bihar Minister Alok Mehta of the RJD, who along with fellow Minister Vijay Prakash came to represent his party, said that Lalu Prasad could not make it to the nomination due to his personal engagements.
On Bihar Chief Minister and JD-U President Nitish Kumar breaking away to back Kovind in the presidential election, Communist Party of India (CPI) leader D. Raja said that it is for Nitish Kumar to "justify supporting the RSS".
"This is a battle in defence of secular democracy," Raja said.
Before reaching Parliament House, Meira Kumar visited Raj Ghat and Samta Sthal, the memorial of Mahatma Gandhi and her father Babu Jagjivan Ram respectively.