Advertisement

Finally Prime Minister Narendra Modi broke his silence over the violence prevailing against the Muslim men in the name of 'gau bhakti' (cow worship) and said that killing someone in the name of cow saviours is not acceptable and this is not something Mahatma Gandhi would approve while he selected Sabarmati Ashram as the venue to announce his stance on the situation….reports Asian Lite News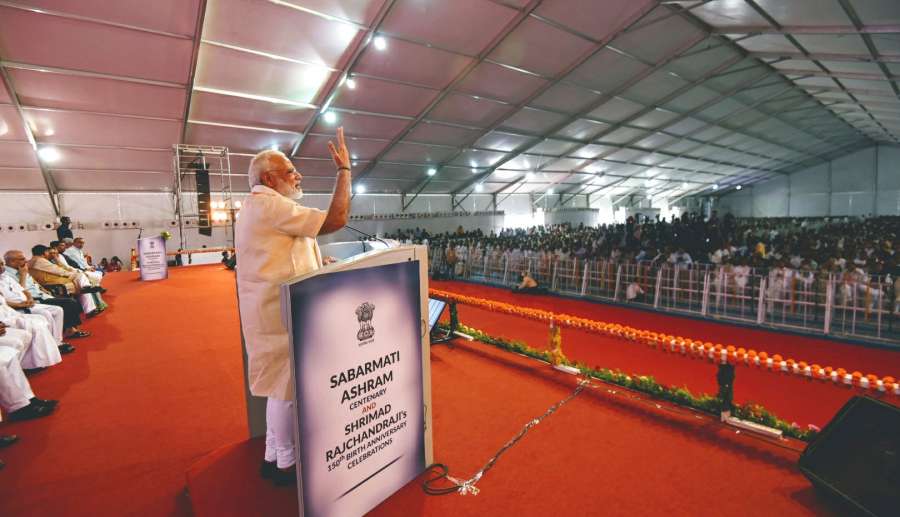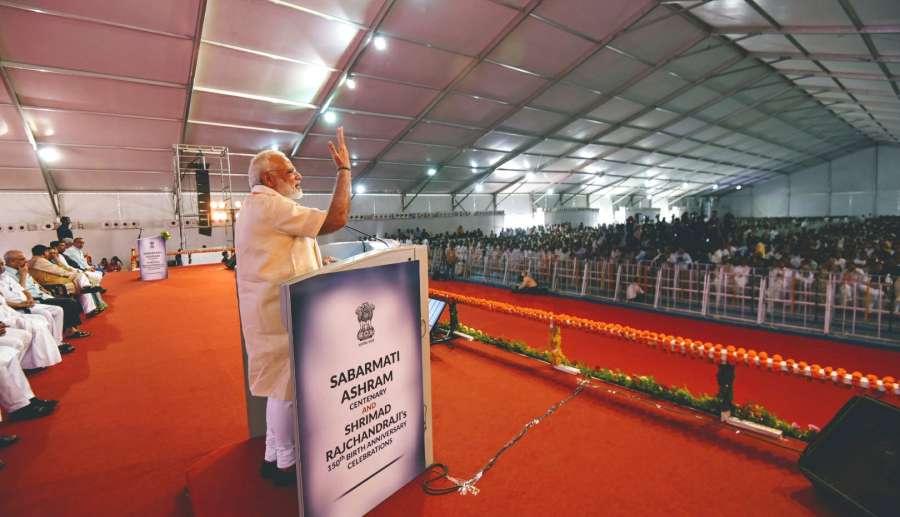 Breaking his silence, Prime Minister Narendra Modi on Thursday said that killings in the name of 'gau bhakti' (cow worship) is not acceptable even as a man accused of carrying beef was beaten to death in Jharkhand's Ramgarh district.
"Today I want to say a few words and express sadness on some of the things going on. As a society, there is no place for violence. Killing people in the name of 'gau bhakti' is not acceptable. This is not something Mahatma Gandhi would approve," Modi said while addressing the 150th birth anniversary celebrations of Shrimad Rajchandraji, Gandhi's guru, at the Sabarmati Ashram here.
Asserting that India was a land of non-violence, he said: "We are the land of Mahatma Gandhi. Why do we forget that?
"No person in this nation has the right to take the law in his or her own hands in this country. Violence never has and never will solve any problem," he said.
Modi's remarks assumes significance in the wake of criticism that he and his government have maintained silence about the violence by cow vigiliantes who have been accused of lynching muslim men in Jaipur and Alwar in Rajasthan, Ballabhgarh in Haryana, Jamshedpur in Jharkhand — in the name of protecting the animal revered by Hindus.
In the Jharkhand incident on Thursday, Alimuddin alias Asgar Ansari, who was beaten to death, was allegedly carrying "banned meat" in a van, police said.
A group of people stopped him near Bajartand village and brutally attacked him, the police said. His van was set on fire too.
Police personnel rescued him and took him to a hospital where he died during the course of treatment.
"It's premeditated murder," Additional Director General of Police R.K. Malliksaid.
This is second such incident in Jharkhand in the last three days. In Giridih district, a mob thrashed a person and set on fire his house after a cow head was found.
Modi said no one spoke about protecting cows more than Mahatma Gandhi and Acharya Vinoba Bhave. "Yes, it should be done," he said.
"Let's all work together. Let's create the India of Mahatma Gandhi's dreams. Let's create an India our freedom fighters would be proud of," Modi said.
He also said that Swachhata (cleanliness) had to become a 'swabhav' (habit). "What can be a greater tribute to Mahatma Gandhi than this? I urge people from all over to come and visit the Sabarmati Ashram."
He also said that Mahatma Gandhi's thoughts have the power to mitigate the challenges the world was facing today.